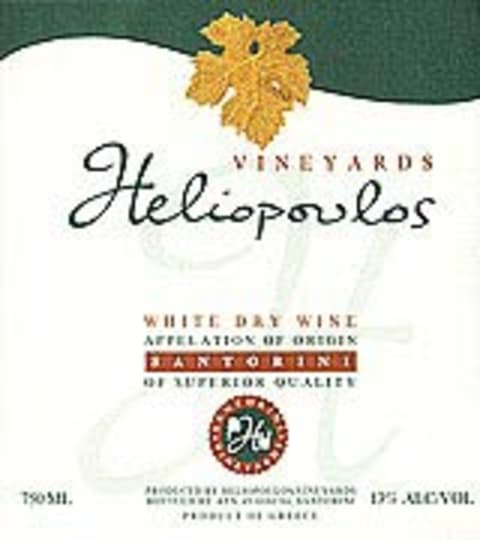 Heliopoulos Vineyards Santorini 2003
Other White Blends
from
Greece
Ships Wed, Mar 27
Limit
0
bottles
per customer
Winemaker Notes
"Floral notes of aidani dance on minerally assyrtiko, a surprisingly expressive and delicate Santorini from scent alone. That grace continues into the flavor, where cool chalk notes recall oyster shells and cool white sand. From a winery owned by a wealthy local hotelier, the wine seems designed to be shown off next to a heaping platter of seafood while overlooking the Aegean."
-
Wine & Spirits
Here is an Assyrtiko as succulent and refreshing as a crisp pear rinsed in a cold mountain stream. In fact, for a wine grown in the hot sand of a volcanic isle, its uncannily reminiscent of a Friulian white, with its nutty edge and firm minerality. Grape Variety: Assyrtiko
Highest Rated Greek White Wine in America, Wine & Spirits and Food & Wine Magazines, for three continuous years.
The crown jewel of the Cycladic Islands in the Aegean Sea is the Island of Santorini famous for its blue-domed churches and breathtaking landscape and sunsets. A volcano that erupted circa 1500 BC has given Santorini its unique environment yielding high quality wine – Santorini, an appellation wine – guided by tradition and law. The Santorini wine is made of three indigenous grape varieties of the island. They are Assyrtiko (85%), Athiri (10%), and Aidani (5%). The silver soil, consisting of chalk and shale under ash and pumice, and the limited rainfall place stress on the vine. These conditions yield small quantities making for a superb wine that is medium-bodied, crisp in acidity, with floral notes of Aidani and minerality of the Assyrtiko. This beautiful wine is succulent with flavors of crisp pear and lemon.
Heliopoulos Vineyards, owned by Antonis Heliopoulos, consists of 17 acres. They are located 28-165 feet above sea level on slopes adjacent to the town of Megalohori, which is in the center of the island, and to Heliopoulos' small luxury hotel, Vedema Resort. The name Vedema, which means harvest in Venetian Italian, is very appropriate in consideration of the hotel's location and how its architectural structure encompasses the underground cellars that have been in existence for centuries. It was in 1995 that Heliopoulos transformed his family summer resort to a hotel and decided in time to produce wine for the hotel. Shortly thereafter, Heliopoulos Santorini had national distribution and since 2001, international distribution. Today, the wine world appreciates the exceptional wines Heliopoulos consistently produces each year. Heliopoulos is passionate about his wine. While Heliopoulos is primarily an hotelier, his commitment to his vineyard is unquestionable and in producing superb wine making him a serious and well-respected winemaker.
A picturesque Mediterranean nation with a rich wine culture dating back to ancient times, Greece has so much more to offer than just retsina. Between the mainland and the country's many islands, a wealth of wine styles exists, made mostly from Greece's plentiful indigenous varieties. After centuries of adversity after Ottoman rule, the modern wine industry took off in the late 20th century with an influx of newly trained winemakers and investments in winemaking technology.
The climate—generally hot Mediterranean—can vary a bit with latitude and elevation, and is mostly moderated by cool maritime breezes. Drought can be an issue during the long, dry summers, sometimes necessitating irrigation.
Over 300 indigenous grapes have been identified throughout Greece, and though not all of them are suitable for wine production, future decades will likely see a significant revival and refinement of many of these native varieties. Assyrtiko, the crisp, saline variety of the island of Santorini, is one of the most important and popular white varieties, alongside Roditis, Robola, Moschofilero, and Malagousia. Muscat is also widely grown for both sweet and dry wines. Prominent red varieties include full-bodied and fruity Agiorghitiko, native to Nemea; Macedonia's savory, tannic Xinomavro; and Mavrodaphne, used commonly to produce a Port-like fortified wine in the Peloponnese.
With hundreds of white grape varieties to choose from, winemakers have the freedom to create a virtually endless assortment of blended wines. In many European regions, strict laws are in place determining the set of varieties that may be used, but in the New World, experimentation is permitted and encouraged. Blending can be utilized to enhance balance or create complexity, lending different layers of flavors and aromas. For example, a variety that creates a soft and full-bodied wine would do well combined with one that is more fragrant and naturally high in acidity. Sometimes small amounts of a particular variety are added to boost color or aromatics. Blending can take place before or after fermentation, with the latter, more popular option giving more control to the winemaker over the final qualities of the wine.
WWH3GRHESA2_2003
Item#
76663