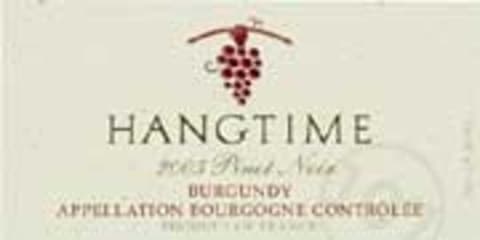 Hangtime Pinot Noir Burgundy 2005
Winemaker Notes
The 2005 growing season
By all accounts Mother Nature was smiling on Burgundy throughout the 2005 growing season. Generally speaking, the growers were able to harvest grapes at their leisure, due to the warm, dry conditions throughout the region. Burgundy wines from the 2005 vintage will show rich, intense flavors of red and black fruits, flowers and minerals; true terroir expressions.
Wine Details
The grapes for the 2005 Hangtime Pinot Noir from Burgundy, were on the vine for a minimum of 107 days. Burgundy, the historic origin of Pinot Noir, was a natural source of fruit for Hangtime Cellars. Growers in burgundy have been cultivating Pinot Noir grapes with complex character, vibrant flavors, and rich texture for over 2000 years. The 2005 Hangtime Pinot Noir was crafted to be enjoyed upon release or allowed to develop beautifully over time.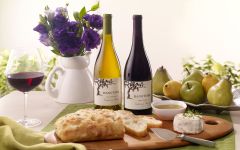 If you're a Pinot Noir or Chardonnay fan, look no further than Hangtime Cellars. Winemaking team Rob Mondavi and Tony Coltrin travel the globe to source the finest fruit from the established and emerging wine regions where these two varieties thrive.
Although "hang time" may evoke an image of folks on their day off, sipping wine and relaxing in the sun, the name actually refers to the amount of time the grapes spend hanging on the grapevines. The longer grapes spend on the vine, the more time they have to develop the concentrated fruit character that results in wines of distinctive, delicious varietal expression. Appellations have to be warm enough to fully ripen grapes, yet cool enough to prolong this ripening while maintaining the kind of natural acidity that balances rich fruit flavor. These are the spots that Hangtime's winemakers seek for the highest quality Pinot Noir and Chardonnay. They source fruit from cool spots all over the world, from California to Burgundy to New Zealand.
While there are stylistic similarities — all the wines are well-balanced with aromas of well-ripened fruit — each wine maintains its own distinct nuances, reflecting the unique characteristics of the region it comes from. And you'll know exactly how long the grapes stayed on the vine, because every label is stamped with a number that indicates the hangtime for that vintage.
Celebrated as some of the best wine in the universe, red wine from Burgundy, otherwise known as red Burgundy, is Pinot noir. In fact Burgundy is the birthplace of Pinot noir and the source of the planet's most sensual, delicate, valuable and sought-after Pinot noir wines.
Understanding and enjoying red Burgundy can stay simple, with a basic knowledge of its subregions, become more intricate by dialing down to the villages and vineyards or become a life-long passion, exploring climats (plots of vines), vintages and the post French Revolution land ownership laws. In any case, a fine red Burgundy will display refined nuances of black currant, red fruit, earth, spice, alluring floral aromatics and have great elegance, complexity and longevity.
Most famous, praised and collected of Burgunday are those from the Côte d'Or. Hundreds of millions of years ago, the area now called Côte d'Or was under a warm ocean whose sea floor has, over time, shifted and decomposed into various layers of limestone, sandstone and clay interspersed with ancient fossilized sea creatures. This is what is referred to as the famous escarpment upon which all of the highly sought-after Grands Crus and Premiers Crus vineyards can be found. In other words, from north to south, the best vineyards of Gevrey-Chambertin, Morey-St-Denis, Chambolle-Musigny, Vougeot, Vosne-Romanée, Flagey-Echezeaux, Nuits-St-Georges, Aloxe-Corton, Pommard and Volnay follow the path of this ancient sea bed.
PBC9019516_2005
Item#
91249