Graham's Vintage Port (375ML half-bottle) 2016
Winemaker Notes
Like most parts of the world, the Douro has not been isolated from the effects of climate change, and unusual weather conditions over recent years have often departed from those typically associated with classic vintage years. Fortunately, in 2016 the stars aligned and the year brought superbly structured and balanced wines, allowing Graham's to announce a full vintage declaration.
The 2016 is a classic expression of the Graham's style: concentrated and opulent with layers of fresh, ripe, black fruit flavors. Aromas of mint and eucalyptus with chocolate notes. The Graham 2016 combines superb complexity, structure and balance.
Critical Acclaim
All Vintages
Extremely complex aromas that show the classic Graham character of black-fruit marmalade and burnt oranges. Follows through to a full body with great grip at the finish. Lightly sweet. Chewy and powerful. Such a focus at the end.
This offers a distilled plum and boysenberry essence, with a racy feel, as spearmint and graphite notes drive through. As the finish kicks in, this turns toward the dark side, with ganache, charcoal and tar elements. Has the showy ripeness of the vintage but is backed by a decidedly dry feel on the finish, imparting a sense of precision despite the heft. Best from 2030 through 2055.
Nearly 50% is made from old field blend vines, Touriga Nacional and Touriga Franca from the Douro Superior. Very pure violet aromas – already utterly charming with lovely, supple and seamless fruit. Fresh and lithe with fine-grained tannins building in the mouth leading to a peacock's tail of a finish. A beautiful wine with real poise, definition and great finesse. Don't be deceived by the early charm, this is a wine that will last. Total production of 4,250 cases. Drinking Window 2030 - 2055
This finely structured wine is powered by fine tannins and rich fruits. A touch of acidity comes through the rich berry flavors and the concentration of the dark tannins. This wine will certainly age, don't drink before 2028.
Cellar Selection
The 2016 Vintage Port is a blend of 37% Touriga Nacional, 42% Touriga Franca and various others. It comes in with 115 grams of residual sugar. A bit bigger than Dow's this year, this is more intense as well. The better wine of these two benchmarks seems to be this Graham's. Tight on the finish, aromatic and very flavorful, this actually opens rather well and shows off its lovely fruit. The Dow's will be approachable a bit earlier, perhaps, and this may reward aging even more. As always, Graham's is wonderfully delicious. That's one hallmark of the house. I'm not sure this is a truly great Graham's, but at the moment, it is enticing, with plenty of potential for improvement. There were 6,325 cases produced, plus some bottles in other formats.
View More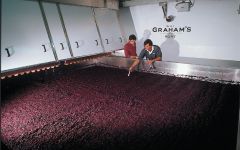 Tradition, experience and knowledge spanning two centuries have given Graham's the values that are at the heart of the company's philosophy. The Graham family motto Ne Oublie (forget not or never forget) perfectly encapsulates the company's commitment to the Douro Region, born of a deep respect for the past.
Founded in 1820, Graham's produced some of the greatest Ports of the 20th century, amongst which the 1927, 1935, 1945, 1970 and 2000 Vintages. In 1970 the company changed ownership from the founding family to the Symingtons, who have themselves been Port producers since 1882, however through their Anglo-Portuguese great-grandmother, they can trace their Port heritage back to 1652. Graham's owns some of the finest vineyards in the Douro Valley, one of the oldest demarcated wine regions in the world and a Unesco World Heritage Site.
The four properties are: Quinta dos Malvedos, Quinta do Tua, Quinta da Vila Velha and Quinta do Vale de Malhadas. Combined, these four mountain estates total 201 hectares of vineyards, located in different areas of the Upper Douro and the Douro Superior, each making distinctive wines that contribute to Graham's singular character and style.
The home of Port—perhaps the most internationally acclaimed beverage—the Douro region of Portugal is one of the world's oldest delimited wine regions, established in 1756. The vineyards of the Douro, set on the slopes surrounding the Douro River (known as the Duero in Spain), are incredibly steep, necessitating the use of terracing and thus, manual vineyard management as well as harvesting. The Douro's best sites, rare outcroppings of Cambrian schist, are reserved for vineyards that yield high quality Port.
While more than 100 indigenous varieties are approved for wine production in the Douro, there are five primary grapes that make up most Port and the region's excellent, though less known, red table wines. Touriga Nacional is the finest of these, prized for its deep color, tannins and floral aromatics. Tinta Roriz (Spain's Tempranillo) adds bright acidity and red fruit flavors. Touriga Franca shows great persistence of fruit and Tinta Barroca helps round out the blend with its supple texture. Tinta Cão, a fine but low-yielding variety, is now rarely planted but still highly valued for its ability to produce excellent, complex wines.
White wines, generally crisp, mineral-driven blends of Arinto, Viosinho, Gouveio, Malvasia Fina and an assortment of other rare but local varieties, are produced in small quantities but worth noting.
With hot summers and cool, wet winters, the Duoro has a maritime climate.
Port is a sweet, fortified wine with numerous styles: Ruby, Tawny, Vintage, Late Bottled Vintage (LBV), White, Colheita, and a few unusual others. It is blended from from the most important red grapes of the Douro Valley, based primarily on Touriga Nacional with over 80 other varieties approved for use. Most Ports are best served slightly chilled at around 55-65°F.
SOU915893_2016
Item#
510690