Graham's Vintage Port 2000
Out of Stock

(was $139.97)
Winemaker Notes
It is with great pleasure that Graham's announces the declaration of the 2000 Vintage, a wine that has been deemed to meet our very exacting standards, and one that shows every promise of living up to the reputation of the very best Vintage ports that the Twentieth Century provided.
This is a landmark wine for Graham's, not only being the first Vintage of a new millennium, but being the first Vintage wine to enjoy the extraordinary results achieved by the new robotic 'lagares' at Malvedos in the inaugural year of our remodelled winery. Significant also has been the decision to include a rather larger proportion of mature Touriga Francesa and Touriga Nacional from Vila Velha, a classic riverside Quinta a short distance downstream from Malvedos, and some spectacular old vine lots from Vale de Malhadas in the Upper Douro. These wines each from family-owned Quintas have been used to reinforce the predominant component from Malvedos and the traditional excellence of the Rio Torto lots from Lages, to produce a rounded and even blend in the hallmark rich Graham style.
Picking began at Malvedos on September 22nd and the last lagar was run off on October 10th, an unusually short and compact Vintage. Fruit arrived in good condition although yields were less than three quarters of a kilogram per vine, and the juice to skin ratio well below normal. 2000 was a year noted for a very low average yield across the Douro, and with the grapes unusually lacking in liquid, the extra amount of treading work required made it an ideal time to employ our new, tireless, mechanical treaders alongside the two original 1890 stone lagares still worked by human feet. It was evident early on in the Vintage from the colour and aroma of the fermenting musts that we were looking at a spectacular year, and after the usual waiting period of sixteen months or so to see how the lots would develop, we have now made our final selection and assembled the final blend.
The blend displays many of the typical Graham aromas of ripe plum and 'esteva' (gum cistus) and is pleasantly smooth on the palate despite its youth. It is full and rich in the mouth with fresh blackberry and red plum notes. Despite the hallmark Graham sweetness in the mouth the finish is long and clean.
As with all Graham Vintages, this is a wine made to last for years and the patience of laying down the wine for fifteen to twenty years will certainly be rewarded.
Critical Acclaim
All Vintages
Smells like freshly picked orchids, with loads of ripe, clean fruit. Full-bodied, medium sweet and very powerful and racy. It lasts for minutes on your palate. Yet there's a balance and class to this young Vintage Port. This is the greatest glass of Graham I have ever tasted, young or old.
Aromas of dried fruits, raisins and Christmas cake. Some chocolate undertones too, plus licorice and wet earth. Full body, medium sweet with gorgeous depth and intensity of fruit. So long and beautiful. What an amazing finish already. So sexy. Drink or hold. But this will go on for decades.
Grapy, unformed, black raspberry liqueur and licorice-infused cassis notes leap from the glass of this opaque purple-colored wine. Sweet, plush, rich, and accessible, it is a forward, lush, concentrated effort that should drink well for two decades. While not one of Graham's most profound ports, it should evolve rapidly, providing immense crowd appeal.
View More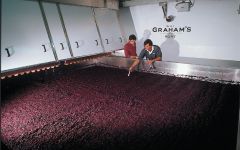 Tradition, experience and knowledge spanning two centuries have given Graham's the values that are at the heart of the company's philosophy. The Graham family motto Ne Oublie (forget not or never forget) perfectly encapsulates the company's commitment to the Douro Region, born of a deep respect for the past.
Founded in 1820, Graham's produced some of the greatest Ports of the 20th century, amongst which the 1927, 1935, 1945, 1970 and 2000 Vintages. In 1970 the company changed ownership from the founding family to the Symingtons, who have themselves been Port producers since 1882, however through their Anglo-Portuguese great-grandmother, they can trace their Port heritage back to 1652. Graham's owns some of the finest vineyards in the Douro Valley, one of the oldest demarcated wine regions in the world and a Unesco World Heritage Site.
The four properties are: Quinta dos Malvedos, Quinta do Tua, Quinta da Vila Velha and Quinta do Vale de Malhadas. Combined, these four mountain estates total 201 hectares of vineyards, located in different areas of the Upper Douro and the Douro Superior, each making distinctive wines that contribute to Graham's singular character and style.
The home of Port—perhaps the most internationally acclaimed beverage—the Douro region of Portugal is one of the world's oldest delimited wine regions, established in 1756. The vineyards of the Douro, set on the slopes surrounding the Douro River (known as the Duero in Spain), are incredibly steep, necessitating the use of terracing and thus, manual vineyard management as well as harvesting. The Douro's best sites, rare outcroppings of Cambrian schist, are reserved for vineyards that yield high quality Port.
While more than 100 indigenous varieties are approved for wine production in the Douro, there are five primary grapes that make up most Port and the region's excellent, though less known, red table wines. Touriga Nacional is the finest of these, prized for its deep color, tannins and floral aromatics. Tinta Roriz (Spain's Tempranillo) adds bright acidity and red fruit flavors. Touriga Franca shows great persistence of fruit and Tinta Barroca helps round out the blend with its supple texture. Tinta Cão, a fine but low-yielding variety, is now rarely planted but still highly valued for its ability to produce excellent, complex wines.
White wines, generally crisp, mineral-driven blends of Arinto, Viosinho, Gouveio, Malvasia Fina and an assortment of other rare but local varieties, are produced in small quantities but worth noting.
With hot summers and cool, wet winters, the Duoro has a maritime climate.
Port is a sweet, fortified wine with numerous styles: Ruby, Tawny, Vintage, Late Bottled Vintage (LBV), White, Colheita, and a few unusual others. It is blended from from the most important red grapes of the Douro Valley, based primarily on Touriga Nacional with over 80 other varieties approved for use. Most Ports are best served slightly chilled at around 55-65°F.
WWH134434_2000
Item#
53899