Graham's 20 Year Old Tawny Port (375ML half-bottle)
Decanter

Suckling
James

Spectator
Wine

Spirits
Wine &

Enthusiast
Wine
Product Details
---
Varietal
---
Region
---
Producer
---
Size
375ML
---
ABV
20%
---
Features
Green Wine
---
Winemaker Notes
Amber, golden tawny color. An excellent bouquet, with a characteristic "nutty" character, such as almonds, and delicious mature fruit with hints of orange peel. Rich, sweet and smooth onthe palate, it is perfectly balanced, with a long and lingering finish.
Graham's 20 Year Old Tawny Port pairs extremely well with vanilla ice cream or crème brulee. Serve slightly chilled to appreciate thefull complexity and sensuous pleasure of this wine.
Port is best served in classic Port wine glassware or white wine glasses. Avoid cordial or liqueur glasses as they are too small to fully appreciate the wine's aromas.
Professional Ratings
Decanter

Tawny Port is always exciting, but if you can afford to splash out, go for a 20 Year Old. All the major houses make wonderful aged tawnies and this is always one of the best. Ethereal and mellow on the palate, it boasts flavours of toffee and caramel, burnt orange and raisins, dried plums, hazelnuts and a savoury hint of mushroom on the finish. Wonderful stuff!

James Suckling

Dried cherry, iodine and peat with some watermelon. Hints of toffee and bark. Medium-to full-bodied, sweet and layered with a tannin texture and rich finish. Tangy and focused. Drink now.

Wine Spectator

Lovely, with date and persimmon notes that are melded seamlessly, picking up light bitter orange, ginger and green tea accents along the way. Echoes of sweet golden raisin and hazelnut linger on the finish, which is polished and long. A beauty. Drink now.

Wine & Spirits

Earthy rather than fruity, this is all about umami, its cool cellar tones layering dark mushroom and savory black bean flavors over papaya. It lasts with intriguing complexity that would work with a range of umami-rich foods, like seafood in an XO sauce.

Wine Enthusiast

This is a hugely dry, burnt style, very concentrated. The licorice and bitter coffee flavors are dense, layered and well balanced with the acidity. A serious wine that demands attention.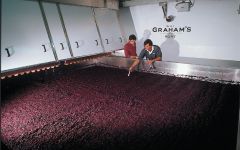 Tradition, experience and knowledge spanning two centuries have given Graham's the values that are at the heart of the company's philosophy. The Graham family motto Ne Oublie (forget not or never forget) perfectly encapsulates the company's commitment to the Douro Region, born of a deep respect for the past.
Founded in 1820, Graham's produced some of the greatest Ports of the 20th century, amongst which the 1927, 1935, 1945, 1970 and 2000 Vintages. In 1970 the company changed ownership from the founding family to the Symingtons, who have themselves been Port producers since 1882, however through their Anglo-Portuguese great-grandmother, they can trace their Port heritage back to 1652. Graham's owns some of the finest vineyards in the Douro Valley, one of the oldest demarcated wine regions in the world and a Unesco World Heritage Site.
The four properties are: Quinta dos Malvedos, Quinta do Tua, Quinta da Vila Velha and Quinta do Vale de Malhadas. Combined, these four mountain estates total 201 hectares of vineyards, located in different areas of the Upper Douro and the Douro Superior, each making distinctive wines that contribute to Graham's singular character and style.
Port is a sweet, fortified wine with numerous styles: Ruby, Tawny, Vintage, Late Bottled Vintage (LBV), White, Colheita, and a few unusual others. It is blended from from the most important red grapes of the Douro Valley, based primarily on Touriga Nacional with over 80 other varieties approved for use. Most Ports are best served slightly chilled at around 55-65°F.
The home of Port—perhaps the most internationally acclaimed beverage—the Douro region of Portugal is one of the world's oldest delimited wine regions, established in 1756. The vineyards of the Douro, set on the slopes surrounding the Douro River (known as the Duero in Spain), are incredibly steep, necessitating the use of terracing and thus, manual vineyard management as well as harvesting. The Douro's best sites, rare outcroppings of Cambrian schist, are reserved for vineyards that yield high quality Port.
While more than 100 indigenous varieties are approved for wine production in the Douro, there are five primary grapes that make up most Port and the region's excellent, though less known, red table wines. Touriga Nacional is the finest of these, prized for its deep color, tannins and floral aromatics. Tinta Roriz (Spain's Tempranillo) adds bright acidity and red fruit flavors. Touriga Franca shows great persistence of fruit and Tinta Barroca helps round out the blend with its supple texture. Tinta Cão, a fine but low-yielding variety, is now rarely planted but still highly valued for its ability to produce excellent, complex wines.
White wines, generally crisp, mineral-driven blends of Arinto, Viosinho, Gouveio, Malvasia Fina and an assortment of other rare but local varieties, are produced in small quantities but worth noting.
With hot summers and cool, wet winters, the Duoro has a maritime climate.