Gradis'ciutta Ribolla Gialla 2018
Out of Stock

(was $22.99)
Winemaker Notes
Clear straw yellow with an unmistakable and pleasing bouquet, with textbook varietal perfumes of citrus fruit, alluring apples, and a note of cream. The palate offers a fragrant beginning, with a succession of corresponding flavors that in the finish leave room for an elegant reminiscence of apple.
It can be appealing with grilled fish, but also cream soups, for example with asparagus and mushrooms. It is excellent paired with white meats and simple country dishes.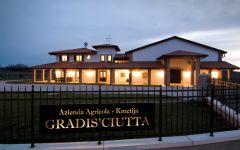 West of the city of Gorizia in northeastern Italy, there is a group of hills known as Collio where Gradis'ciutta is situated. The Isonzo River flows through this hilly stretch to the southeast, towards the Judrio creek to the northwest, and in the south it merges into the Friulian plain. Appreciated not only for its wines, but also for fruit and olive oil, Collio was once a backdrop for skirmishes during the Great War. Today, the area is synonymous with high-quality white wines. At Gradis'ciutta, Collio's unique terroir is reflected in the outstanding wines produced, whether they be indigenous or international varietals. Before carrying the name Gradis'ciutta, the vineyard area was known as Monsvini, which in Latin means "Mount of Wine." The soul behind the constantly evolving reality of Gradis'ciutta is Robert Princic, who got his start in wine at a young age, spending time in the vines every harvest with his hardworking parents, Isidoro and Ivanka. Today, Robert continues to carry the lessons he learned as a boy into the vineyards and his winemaking practices, embodying a deep care and respect for the land. Robert also carries forward the Princic family's long history with wine, who, as a historical notary deed proves, were producing wine in Kosana as early as 1780.
Viticulture has thrived in Colli Orientali del Friuli since the reign of ancient Rome and today its verdant, rolling hills support a long list of autochthonous varieties, each playing a unique and important role in the modern Colli Orientali wine scene.
The region is primarily recognized for its white wines. Its indigenous varieties of Ribolla Gialla, Verduzzo, Picolit and perhaps most importantly, Friulano are made into single varietal wines or blended, and often blended with the international varieties of Sauvignon blanc, Pinot grigio and Pinot bianco. The latter have been flourishing in the area since the 1800s. But it wasn't until the 1970s when producers started using cold fermentation techniques to produce fresh, fruity, crisp and aromatic whites that this area began to attract international attention.
While reds only make up about a third of the area under vine, Colli Orientali is home to some of Italy's most exciting and rare red wines. Refosco, Schioppettino, Tazzelenghe and Pignolo are among the autochthonous varieties while Merlot, Cabernet Sauvignon and Pinot Noir also have a stronghold.
Colli Orientali holds much in common with its neighbor, Collio; the only thing dividing them is a political line. Both are influenced by the cooling effects of the Julian Alps and moderated by the Adriatic Sea. A unique soil of alternating marine layers called flysch also dominates Colli Orientali, providing a mineral-rich environment for vine roots and optimal water drainage.
The exact origins of Ribolla Gialla remain unclear, though it most likely came to Friuli before the 1200s by way of Slovenia, where it goes by the moniker, Rebula. Blanketing vineyard hillsides along the Italian-Slovenian border, unconcerned about which side it is on, this pink-skinned variety creates a range of styles from the crisp, dry, still or sparkling whites to the charmingly ephemeral, skin-contact orange wines. Somm Secret—If you're into orange wines, go visit Collio's Oslavia and Slovenia's Goriska Brda regions. They are so close you'll hardly know you've gone from one to the other.
PBC9246928_2018
Item#
931074