Gracias a Dios Espadin Joven Mezcal
Out of Stock

(was $42.99)
Distiller Notes
2021 San Francisco World Spirits Competition Gold Medal Winner
 Double distilled Mezcal made from 8-year-old cultivated agave in Oaxaca's Central Valleys. Subtle notes of lemon tree leaves and peels dance with herbaceous notes and subtle hints of minerality, which are rounded out by caramel and spices. Rich acidity and medium bodied. On the palate, pleasant herbal notes such as lemongrass and cooked agave arise. A lingering finish sprinkled with anise, ginger and caramel.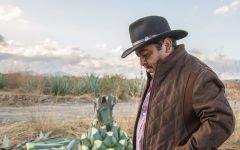 An authentic Mexican brand, Gracias a Dios, meaning 'Thank God', pays homage to daily gratitude. It was a phrase often heard among the Gracias a Dios family as a reminder that life is beautiful. Their passion for life's beauty is astoundingly apparent within every Gracias a Dios Mezcal and Agave Gin. Although production of Gracias a Dios only began in January 2013, all GAD products are handcrafted by 4th and 5th generation Maestros Mezcaleros.
The four amigos continued their mezcal journey by banding together as business partners. The first planting of agave was in 2011, followed by production in 2013. 
Today, GAD produces a wide variety of agave-based products, including classics, wild agave limited editions, flavored and special editions. This incredible collection is all handmade by Oscar Hernandez (4th generation) and his nephew Milo Jimenez (5th generation). 
Their passion for mezcal production extends to the environment and their workers. Starting in the fields, approximately 10 hectares of agave are sowed per year. Additionally, about 2,200 mezquite trees are planted each year, with an expectation to plant 10,000 trees from 2020 and on. Within their community, Gracias a Dios donates adobe blocks made from the maguey and tree waste. These blocks are to benefit the communities of mezcal regions. The adobe blocks were also used to build parts of the Gracias a Dios factory. Also, all employees receive the 25% above the standard daily salary in Matalán, insurance, hot water and dorms for their workers.
While sunny days in Oaxaca enable the Gracias a Dios team to use 100% of the energy used in the factory from solar power, rainy days allow for 60% of the water used to be collected from rain; 180,000 liters per year.
Mezcal Joven or "young" is bottled within two months of distillation without barrel aging and will appear clear, like a Vodka or Gin. Longer barrel aging, with the principal aim to soften and round a spirit's flavor profile, is often most prized by connoisseurs. However, many die-hard Mezcal enthusiasts insist that oak takes away from the purity of the agave flavors—ranging from earthy and smoky to sweet and floral, often in the same Mezcal—and that Mezcal Joven is the best expression.