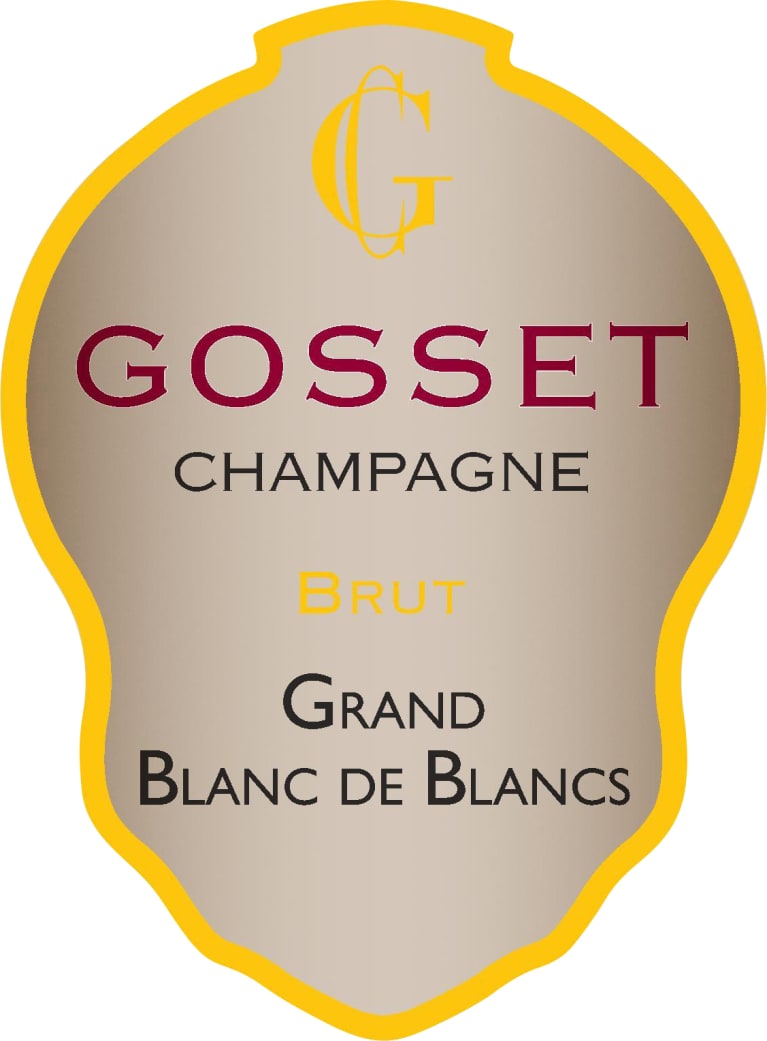 Gosset Grand Blanc de Blancs Brut
Out of Stock

(was $89.99)
Winemaker Notes
Pale golden yellow; the fine, steady bubbles rise gracefully. The nose is both mineral and floral, revealing aromas of flowers, white fruits, apricots, Mirabelle plum and light notes of lemon, citrus fruit, quince jelly and honey. White flowers mingle with a hint of toastiness. There is a silky and harmonious sensation for this crisp, structured champagne.
The Grand Blanc de Blancs Brut makes the perfect apéritif; its freshness also makes it ideal for pairing with many dishes, including scallops, crab remoulade or gougères.
Critical Acclaim
All Vintages
The most subtle lemony cloud hovers above a certain chalkiness on the nose. Utter subtlety also characterises the super-svelte palate that is as light as a feather, yet conveys great depth and creamy softness. The freshness seems buffered by chalk, the mousse serves to remind you that this is actually Champagne, so breezy, so light, so elegant is this. A wonderful combination of depth and weightlessness. Drinking Window 2020 - 2030
Chardonnay from the Côte des Blancs gives this Champagne its typical mineral edge that partners with open apple fruits and crisp acidity. The wine perfectly marries fruit and texture. Drink now. Wilson Daniels Ltd.
Blanc de Blancs are generally regarded as the lighter, more elegant members of the Champagne family, and, if this expressive and involving effort from Gosset hits the mark for refinement, it goes well beyond the norm in terms of sheer richness and depth. It is as complex as Blanc de Blancs is wont to get and sports layer upon layer of brioche, biscuits and cream, but for all of its autolyzed extras it is still spry and vital with life to spare. It is an altogether compelling Champagne best sipped slowly and on its own, but we would not refuse a few oysters if offered.
This wine's flavors seem to be carved out of chalk, its fruit mellowed to notes of Marcona almond, toast and white mushrooms, its structure firm and classical. It's a blend of chardonnay from the Côte des Blancs and Montagne de Reims, achieving its richness without malolactic fermentation, so there's a sharp line of acidity adding a chalky grace note in the end.
The latest rendition of Gosset's NV Brut Grand Blanc de Blancs reveals youthful aromas of citrus zest, white flowers and almond paste. Medium to full-bodied, bright and fleshy, with tangy acids and a pillowy mousse, it concludes with chalky grip. This Champagne's structure suggests that it should develop gracefully in the cellar.
A light, bright and lithe Champagne that has plenty of bright, toasty aromas with grapefruit and spiced lemon-biscuit notes. The palate is rich, smoothly fleshy and has attractive build and deep, lemon and grilled-nectarine flavors. Drink now.
A linear Champagne, with rapier-like acidity and a citrusy overtone of Meyer lemon peel and verbena. The palate's lively bead is tightly-meshed with notes of green apple, plum and salted almond. Drink now.
View More
Founded in Aÿ in 1584 by Pierre Gosset, Champagne Gosset is the oldest wine house in Champagne. For more than four centuries, the family has preserved its house style, a true reflection of the terroir; a textured wine that shows purity, precision and persistence.
Champagne Gosset's reputation for quality starts in the vineyard, where it sources over 200 unique lots of grapes almost entirely from premier cru and grand cru vineyards in the Côte des Blancs, Grande Vallée de la Marne and Montagne de Reims. Long-term relationships with growers that date back several generations, allow the winemaking team to direct activity in the vineyards.
Champagne Gosset's winemaking utilizes all the grapes and terroir have to offer and minimizes other inputs. Gosset carefully avoids malolactic fermentation, thus preserving the malic acid present in the grapes. Grower lots are kept separate until it is time to blend the cuvées, and vinification temperatures are managed carefully to preserve delicate aromatics. During assemblage, all the lots are tasted blind – there are no recipes. Similarly, dosage for each lot is selected during blind trials. Non-vintage wines are cellared for at least three years, vintage wines at least seven and 10 for the CELEBRIS cuvées.
After 17 generations, Champagne Gosset's philosophy continues to produce dynamic, age-worthy cuvées.
Associated with luxury, celebration, and romance, the region, Champagne, is home to the world's most prized sparkling wine. In order to bear the label, 'Champagne', a sparkling wine must originate from this northeastern region of France—called Champagne—and adhere to strict quality standards. Made up of the three towns Reims, Épernay, and Aÿ, it was here that the traditional method of sparkling wine production was both invented and perfected, birthing a winemaking technique as well as a flavor profile that is now emulated worldwide.
Well-drained, limestone and chalky soil defines much of the region, which lend a mineral component to its wines. Champagne's cold, continental climate promotes ample acidity in its grapes but weather differences from year to year can create significant variation between vintages. While vintage Champagnes are produced in exceptional years, non-vintage cuvées are produced annually from a blend of several years in order to produce Champagnes that maintain a consistent house style.
With nearly negligible exceptions, . These can be blended together or bottled as individual varietal Champagnes, depending on the final style of wine desired. Chardonnay, the only white variety, contributes freshness, elegance, lively acidity and notes of citrus, orchard fruit and white flowers. Pinot Noir and its relative Pinot Meunier, provide the backbone to many blends, adding structure, body and supple red fruit flavors. Wines with a large proportion of Pinot Meunier will be ready to drink earlier, while Pinot Noir contributes to longevity. Whether it is white or rosé, most Champagne is made from a blend of red and white grapes—and uniquely, rosé is often produce by blending together red and white wine. A Champagne made exclusively from Chardonnay will be labeled as 'blanc de blancs,' while ones comprised of only red grapes are called 'blanc de noirs.'
A term typically reserved for Champagne and Sparkling Wines, non-vintage or simply "NV" on a label indicates a blend of finished wines from different vintages (years of harvest). To make non-vintage Champagne, typically the current year's harvest (in other words, the current vintage) forms the base of the blend. Finished wines from previous years, called "vins de reserve" are blended in at approximately 10-50% of the total volume in order to achieve the flavor, complexity, body and acidity for the desired house style. A tiny proportion of Champagnes are made from a single vintage.
There are also some very large production still wines that may not claim one particular vintage. This would be at the discretion of the winemaker's goals for character of the final wine.
PBC9192784_0
Item#
135959