Glenlivet 12 Year Single Malt Scotch Whisky
Out of Stock

(was $44.99)
Distiller Notes
There's arguably no scotch single malt whisky more reliable than The Glenlivet 12 Years of Age. This is a standout in the Glenlivet family you can count on for virtually any meal pairing.Proof: 80
Critical Acclaim
All Vintages
Look for a honey hue and super-fresh, bright orchard fruit aromas. The drying palate shows oak and vanilla, plus darker hints of espresso and clove. The finish is lifted by a pleasing hint of lemon cream pie. Sip or mix. Best Buy
View More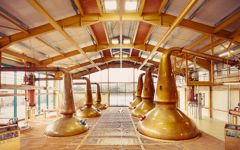 The Glenlivet has been distilled for pleasure since 1824. Founder George Smith, believed whisky as the ultimate pleasure should be made unhurried, as time and care created the highest quality and flavorsome product. George's innovative thinking, technique and the best ingredients created a whisky that set the standard for the region of Speyside.
Today, still considered the definitive Speyside malt produced in the Livet Valley, The Glenlivet exhibits the characteristic delicacy and softness of the region. It is acclaimed for its balance and perfect finish and is the benchmark against which all other malts are measured.
The Glenlivet set the standard in quality and taste that went on to define the Speyside style of whisky. There were many imitators, but no equals. That's why a landmark case in 1884 ruled in favour of our single malt being the only one that could call itself The Glenlivet. To this day, The Glenlivet remains the benchmark that all other Speyside single malts are measured against. Glenlivet will always take great pride in setting that standard.
"A good gulp of hot Scotch Whisky at bedtime–it's not very scientific, but it helps!"
Alexander Fleming, Scottish inventor of penicillin, prescribed it as a cure for the common cold. Today Single Malt Scotch Whiskies are prized by enthusiasts and aficionados the world over for their rarity, age and complexity. By definition these must be produced in Scotland from a single distillery and made entirely from malted barley, using a pot still. The appearance, aroma and flavor of a Single Malt Scotch Whisky can vary widely depending on whether it was produced in the Highlands, Lowlands Islands, Speyside, Islay or Campbelltown regions.