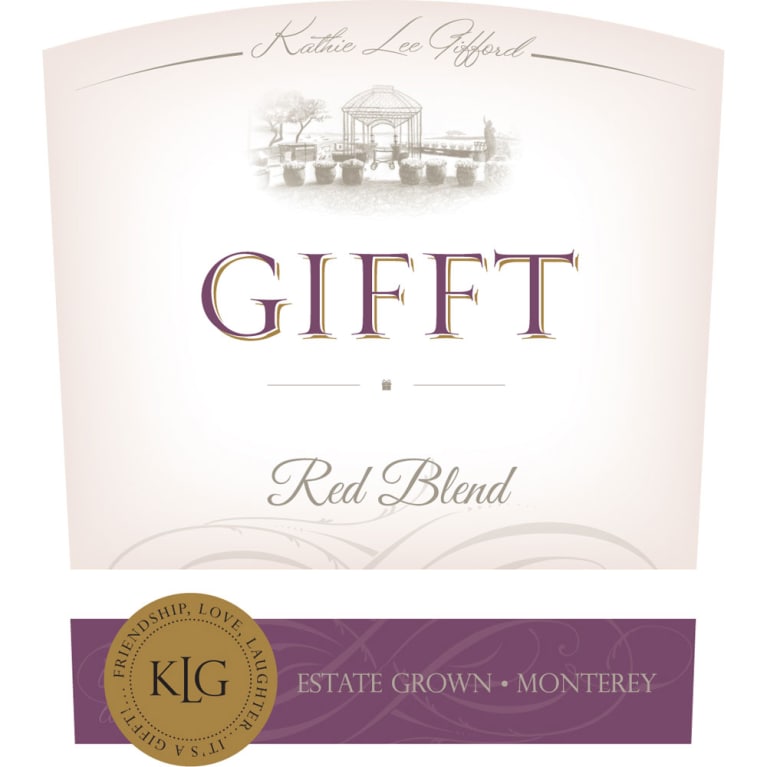 GIFFT by Kathie Lee Gifford Red Blend 2015
Winemaker Notes
Delightful aromas of ripe cherries, black fruit and vanilla make this red wine blend very approachable. Lively flavors of plum, blueberries and cassis greet the palate while notes of anise linger on the finish. A smooth, silky mouthfeel sits on a medium-bodied, rounded frame that finishes with a touch of sweet oak vanilla.
Blend: 30% Petite Sirah, 26% Merlot, 18% Petit Verdot, 14%Syrah, 9% Tempranillo, 2% Riesling, 1% Muscat Canelli
A geographic and climatic paradise for grape vines, Monterey is a part of the greater Central Coast AVA and contains within it five smaller sub-appellations, including Arroyo Seco, San Lucas, San Bernabe, Hames Valley and the famous Santa Lucia Highlands. The climate is relatively warm but tempered by cool, coastal winds, allowing the regions in Monterey County an exceptionally long growing season. Bud break often happens two weeks sooner and harvest tends to be two weeks later compared to other surrounding regions.
Monterey's coastal side, where the cooling ocean fog allows grapes to develop a perfect sugar-acid balance, excels in the production of Chardonnay, Pinot Noir and Riesling. Warmer, inland subzones are home to fleshy, concentrated and full-bodied reds like Cabernet Sauvignon, Merlot and Zinfandel.
Chardonnay, covering about 40% of vineyard acreage, is the most widely planted grape in all of Monterey County.
With hundreds of red grape varieties to choose from, winemakers have the freedom to create a virtually endless assortment of blended red wines. In many European regions, strict laws are in place determining the set of varieties that may be used, but in the New World, experimentation is permitted and encouraged resulting in a wide variety of red wine styles. Blending can be utilized to enhance balance or create complexity, lending different layers of flavors and aromas. For example, a red wine blend variety that creates a fruity and full-bodied wine would do well combined with one that is naturally high in acidity and tannins. Sometimes small amounts of a particular variety are added to boost color or aromatics. Blending can take place before or after fermentation, with the latter, more popular option giving more control to the winemaker over the final qualities of the wine.
How to Serve Red Wine
A common piece of advice is to serve red wine at "room temperature," but this suggestion is imprecise. After all, room temperature in January is likely to be quite different than in August, even considering the possible effect of central heating and air conditioning systems. The proper temperature to aim for is 55° F to 60° F for lighter-bodied reds and 60° F to 65° F for fuller-bodied wines.
How Long Does Red Wine Last?
Once opened and re-corked, a bottle stored in a cool, dark environment (like your fridge) will stay fresh and nicely drinkable for a day or two. There are products available that can extend that period by a couple of days. As for unopened bottles, optimal storage means keeping them on their sides in a moderately humid environment at about 57° F. Red wines stored in this manner will stay good – and possibly improve – for anywhere from one year to multiple decades. Assessing how long to hold on to a bottle is a complicated science. If you are planning long-term storage of your reds, seek the advice of a wine professional.
EPC35006_2015
Item#
177797