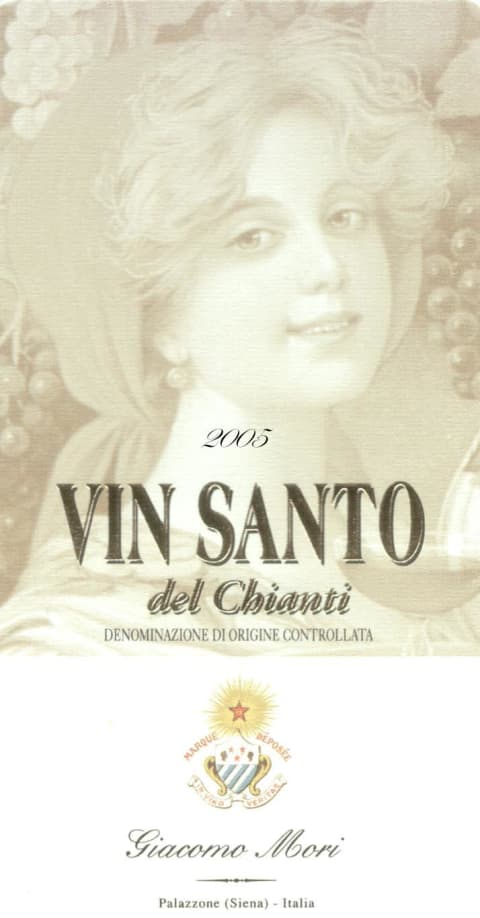 Giacomo Mori Vin Santo del Chianti 2005
Out of Stock

(was $89.99)
The Mori family has owned this estate since the 18th century and have been growing grapes and selling wine to the local cooperative since the 1830s. However, it was not until the mid 1990s that Giacomo Mori renovated the vineyards and cellar and began estate bottling. Mori refurbished the family's spectacular cellar and re-equipped the ancient winery and cave. The cellar is dug into live tufo rock and is built on three different levels, in order to ensure that all the wine can be racked and transferred entirely by gravity feed. He chose only low-yielding rootstock and the finest clones of Chianti's indigenous Sangiovese and Canaiolo to resurrect his family's 10-hectare vineyard. He has spaced the vines tight, so as to force their roots to dig deep into the earth and yield maximum complexity. He prunes very short and employs only organic fertilization. No chemical sprays are used in the vineyards or the winery.
One of the most iconic Italian regions for wine, scenery and history, Tuscany is the world's most important outpost for the Sangiovese grape. Tuscan wine ranges in style from fruity and simple to complex and age-worthy, Sangiovese makes up a significant percentage of plantings here, with the white Trebbiano Toscano coming in second.
Within Tuscany, many esteemed wines have their own respective sub-zones, including Chianti, Brunello di Montalcino and Vino Nobile di Montepulciano. The climate is Mediterranean and the topography consists mostly of picturesque rolling hills, scattered with vineyards.
Sangiovese at its simplest produces straightforward pizza-friendly Tuscan wines with bright and juicy red fruit, but at its best it shows remarkable complexity and ageability. Top-quality Sangiovese-based wines can be expressive of a range of characteristics such as sour cherry, balsamic, dried herbs, leather, fresh earth, dried flowers, anise and tobacco. Brunello, an exceptionally bold Tuscan wine, expresses well the particularities of vintage variations and is thus popular among collectors. Chianti is associated with tangy and food-friendly dry wines at various price points. A more recent phenomenon as of the 1970s is the "Super Tuscan"—a red wine made from international grape varieties like Cabernet Sauvignon, Merlot, Cabernet Franc and Syrah, with or without Sangiovese. These are common in Tuscany's coastal regions like Bolgheri, Val di Cornia, Carmignano and the island of Elba.
Apart from the classics, we find many regional gems of different styles.
Late harvest wines are probably the easiest to understand. Grapes are picked so late that the sugars build up and residual sugar remains after the fermentation process. Ice wine, a style founded in Germany and there referred to as eiswein, is an extreme late harvest wine, produced from grapes frozen on the vine, and pressed while still frozen, resulting in a higher concentration of sugar. It is becoming a specialty of Canada as well, where it takes on the English name of ice wine.
Vin Santo, literally "holy wine," is a Tuscan sweet wine made from drying the local white grapes Trebbiano Toscano and Malvasia in the winery and not pressing until somewhere between November and March.
Rutherglen is an historic wine region in northeast Victoria, Australia, famous for its fortified Topaque and Muscat with complex tawny characteristics.
ZZZREFPRODUCT207735
Item#
207735