Gerard Bertrand Ballerine Etoile Brut Rose
Winemaker Notes
The delicate pale rosé color is inspired by the sunset as seen from the rooftop of the Paris Opera. The bubble is delicate, frothy and persistent. The nose is generous and complex with subtle aromas of red berries and white flowers. The wine is precise and elegant, the flavors reflect the aromas perceived on the nose in a generous basket of red fruit on a bed of brioche. The finish is very long and rich with soft and creamy notes.
Pairs well with aperitif or seafood.
Critical Acclaim
All Vintages
Rich, with flavors of buttery scone topped with accents of strawberry preserves and clotted cream, this vivacious rosé sparkler features citrusy acidity and a lively mousse. Offers a lingering creamy finish.
Beautifully perfumed with creamy peach and a hint of blanched nuts, the palate is buoyed with plush, ripe yellow fruit.
View More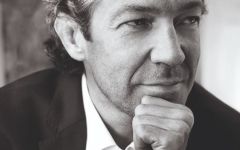 Gerard Bertrand was born and raised in the South of France. Making wine with his father, Georges, since the age of 10, Gerard Bertrand offers the full range and diversity of wines from the region – red, white, rose, varietal, appellation, estate, still, sparkling, and dessert.
Every wine evokes the image and emotions from the South of France; "Art de Vivre" – the "art of life." Committed to producing quality wines of great value, Gerard is hands on in every facet which bears his name… and has been fortunate to receive great accolades from World Wide press reinforcing his dedication.
"I welcome all to experience the South of France; here at Chateau L'Hospitalet or at your own home or favorite restaurant."
An appellation in the cooler, elevated, southern Languedoc and internationally recognized for its sparkling wines, Cremant de Limoux by definition must be comprised predominantly of Chardonnay and Chenin Blanc with only miniscule amounts of the indigenous white variety, Mauzac.
This is in contrast to the more regional sparkler, Blanquette de Limoux, created from mainly Mauzac with tiny amounts of Chardonnay and Chenin Blanc.
What are the different types of sparkling wine and Champagne?
Beloved for its lively bubbles, sparkling wine is the ultimate beverage for any festivity, whether it's a major celebration or a mere merrymaking of nothing much! Sparkling wine is made throughout the winemaking world, but only can be called "Champagne" if it comes from the Champagne region of France and is made using what is referred to as the "traditional method." Other regions have their own specialties—Crémant in other parts of France, Cava in Spain and Prosecco in Italy, to name a few. New World regions like California, Australia and New Zealand enjoy the freedom to make many styles of sparkling wine, with production methods and traditions defined locally. In a dry style, Champagne and sparkling wine goes with just about any type of food. Sweet styles are not uncommon and among both dry and sweet, you'll find white, rosé—or even red!—examples.
How is sparkling wine and Champagne made?
Champagne, Crémant, Cava and many other sparkling wines of the world are made using the traditional method, in which the second fermentation (the one that makes the bubbles) takes place inside the bottle. With this method, spent yeast cells remain in contact with the wine during bottle aging, giving it a creamy mouthful, toasted bread or brioche qualities and in many cases, the capacity to age. For Prosecco, the carbonation process usually occurs in a stainless steel tank (before bottling) to preserve the fresh fruity and floral aromas imminent in this style.
What gives sparkling wine and Champagne its bubbles?
The bubbles in sparkling wine are formed when the base wine undergoes a secondary fermentation, which traps carbon dioxide inside the bottle or fermentation vessel.
How do you serve sparkling wine and Champagne?
Ideally for storing sparkling wine and Champagne in any long-term sense, they should be at cellar temperature, about 55F. For serving, cool sparkling wine and Champagne down to about 40F to 50F. (Most refrigerators are colder than this.) As for drinking it, the best glasses have a stem and flute or tulip shape to allow the bead (bubbles) to show.
How long does sparkling wine and Champagne last?
Most sparkling wines like Prosecco, Cava or others around the "$20 and under" price point are intended for early consumption. Sparkling wines made using the traditional method with extended cellar time before release can typically improve with age. If you are unsure, definitely consult a wine professional for guidance.