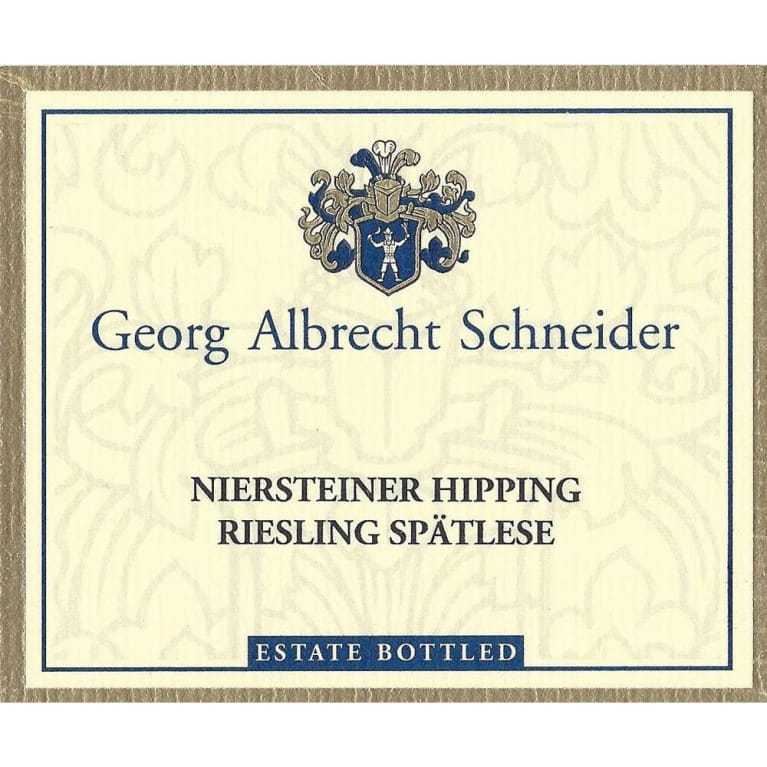 Georg Albrecht Schneider Niersteiner Hipping Riesling Spatlese 2012
Regular price
Currently Unavailable

$19.99
Winemaker Notes
Georg Schneider's Niersteiner Spatlese is excellent. A rich, intensely fruity Riesling with characteristics so rarely found due to the difficulty of getting Riesling to this level of ripeness. Apples, peaches, tropical fruit, and more. Subtle nuances complexity..... a true connoisseur selection!
Critical Acclaim
All Vintages
Hints of pine frond, earth and smoke entice on the nose of this unusual, remarkably well-priced Riesling. Semi-sweet in style, it's rich and creamy on the palate with luscious peach and grapefruit flavors. It's surprising nuanced too, exposing layers of steel, crushed mineral and acid that meld beautifully through a long finish.
Editors' Choice
Schnieder's riesling from this steep, iron-rich vineyard seems to have found its sweet spot at Spätlese ripeness in 2012. Where the Kabinett feels a little thick, this is all sunlight and lift, the fruit Golden Delicious and clementine in flavor yet the minerality spicy and uplifting. Delicious stuff. Winesellers, Niles, IL
View More
Albrecht Schneider's maxim has always been absolute devotion to his vineyards and wines. The estate has been owned by the Schneider family for 7 generations, and today at vintage time, three generations are at work. 15 hectares (37 acres) in Nierstein belong to the estate, over 40% of which are planted to Riesling. Red sandstone soils are predominant in the best sites that yield rich and spicy wines. 1995 marked a step forward for the estate, with more spacious underground cellars and warehousing facilities purchased in Nierstein. The old underground cellars provide ideal conditions for modern production methods.
The steep Hipping vineyard, known as the red slope, der roter Hang, is rated as one of the best in Germany, producing Riesling with spicy mineral flavors, exotic and pronounced ripe fruit with excellent maturing potential as the site sometimes produces a wine that is slow to show its true promise. The slope itself is warmed by the early morning sunshine and the red sandstone soil retains the warmth. The proximity to the Rhine protects the foliage from early fall cold nights and allows for a long growing season.
Since vintage 1997, temperature-controlled cold fermentation in stainless-steel vats has been introduced. Albrecht's wines now display even more richness and clear, ripe fruit. They are well structured with individual characteristics derived from their various single vineyard sites.
Recognized as a top quality grape here since the Middle Ages, Germany retains its high reputation as a premier source of the finest Riesling. Heavily planted throughout the Rheingau and Mosel, Riesling responds splendidly to these regions' extreme climatic and topographic challenges. Cold-hardy enough to survive freezing winters, and sturdy enough to withstand the warm sun, Riesling has enough natural acidity to maintain balance, even in wines with the highest levels of residual sugar. While high quality is possible in all points of the sweet to dry spectrum, Riesling typically produces wine with relatively low alcohol, high acidity, steely minerality, stone fruit, citrus, spice and floral notes. With age, Riesling can become truly revelatory, developing unique, complex aromatics, often with a hint of petrol.
PIODEGS_WRNHS12_2012
Item#
239215