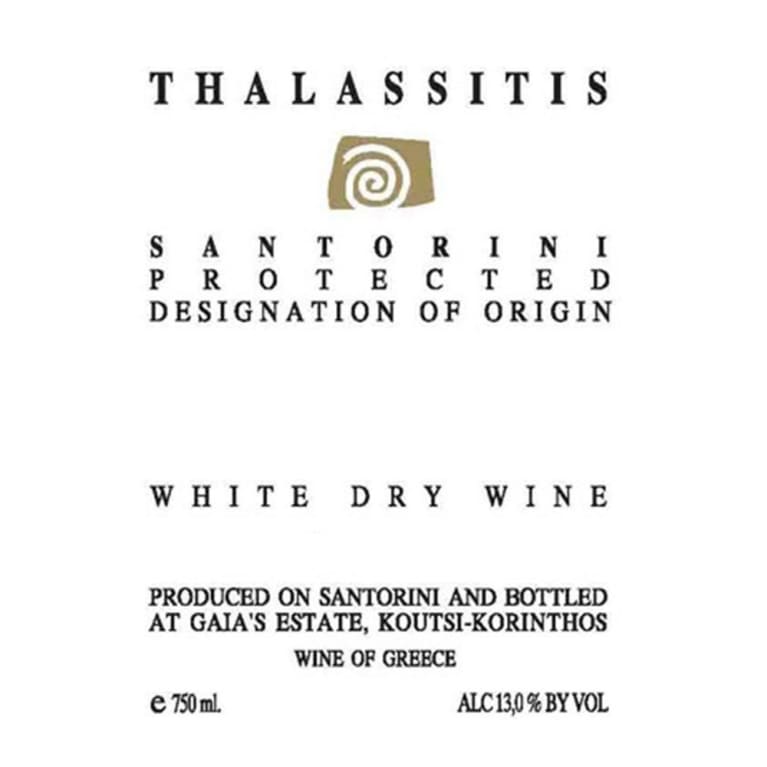 Gaia Santorini Thalassitis Assyrtiko 2013
Currently Unavailable

$29.99
Ships today if ordered in next 9 hours
Winemaker Notes
Produced from Santorinis indigenous white grape variety, Assyrtiko. Perhaps, it is the only variety in the Mediterranean that manages to combine full maturity of grapes with considerably high acidity, despite the specific climatic conditions of the Island.
All the Assyrtiko grapes selected for this wine originate exclusively from vineyards in Episkopi, Akrotiri and Pyrgos regions. The vines are almost 80 years old and have a particularly low-yields.
This is a bone-dry wine with strong character: full-bodied, well-structured with crisp acidity, distinctive minerality and delicate honeysuckle aromas. Enjoy it with seafood, fish, shellfish or even lamb stewed in lemon sauce.
Critical Acclaim
All Vintages
As is typical for Thalassitis, this is long, lean and tightly wound, needing air to get past the initial green onion notes of reduction. Then it begins to build, slightly herbal and cucumber-crisp, a leesy richness bringing fatness to all the minerality. The wine lasts, one of the most austere of the vintage, wanting another few years in bottle to come into its own.
The 2013 Thalassitis is the winery's flagship, unoaked and sourced from ungrafted, old vines (70-80 years) Assyrtiko (without malolactic fermentation since, says the winery, it has no malic acid). It is listed at 13% alcohol this year. In its youth, this is quite aggressive, the acidity lacing into the palate and leaving a lemony nuance. There is a lot of tension on that finish, notable grip and some very nice fruit, too. I expect this to calm down a bit, and it should drink much better this summer, but it is actually quite exciting right now. This does seem to be a rather pointed Thalassistis, though, eschewing any hints of lushness for precision and tension. I loved the juicy finish a lot. Given the aggressive beginning, it was clear that this was a wine that needed some reexamination with more air. Two days later it was much more transparent, with the acidity still bracing, but not throwing off as much lemon. There was a touch of flint, which made me a bit wary, but it was currently overwhelmed by the acidity and fresh fruit. Hopefully, it will continue to move in the right direction and it did seem to improve with more air. For fun, I gave it a few extra hours of breathing on Day 2, and it seemed just great. By the time it hit 65F, after hours of aeration, it seemed quite full in the mouth and completely impressive. Mostly, it has a nuance that could only be called steely, a word used by the owner quite correctly. If this is a fairly stern Thalassitis, I suspect it will make a great summer refresher by the time summer rolls around, and for the reasonably foreseeable future. It is one of those invigorating wines that will wake you up on a warm, lazy day. Drink now-2022.
View More
GAIA WINES was founded in 1994 by Leon Karatsalos and Yiannis Paraskevopoulos.
Thalassitis, a Santorini A.O.C. white wine, inaugurated the company's first appearance, and quickly won a place in the Greek wine market. The 9,800 numbered bottles of Thalassitis in 1994, rapidly rose to more than 100,000 in 1999, all the while maintaining its commitment to quality.
In 1996 GAIA WINES acquired a private vineyard in Koutsi region of Nemea, along with a perfectly equipped winery of a total capacity of 3.000hl.
A picturesque Mediterranean nation with a rich wine culture dating back to ancient times, Greece has so much more to offer than just retsina. Between the mainland and the country's many islands, a wealth of wine styles exists, made mostly from Greece's plentiful indigenous varieties. After centuries of adversity after Ottoman rule, the modern Greek wine industry took off in the late 20th century with an influx of newly trained winemakers and investments in winemaking technology.
The climate—generally hot Mediterranean—can vary a bit with latitude and elevation, and is mostly moderated by cool maritime breezes. Drought can be an issue for Greek wine during the long, dry summers, sometimes necessitating irrigation.
Over 300 indigenous grapes have been identified throughout Greece, and though not all of them are suitable for wine production, future decades will likely see a significant revival and refinement of many of these native Greek wine varieties. Assyrtiko, the crisp, saline variety of the island of Santorini, is one of the most important and popular white varieties, alongside Roditis, Robola, Moschofilero, and Malagousia. Muscat is also widely grown for both sweet and dry wines. Prominent red varieties include full-bodied and fruity Agiorghitiko, native to Nemea; Macedonia's savory, tannic Xinomavro; and Mavrodaphne, used commonly to produce a Port-like fortified wine in the Peloponnese.
A crisp white variety full of zippy acidity, Assyrtiko comes from the volcanic Greek island of Santorini but is grown increasingly wide throughout the country today. Assyrtiko's popularity isn't hard to explain: it retains its acid and mineral profile in a hot climate, stands alone or blends well with other grapes and can also withstand some age. Somm Secret—On the fairly barren, windswept Mediterranean island of Santorini, Assyrtiko vines must be cultivated in low baskets, pinned to the ground. The shape serves to preserve moisture and protect the growing grapes in its interior.
INA2552_2013
Item#
142226