Funckenhausen Red Blend (1 Liter) 2020
Winemaker Notes
This blend of Malbec, Bonarda and Syrah seeks to highlight distinctive characteristics of our terroir in the San Rafael region of South Mendoza. The wine is red with violet hues in the glass. It has aromas of red and black fruit, with subtle notes of black pepper. It has a soft and elegant entrance, leading to a fresh finish characterized by good acidity and some spice.
Blend: 60% Malbec, 15% Bonarda, 25% Syrah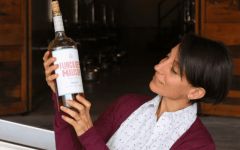 Argentina is home to many German immigrants including the Funcke family who arrived to Mendoza in the late 1800s. In honor of his maternal ancestors, Kurt Heinlein founded the Funckenhausen Vineyards in the San Rafael appellation of South Mendoza. The region is located at the foothills of the Andes mountains near the banks of the Diamante river where they grow distinctive Malbec, Syrah, Cabernet Sauvignon and Bonarda. Funckenhausen Vineyards is a family-owned winery that seeks to honor Kurt and Alejandro's German ancestry while establishing an Argentine tradition of winemaking for future generations. Kurt Heinlein and his grandson Alejandro Leirado Heinlein chose to bottle their Malbec blend in a unique 1.0 liter bottle so there would always be plenty available at gatherings with friends and family. "Because to share you need more than 750ml" is aptly printed on the front of each and every bottle.
By far the largest and best-known winemaking province in Argentina, Mendoza is responsible for over 70% of the country's enological output. Set in the eastern foothills of the Andes Mountains, the climate is dry and continental, presenting relatively few challenges for viticulturists during the growing season. Mendoza, divided into several distinctive sub-regions, including Luján de Cuyo and the Uco Valley, is the source of some of the country's finest wines.
For many wine lovers, Mendoza is practically synonymous with Malbec. Originally a Bordelaise variety brought to Argentina by the French in the mid-1800s, here it found success and renown that it never knew in its homeland where a finicky climate gives mixed results. Cabernet Sauvignon, Syrah, Merlot and Pinot Noir are all widely planted here as well (and sometimes even blended with each other or Malbec). Mendoza's main white varieties include Chardonnay, Torrontés, Sauvignon Blanc and Sémillon.
With hundreds of red grape varieties to choose from, winemakers have the freedom to create a virtually endless assortment of blended red wines. In many European regions, strict laws are in place determining the set of varieties that may be used, but in the New World, experimentation is permitted and encouraged resulting in a wide variety of red wine styles. Blending can be utilized to enhance balance or create complexity, lending different layers of flavors and aromas. For example, a red wine blend variety that creates a fruity and full-bodied wine would do well combined with one that is naturally high in acidity and tannins. Sometimes small amounts of a particular variety are added to boost color or aromatics. Blending can take place before or after fermentation, with the latter, more popular option giving more control to the winemaker over the final qualities of the wine.
How to Serve Red Wine
A common piece of advice is to serve red wine at "room temperature," but this suggestion is imprecise. After all, room temperature in January is likely to be quite different than in August, even considering the possible effect of central heating and air conditioning systems. The proper temperature to aim for is 55° F to 60° F for lighter-bodied reds and 60° F to 65° F for fuller-bodied wines.
How Long Does Red Wine Last?
Once opened and re-corked, a bottle stored in a cool, dark environment (like your fridge) will stay fresh and nicely drinkable for a day or two. There are products available that can extend that period by a couple of days. As for unopened bottles, optimal storage means keeping them on their sides in a moderately humid environment at about 57° F. Red wines stored in this manner will stay good – and possibly improve – for anywhere from one year to multiple decades. Assessing how long to hold on to a bottle is a complicated science. If you are planning long-term storage of your reds, seek the advice of a wine professional.
ANSFUHMB20_1L_2020
Item#
957772