Frog's Leap Rutherford Cabernet Sauvignon 1997
Cabernet Sauvignon
from
Napa Valley, California
Ships Sat, Mar 2
Limit
12
bottles
per customer
Winemaker Notes
I have just re-read the great book by John McPhee, Assembling California, in which there is a whole chapter dedicated to how the Napa Valley was formed geologically. As I look out my office window at the western hills of the Napa Valley and the few scant acres that comprise the Rutherford Bench it is easy to marvel at the confluence of massive geological events, time and pure coincidence that conspired to make our 1997 Rutherford.
Converging tectonic plates, subduction zones, geosynclines, volcanic eruptions, huge alluvial washes and the five million years of daily weathering all for the single purpose of producing the unique gravelly loam soils ideal for cabernet sauvignon. Perhaps the surest sign of a wine of character is that it has the ability to transport you, captivate you and ultimately draw you back to its source of uniqueness.
The 1997 Rutherford, with its high percentage of cabernet franc, has beautiful aromas of blackberries and earth. The flavors are fabulous, full of igneous chirts, franciscan sediments and millions of old alluvial pebbles. This is truly a wine of time and place. -John Williams, Winemaker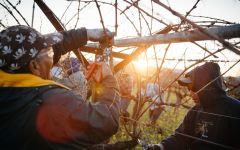 Frog's Leap is a family-owned winery dedicated to sustainable principles and committed to producing wines with balance, restraint and respect for terroir. Originally founded by the Williams Family in 1981 on a spot along Mill Creek known as the Frog Farm, today Frog's Leap makes its home amongst 200 acres of vineyards in Rutherford at the historic 'Red Barn'. This noted 'ghost winery' was built in 1884 as the Adamson Winery and renovated in 1994 as Frog's Leap's permanent home. A handsome bi-level barrel chai completes the state-of-the-art winemaking facility and guests are received in the warm and welcoming LEED-certified hospitality center.
Now in its fourth decade of production, Winemakers John Williams, Paula Moschetti and Rory Williams hand-craft an annual production of 65,000 cases comprised of Sauvignon Blanc, Chardonnay, Zinfandel, Merlot, and an estate-grown Cabernet Sauvignon. Using the best of Napa Valley's organically grown, dry- farmed grapes and the most traditional winemaking techniques, Frog's Leap strives to produce wines that deeply reflect the soils and climate from which they emanate.
First certified by California Certified Organic Farmers (CCOF) in 1988 Frog's Leap has been a leader in the industry for over two decades. The winery relies on techniques such as crop rotation, green manure, compost and biological pest control to maintain soil productivity and control pests on a farm. Organic farming excludes the use of manufactured fertilizers and pesticides, plant growth regulators and genetically modified organisms. Organic farming involves mechanical weed control (via cultivating or hoeing) rather than herbicidal weed control.
Frog's Leap presents a relaxed approach to enjoying wine. An easy hospitality and warm sense of humor is juxtaposed with a more serious sensibility when making wine. The wines produced range from Cabernet Sauvignon and Chardonnay to Zinfandel and Sauvignon Blanc. We have quite the line up to offer so we hope you'll try one of these delicious wines that harmoniously combine quality, sustainability and value.
WBO184317_1997
Item#
24020