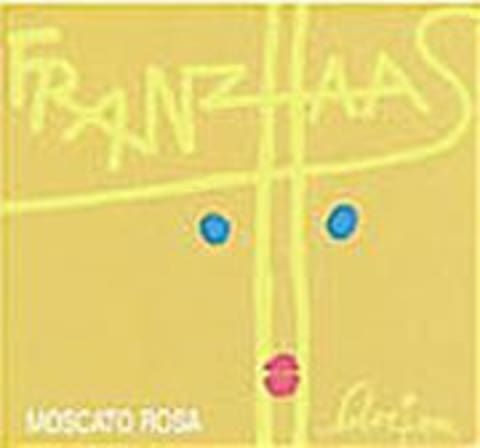 Franz Haas Moscato Rosa (375ML half-bottle) 2000
Winemaker Notes
Our Moscato rosa has a deep colour similare to black morellos with slight violet nuances when it is young. It has a very intense aroma of roses and cloves. As it ages it changes into an aroma of faded roses and red-berry fruit. Its taste is extremely complex and smooth. It improves by ageing.
Moscato rosa should be drunk as an aperitif or a meditative wine.
The Franz Haas winery and vineyards was founded in 1880. Since then, always making wines from our own grapes and always in the family 's hand, even the name had to be the same,rolling over from fathers to son. The actual Franz Haas is in the seventh generation. All vineyards are located in Montagna in Egna and on the hillside of Cislon. The altitude rangers from 240 to 800 meters above sea level (787/2625 Feet). The soll 's components vary from porphyryc sand, clay to soll that has a high content of limestone. The microclimates between vineyards also vary. From 1982 to 1986 we made substantial changes in our vineyards. With new planting,we increased the density from 6,000 to 12,500 vines per hectare by selecting low yeld vines. To reach the best quality, we planted new varieties (non-traditional in our area). The results after the first harvest were very encouraging.
A mountainous northern Italian region heavily influenced by German culture, Trentino-Alto Adige is actually made up of two separate but similar regions: Alto Adige and Trentino.
Trentino, the southern half, is primarily Italian-speaking and largely responsible for the production of non-native, international grapes. There is a significant quantity of Chardonnay, Pinot Grigio and Merlot produced. But Trentino's native and most unique red variety, Teroldego, while still rare, is gaining popularity. It produces a deeply colored red wine rich in wild blackberry, herb, coffee and cocoa.
The rugged terrain of German-speaking Alto Adige (also referred to as Südtirol) focuses on small-scale viticulture, with great value placed on local varieties—though international varieties have been widely planted since the 1800s. Sheltered by the Alps from harsh northerly winds, many of the best vineyards are at extreme altitude but on steep slopes to increase sunlight exposure.
Dominant red varieties include the bold, herbaceous Lagrein and delicate, strawberry-kissed, Schiava, in addition to some Pinot Nero.
The primary white grapes are Pinot grigio, Gewürztraminer, Chardonnay and Pinot blanc, as well as smaller plantings of Sauvignon blanc, Müller Thurgau. These tend to be bright and refreshing with crisp acidity and just the right amount of texture. Some of the highest quality Pinot grigio in Italy is made here.
With hundreds of red grape varieties to choose from, winemakers have the freedom to create a virtually endless assortment of blended red wines. In many European regions, strict laws are in place determining the set of varieties that may be used, but in the New World, experimentation is permitted and encouraged resulting in a wide variety of red wine styles. Blending can be utilized to enhance balance or create complexity, lending different layers of flavors and aromas. For example, a red wine blend variety that creates a fruity and full-bodied wine would do well combined with one that is naturally high in acidity and tannins. Sometimes small amounts of a particular variety are added to boost color or aromatics. Blending can take place before or after fermentation, with the latter, more popular option giving more control to the winemaker over the final qualities of the wine.
How to Serve Red Wine
A common piece of advice is to serve red wine at "room temperature," but this suggestion is imprecise. After all, room temperature in January is likely to be quite different than in August, even considering the possible effect of central heating and air conditioning systems. The proper temperature to aim for is 55° F to 60° F for lighter-bodied reds and 60° F to 65° F for fuller-bodied wines.
How Long Does Red Wine Last?
Once opened and re-corked, a bottle stored in a cool, dark environment (like your fridge) will stay fresh and nicely drinkable for a day or two. There are products available that can extend that period by a couple of days. As for unopened bottles, optimal storage means keeping them on their sides in a moderately humid environment at about 57° F. Red wines stored in this manner will stay good – and possibly improve – for anywhere from one year to multiple decades. Assessing how long to hold on to a bottle is a complicated science. If you are planning long-term storage of your reds, seek the advice of a wine professional.
WBO2019883_2000
Item#
55667