Forjas del Salnes Bastion de la Luna 2010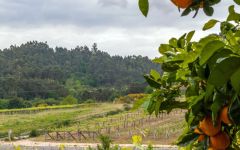 This humble garage winery collaboration, Forjas del Salnes, came to life in 2005 when vineyard owner and winemaker Rodrigo Mendez began to revitalize a little piece of Galician history that was quickly fading.
Red wine in Rías Baixas was the way of the land back in the early 1900s. In the 1970s, when surrounding farmers were uprooting their less productive, less desirable red grapes in favor of planting increasingly popular Albariño grapes, the Mendez family was planting them. It all began in the early 2000s when Rodri's mission became clear: to execute his grandfather's lifelong dream of grafting and replanting the nearly extinct, ancient coastal red vineyards in Val do Salnes and revive the nearly forgotten wines of his family's history.
Rodri is intent on pursuing this shift in the Galician trend. With his winemaking and vineyard knowledge and skill rooted in the past, Rodri remains conscious of the present while having a vision for the future, and is producing some of Spain's finest Albariños and rare Galician reds.
Named after the rías, or estuarine inlets, that flow as far as 20 miles inland, Rías Baixas is an Atlantic coastal region with a cool and wet maritime climate. The entire region claims soil based on granite bedrock, but the inlets create five subregions of slightly different growing environments for its prized white grape, Albariño.
Val do Salnés on the west coast is said to be the birthplace of Albariño; it is the coolest and wettest of all of the regions. Having been named as the original subregion, today it has the most area under vine and largest number of wineries.
Ribeira do Ulla in the north and inland along the Ulla River is the newest to be included. It is actually the birthplace of the Padrón pepper!
Soutomaior is the smallest region and is tucked up in the hills at the end of the inlet called Ria de Vigo. Its soils are light and sandy over granite.
O Rosal and Condado do Tea are the farthest south in Rías Baixas and their vineyards actually cover the northern slopes of the Miño River, facing the Vinho Verde region in Portugal on its southern bank.
Albariño gives this region its fame and covers 90% of the area under vine. Caiño blanco, Treixadura and Loureira as well as occasionally Torrontés and Godello are permitted in small amounts in blends with Albariño. Red grapes are not very popular but Mencía, Espadeiro and Caiño Tinto are permitted and grown.
With hundreds of red grape varieties to choose from, winemakers have the freedom to create a virtually endless assortment of blended wines. In many European regions, strict laws are in place determining the set of varieties that may be used, but in the New World, experimentation is permitted and encouraged. Blending can be utilized to enhance balance or create complexity, lending different layers of flavors and aromas. For example, a variety that creates a fruity and full-bodied wine would do well combined with one that is naturally high in acidity and tannins. Sometimes small amounts of a particular variety are added to boost color or aromatics. Blending can take place before or after fermentation, with the latter, more popular option giving more control to the winemaker over the final qualities of the wine.
ZZZREFPRODUCT340062
Item#
340062