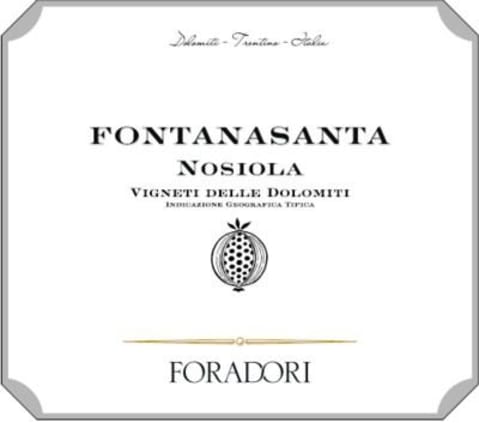 Foradori Fontanasanta Nosiola 2011
For more than two decades, the Foradori family has been associated with some of the most authentic wine production to be found in Trentino. The winery is currently managed by the mother and daughter team of Gabriella and Elisabetta Foradori. They own 80 hectares planted to vine in an area north of Trento, known as the Campo Rotaliano. The gravel soils of this flat valley bottom were formed by the Noce River which over the centuries has left a deep limestone and granite deposits. The Campo is cooled by winds from the surrounding mountains which create a microclimate with a long ripening season and a late harvest. Foradori produces about 1500 cases a year. Elisabeth Foradori has taken rare autochthonous Teroldego to heights of international acclaim, her fascination with this variety fired my excellent examples of 20-year old bottlings left to her by her father. In the past ten years her researches have lead her to make drastic changes in vineyard management, lowering yields significantly and increasing the density of plantings.
A mountainous northern Italian region heavily influenced by German culture, Trentino-Alto Adige is actually made up of two separate but similar regions: Alto Adige and Trentino.
Trentino, the southern half, is primarily Italian-speaking and largely responsible for the production of non-native, international grapes. There is a significant quantity of Chardonnay, Pinot Grigio and Merlot produced. But Trentino's native and most unique red variety, Teroldego, while still rare, is gaining popularity. It produces a deeply colored red wine rich in wild blackberry, herb, coffee and cocoa.
The rugged terrain of German-speaking Alto Adige (also referred to as Südtirol) focuses on small-scale viticulture, with great value placed on local varieties—though international varieties have been widely planted since the 1800s. Sheltered by the Alps from harsh northerly winds, many of the best vineyards are at extreme altitude but on steep slopes to increase sunlight exposure.
Dominant red varieties include the bold, herbaceous Lagrein and delicate, strawberry-kissed, Schiava, in addition to some Pinot Nero.
The primary white grapes are Pinot grigio, Gewürztraminer, Chardonnay and Pinot blanc, as well as smaller plantings of Sauvignon blanc, Müller Thurgau. These tend to be bright and refreshing with crisp acidity and just the right amount of texture. Some of the highest quality Pinot grigio in Italy is made here.
There are hundreds of white grape varieties grown throughout the world. Some are indigenous specialties capable of producing excellent single varietal wines. Each has its own distinct viticultural characteristics, as well as aroma and flavor profiles.
ZZZREFPRODUCT212954
Item#
212954