Feudi di San Gregorio Albente 2000
Winemaker Notes
Brilliant yellow in color. The bouquet is floral and fruity with scents of rose and apple, typical of the varietals. On the palate the wine is dry, fresh and fruity with an aftertaste of apple. Should be enjoyed within two years of the harvest. Recommended with Pasta, particularly shellfish sauces. Also excellent with chicken sauteed in a tomato-olive sauce.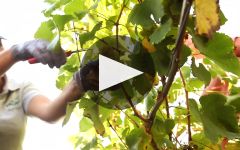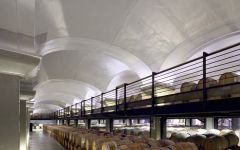 Feudi di San Gregorio was established in 1986 in Sorbo Serpico, a tiny village in Campania's Irpinia region, near Mount Vesuvius. A modern expression of a centuries-old tradition of passion and dedication to the land, it is one of Campania's premier winemaking estates. Feudi is a joint venture between the Ercolino and Capaldo families of Irpinia. The proprietors of this family-run estate have selected the finest vineyards in which to nurture this region's unique, indigenous varietals. Owner and winemaker Enzo Ercolino works closely with consultant Riccardo Cotarella, one of Italy's foremost enologists.
 Situated in one of Italy's most exciting and innovative wine regions, this highly acclaimed winery encourages us to rediscover the identity of Mediterranean flavors through indigenous grapes that reach their full potential with their modern winemaking approach. The results have been remarkable – the wines of Feudi di San Gregorio have met time and again with stellar reviews and have garnered international critical acclaim.
Italian White Wine
The rolling hills and endless coastlines of Italy deliver a unique diversity of soils and climate to foster a number of regional specialties. With a multitude of indigenous varieties that thrive exclusively here, the selection of white wines offers a range of styles and flavors.
The most well-known white variety in Italy is of course Pinot Grigio. Typically found in the northern Italian regions, the light, fresh and easy-drinking options can be found in the Veneto region, while the richer, more complex styles come from Friuli-Venezia Giulia and Trentino-Alto Adige. These two northeast regions are also crafting delicions Pinot Bianco and a regional specialty, Friulano.
In Piedmont, two white regions shine. The crisp and zippy Gavi, made with a Cortese grape, and Arneis, a variety that produces a subtle by dry wine. In the Veneto, the Garganegna grape creates the wine of Soave, a zesty but medium-bodied wine full of rich stone fruit and floral notes.
Further south, you'll find the pretty and floral Falenghina, rich and tropical Grillo and zesty Greco. Head to Sicily to discover the delicious and complex Etna Biancos, made with the Carricante grape in the island's volcanic soils.
If you enjoy a tangy but textured white wine with seafood, head to Sardinia and try out the Vermentino there. The grape is also found in other Italian provinces and is always a delight.
SOU02153_2000
Item#
28802