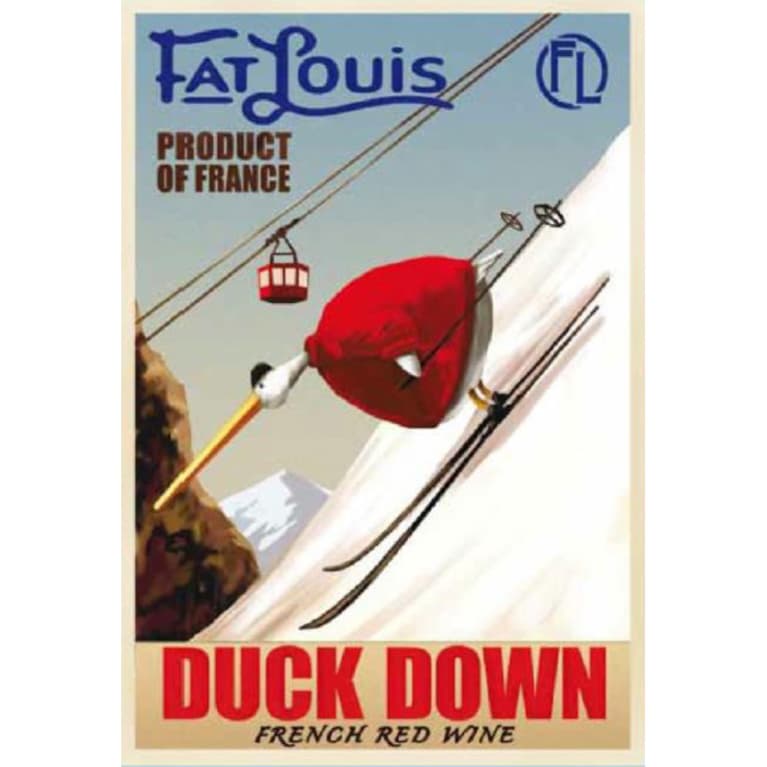 Winemaker Notes
On the nose, pleasing aromas of black cherry, blackberry and blueberry with added spicy elements and hints of coffee bean/cocoa. This myriad of flavors carry over to the medium-to-full bodied palate.
Fat Louis is an enlightened French duck on an adventure through the French countryside. Louis always follows his heart and "grabs life by the feathers," a quality of his character, and his wine, that wine drinkers adore. Within each bottle is a celebration of taste and achievement that bring flavorful festivities to any occasion.
Between Faugères and Minervois in the Languedoc region of France, this picturesque, mountainous region produces expressive red Rhône Blends. With scant rainfall and poor soil, the vines put their best energy into the fruit, resulting in these intense, characterful reds for which the region is famous. Featuring the Rhône varieties of Grenache, Syrah, and Mourvèdre, blended with Carignan and Cinsault, they are full-bodied yet fresh, with briary grip and an herbal savor which, laid atop cherry, berry and plum fruit, make them a fabulous pair for all grilled food.
With distinct soil types, elevations, and exposures, St-Chinian is an ancient, varied region in the midst of defining its terroirs. Two sub-appellations, St-Chinian-Berlou and St-Chinian-Roquebrun, were established in 2005, to recognize the excellence and uniqueness of their wines. Whites (blends of Grenache Blanc, Marsanne, Roussanne and Rolle (Vermentino)) and rosés (Mourvèdre ) currently comprise only 11% of St-Chinian production, but should not be overlooked as they show a delicious collision of floral stone fruit with flinty, saline minerality.
With hundreds of red grape varieties to choose from, winemakers have the freedom to create a virtually endless assortment of blended red wines. In many European regions, strict laws are in place determining the set of varieties that may be used, but in the New World, experimentation is permitted and encouraged resulting in a wide variety of red wine styles. Blending can be utilized to enhance balance or create complexity, lending different layers of flavors and aromas. For example, a red wine blend variety that creates a fruity and full-bodied wine would do well combined with one that is naturally high in acidity and tannins. Sometimes small amounts of a particular variety are added to boost color or aromatics. Blending can take place before or after fermentation, with the latter, more popular option giving more control to the winemaker over the final qualities of the wine.
How to Serve Red Wine
A common piece of advice is to serve red wine at "room temperature," but this suggestion is imprecise. After all, room temperature in January is likely to be quite different than in August, even considering the possible effect of central heating and air conditioning systems. The proper temperature to aim for is 55° F to 60° F for lighter-bodied reds and 60° F to 65° F for fuller-bodied wines.
How Long Does Red Wine Last?
Once opened and re-corked, a bottle stored in a cool, dark environment (like your fridge) will stay fresh and nicely drinkable for a day or two. There are products available that can extend that period by a couple of days. As for unopened bottles, optimal storage means keeping them on their sides in a moderately humid environment at about 57° F. Red wines stored in this manner will stay good – and possibly improve – for anywhere from one year to multiple decades. Assessing how long to hold on to a bottle is a complicated science. If you are planning long-term storage of your reds, seek the advice of a wine professional.
CCIFATDUC12_2012
Item#
132269