Emiliana Coyam (Certified Biodynamic) 2008
Winemaker Notes
The word Coyam, meaning oak, was used by the Mapuches, the original inhabitants of Chile. Ancient oaks surround the Emiliana vineyards where these biodynamic grapes are grown. Aged in French and American oak for 13 months, the palate off ers well-balanced volume, round tannins, and a long fi nish that shows both character and personality.
The color is an intense violet-red. The bouquet has elegant expressions of ripe black-fruit including blackberries and cassis that are are delicately interwoven with oak, mineral, toffee, and chocolate notes. On the palate it is lush and full-bodied, with round tannins and a distinct long finish, that shows character and personality.
Critical Acclaim
All Vintages
As blends go, this is a winner. The nose is spicy and wild, with blackberry, cola, fine leather and earthy qualities. Lush and concentrated in the mouth, with meaty, herbal flavors of cola and blackberry. Toast and pepper notes lend darkness to the finish, and overall this is a grand, ripe thoroughbred made from six grapes including Syrah, Cabernet and Carmenère. Drink now through 2013.
Shows nice ripeness and definition for the vintage, with silky tannins that let red currant, dark plum and blackberry fruit mingle nicely with sweet tobacco and roasted vanilla notes, with a very polished finish.
View More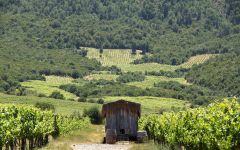 At Emiliana, the organic vineyards literally teem with life. Vineyards buzz with various bugs, bees, birds and native wildlife that together provide a natural and effective defense against common vine-destroying insects. Flowers and native plants thrive throughout the organic vineyards, providing another simple and cost-effective method of pest control and helping to counteract the detrimental effects of soil degradation. The use of chemicals is shunned, in favor of natural compounds, such as copper and nitrogen. Compost is sourced from spent grape skins and stems. Emiliana's Natura range, which celebrated its U.S. debut in 2006, marks the cutting edge of an altogether new category of wines made from organically grown grapes – a collection of superbly made, affordably priced organic wines crafted expressly for everyday enjoyment and, accessible to all. The Natura collection features seven varietals, three whites and four reds, all produced from hand-picked, organic grapes, harvested from certified organic vineyards in the prime growing regions of Chile's Central Valley.
Dramatic geographic and climatic changes from west to east make Chile an exciting frontier for wines of all styles. Chile's entire western border is Pacific coastline, its center is composed of warm valleys and on its eastern border, are the soaring Andes Mountains.
Chile's central valleys, sheltered by the costal ranges, and in some parts climbing the eastern slopes of the Andes, remain relatively warm and dry. The conditions are ideal for producing concentrated, full-bodied, aromatic reds rich in black and red fruits. The eponymous Aconcagua Valley—hot and dry—is home to intense red wines made from Cabernet Sauvignon, Syrah and Merlot.
The Maipo, Rapel, Curicó and Maule Valleys specialize in Cabernet and Bordeaux Blends as well as Carmenère, Chile's unofficial signature grape.
Chilly breezes from the Antarctic Humboldt Current allow the coastal regions of Casablanca Valley and San Antonio Valley to focus on the cool climate loving varieties, Pinot Noir, Chardonnay and Sauvignon Blanc.
Chile's Coquimbo region in the far north, containing the Elqui and Limari Valleys, historically focused solely on Pisco production. But here the minimal rainfall, intense sunlight and chilly ocean breezes allow success with Chardonnay and Pinot Noir. The up-and-coming southern regions of Bio Bio and Itata in the south make excellent Riesling, Chardonnay and Pinot Noir.
Spanish settlers, Juan Jufre and Diego Garcia de Cáceres, most likely brought Vitis vinifera (Europe's wine producing vine species) to the Central Valley of Chile sometime in the 1550s. One fun fact about Chile is that its natural geographical borders have allowed it to avoid phylloxera and as a result, vines are often planted on their own rootstock rather than grafted.
With hundreds of red grape varieties to choose from, winemakers have the freedom to create a virtually endless assortment of blended red wines. In many European regions, strict laws are in place determining the set of varieties that may be used, but in the New World, experimentation is permitted and encouraged resulting in a wide variety of red wine styles. Blending can be utilized to enhance balance or create complexity, lending different layers of flavors and aromas. For example, a red wine blend variety that creates a fruity and full-bodied wine would do well combined with one that is naturally high in acidity and tannins. Sometimes small amounts of a particular variety are added to boost color or aromatics. Blending can take place before or after fermentation, with the latter, more popular option giving more control to the winemaker over the final qualities of the wine.
How to Serve Red Wine
A common piece of advice is to serve red wine at "room temperature," but this suggestion is imprecise. After all, room temperature in January is likely to be quite different than in August, even considering the possible effect of central heating and air conditioning systems. The proper temperature to aim for is 55° F to 60° F for lighter-bodied reds and 60° F to 65° F for fuller-bodied wines.
How Long Does Red Wine Last?
Once opened and re-corked, a bottle stored in a cool, dark environment (like your fridge) will stay fresh and nicely drinkable for a day or two. There are products available that can extend that period by a couple of days. As for unopened bottles, optimal storage means keeping them on their sides in a moderately humid environment at about 57° F. Red wines stored in this manner will stay good – and possibly improve – for anywhere from one year to multiple decades. Assessing how long to hold on to a bottle is a complicated science. If you are planning long-term storage of your reds, seek the advice of a wine professional.
CGM14956_2008
Item#
110339