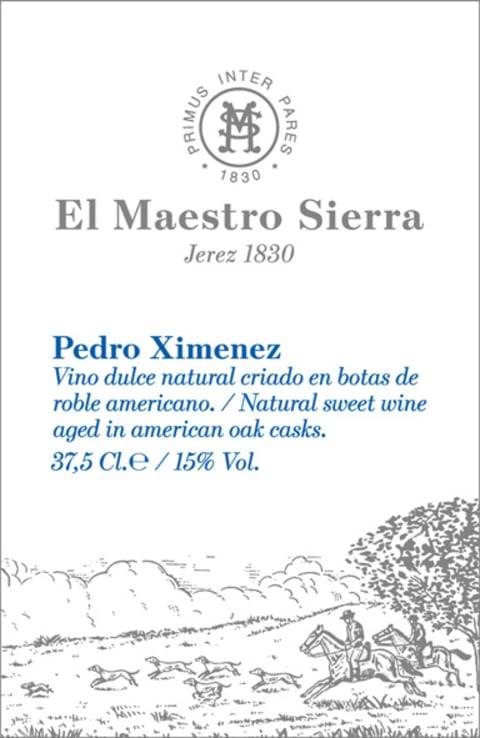 El Maestro Sierra Pedro Ximenez Sherry (375ML half-bottle)
Ships Sat, Jun 13
Limit
0
bottles
per customer
Winemaker Notes
This Pedro Ximénez is aged for 15 years in the solera system. A great nose of exotic spices and almost red fruits combine with more classic caramel overtones. With great acidity the wine is light on its feet and almost refreshing.
Critical Acclaim
All Vintages
Another step up is the non-vintage Pedro Ximénez from a 15-year-old solera. It is brown amber in color with aromas of orange peel and English toffee. It is thick and rich on the palate and very long.
This wine projects its sweet depths of almond flavor through a long finish, leaving a trail of nuttiness and soft acidity that shines in the midst of its maturity. It's delicious on its own, or poured over vanilla ice cream.
View More
A winery founded in 1832 by Jose Antonio Sierra, who was a master carpenter. As a master carpenter he was responsible for building barrels for all the major Sherry houses. Recognized as one of the top coopers in the area, he longed to become involved in the Sherry trade itself. In 1832 he set about building a small winery with the aim of making the best Sherries possible. As this business was dominated by the nobility, a start-up such as his was not very welcome. After many hardships he was able to establish and grow his business becoming one of the top Almacenistas (stockholders) of high quality Sherries. Poking fun at his struggle, the label depicts an allegorical fox hunt with the "Nobles" hunting the fox (Maestro Sierra).
Pilar Pla Pechovierto currently owns Maestro Sierra. She is assisted by Ana Cabestrero and Juan Clavijo who is the Capataz (more below on the job description of a Capataz). Doña Pilar is a widow whose husband was a direct descendent of the Sierra family. She respected her husband's wish that the winery remain in operation and over the last thirty years she has kept the winery open, selling very limited stocks of wine to a few of the large Sherry houses. Because the wines have virtually remained unmoved due to the almost non existent business, the stocks at Maestro Sierra are some of the oldest in Jerez
The other important aspect of the winery is that since the wines have seen little sales the stocks have remained virtually untouched for the last thirty years. The soleras at the winery are easily over 60 years old and some might be close to 100 years old. The larger houses have pillaged their old soleras, leaving them with little old wine. Unfortunately the legistation only allows for wines to be labeled as old as 30 years old (VORS). They also maintain an inhouse cooper to uphold the tradition of their heritage. By anyone's standard the crown jewel of Sherry is Maestro Sierra.
Known more formally as Jerez de la Frontera, Jerez is a city in Andalucía in southwest Spain and the center of the Jerez region and sherry production. Sherry is a mere English corruption of the term Jerez, while in French, Jerez is written, Xérès. Manzanilla is the freshest style of sherry, naturally derived from the seaside town of Sanlúcar de Barrameda.
Sherry comes from only one place in the entire world, Andalucía, Spain where the soil and unique seasonal changes give a particular and unsurpassable character to its wines. The process of production—not really the grape—determine the type, though certain types are reserved for certain grapes. Sherry's main grapes include Palomino, Pedro Ximénez and Muscat of Alexandria.
Tasting Notes for Sherry
Sherry is a fortified wine that comes in many styles from dry to sweet. Fino, from Jerez, and the similar style called Manzanilla, from the humid and cool, coastal town of Sanlúcar de Barrameda, are the lightest and driest styles, and are meant for early consumption. Their creation is dependent on the action of flor, which are benevolent film-forming yeasts that make a floating veil on the surface of the wine, which aid in protecting it from oxidation. Amontillado happens when a Fino's layer of flor fades and the wine starts to oxidize. Quite simply it is an aged Fino that has a darker color and richer palate. When flor yeast dies unexpectedly, the result is Palo Cortado. A Palo Cortado Sherry can behave like Amontillado on the palate but often show a greater balance of richness and delicacy. Oloroso never develops flor but is oxidized for anywhere from five to twenty five years, becoming aromatic and strong like a fine bourbon. A sweetened Oloroso is a Cream sherry; a Pale Cream is one that has had the color removed. Pedro Ximénez and Muscat, representing a tiny proportion of production can make some amazing single varietal sweet sherries but the vast number of styles are primarily based on the Palomino grape.
Perfect Food Pairings for Sherry
For Fino and Manzanilla, think Spanish tapas: baked anchovies, patatas bravas, olives, cold cuts and manchego. For Amontillado and Palo Cortado, dishes like roasted turkey, grilled tuna, artichokes and asparagus will go well; dark chocolate could pair with these too. Rich poultry and foie gras will work with dry Oloroso. Cream Sherry and sweet Pedro Ximénez should be enjoyed with dessert or cheese.
Sommelier Secrets for Sherry
Most Sherry produced is dry and meant to pair alongside traditional Spanish food. The British and American markets have traditionally focused on the sweet ones.
EWLSPMTSSPX01_0
Item#
108957