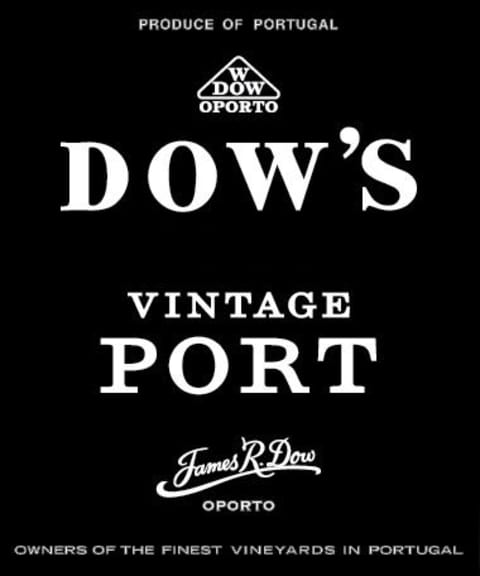 Dow's Vintage Port 1994
Currently Unavailable

$99.97
Ships Sun, Aug 16
Limit
0
bottles
per customer
Winemaker Notes
Critical Acclaim
All Vintages
A blackstrap, powerful Port. Black, with intense aromas of raspberries, raisins, flowers and stems. Full-bodied and medium sweet, with a long, rich finish. Tannins pull at your palate. A wine for the future.--Dow vertical. Best after 2008.
The massive 1994 is unquestionably the finest Dow I have tasted since the 1977. This opaque purple-colored wine is not as developed or flamboyant as Fonseca, but it is super-concentrated and multi-layered, with huge masses of fruit and some tannin in the finish. This is a slightly drier style than Fonseca or Graham's, but it appears to be a classic, majestic, enormously constituted 1994 that should age effortlessly for three decades or more. It is one of the stars of the vintage.
View More
For over two centuries the name of DOW has been associated with the finest Port from the vineyards of the Upper Douro Valley. Throughout the 20th Century and into the 21st, the Symington family has built on the legacy of the preceding Silva and Dow families. Generations of Symington winemakers have worked at the Dow's vineyards: Quinta do Bomfim and Quinta da Senhora da Ribeira, creating from them Dow's superbly concentrated wines that are intense and tannic when young, maturing towards a superlative racy elegance with age and scented with violet and mint aromas. Dow's attractive and distinctive drier finish is the recognizable hallmark of the wines from this great Port house.
The story of Dow's is unusual amongst all the great Port houses. It began in 1798 when Bruno da Silva, a Portuguese merchant from Oporto, made a journey which was the opposite to that of the first British merchants. Bruno set up in London from where he imported wine from his native country. He married an Englishwoman and was rapidly assimilated into London society where his business acumen led to a fine reputation for his wines. But the outbreak of the Napoleonic wars put his business in jeopardy. Undaunted, Bruno da Silva applied for 'letters of marque' (Royal Assent to equip a merchant ship with guns) to secure safe passage of his Port from Oporto to Bristol and to London. His became the first and only Port company to transport its precious cargo of casks of fine Ports under its own armed protection across the treacherous Bay of Biscay, a strong dissuasion to attack during a period when less audacious companies saw their sales dwindle away.
The Port shipping business was continued by Bruno's son, John da Silva who in 1862 brought into partnership Frederick William Cosens. Together with John's son, Edward, they became the active partners in Silva & Cosens. Edward da Silva inherited his grandfather's business ability and the company continued to prosper. Edward became a highly respected figure in the London wine trade and was one of the founders of the Wine Trade Benevolent Society, the leading charity which survives to this day as the principal British wine trade organisation. Edward da Silva was to be the Benevolent's chairman and then, from 1892, its president for many years.
With the continuing expansion of the firm, Edward da Silva and Frederick Cosens were joined by George Acheson Warre, whose well known family had been involved in the Port trade since its earliest years. 'GAW' joined as partner in 1868 and became its driving force in Portugal.
In 1877, Silva & Cosens merged with another leading Port company, Dow & Co, who's senior partner was James Ramsay Dow, who had made a name for himself in 1856 with the publication of his important treatise, 'An Inquiry into the Vine Fungus with Suggestions as to a Remedy.' The Oidium fungus was at the time devastating the Douro's vineyards.
Although smaller than Silva & Cosens, Dow & Co had become a very highly regarded Port producer with a particularly fine reputation for its Vintage Ports and when the two companies merged, it was decided to adopt DOW'S as the brand name.
The home of Port—perhaps the most internationally acclaimed beverage—the Douro region of Portugal is one of the world's oldest delimited wine regions, established in 1756. The vineyards of the Douro, set on the slopes surrounding the Douro River (known as the Duero in Spain), are incredibly steep, necessitating the use of terracing and thus, manual vineyard management as well as harvesting. The Douro's best sites, rare outcroppings of Cambrian schist, are reserved for vineyards that yield high quality Port.
While more than 100 indigenous varieties are approved for wine production in the Douro, there are five primary grapes that make up most Port and the region's excellent, though less known, red table wines. Touriga Nacional is the finest of these, prized for its deep color, tannins and floral aromatics. Tinta Roriz (Spain's Tempranillo) adds bright acidity and red fruit flavors. Touriga Franca shows great persistence of fruit and Tinta Barroca helps round out the blend with its supple texture. Tinta Cão, a fine but low-yielding variety, is now rarely planted but still highly valued for its ability to produce excellent, complex wines.
White wines, generally crisp, mineral-driven blends of Arinto, Viosinho, Gouveio, Malvasia Fina and an assortment of other rare but local varieties, are produced in small quantities but worth noting.
With hot summers and cool, wet winters, the Duoro has a maritime climate.
Apart from the classics, we find many regional gems of different styles.
Late harvest wines are probably the easiest to understand. Grapes are picked so late that the sugars build up and residual sugar remains after the fermentation process. Ice wine, a style founded in Germany and there referred to as eiswein, is an extreme late harvest wine, produced from grapes frozen on the vine, and pressed while still frozen, resulting in a higher concentration of sugar. It is becoming a specialty of Canada as well, where it takes on the English name of ice wine.
Vin Santo, literally "holy wine," is a Tuscan sweet wine made from drying the local white grapes Trebbiano Toscano and Malvasia in the winery and not pressing until somewhere between November and March.
Rutherglen is an historic wine region in northeast Victoria, Australia, famous for its fortified Topaque and Muscat with complex tawny characteristics.
WSS384523_1994
Item#
384523