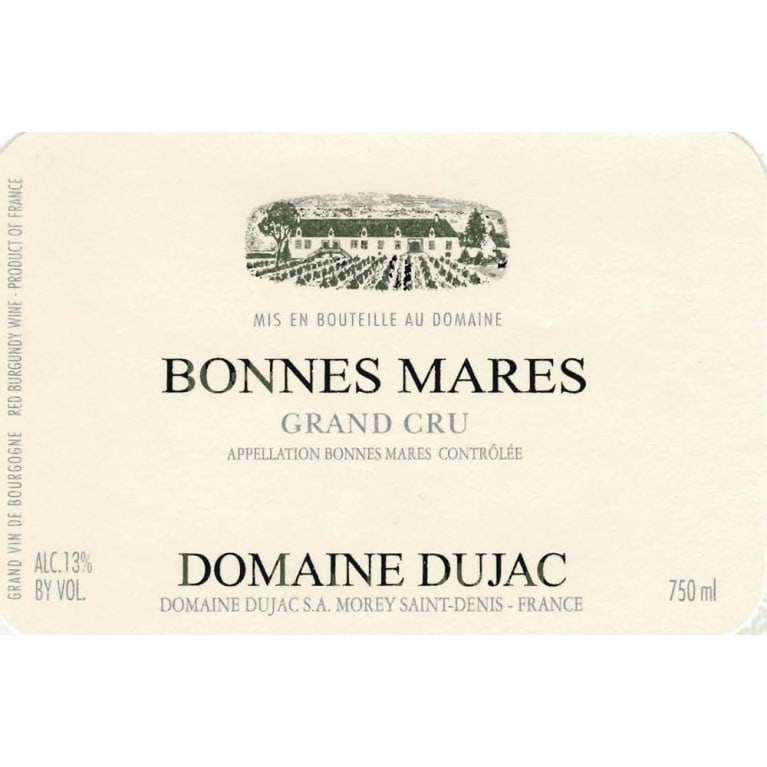 Domaine Dujac Bonnes Mares (1.5L Magnum) 2006
Winemaker Notes
Critical Acclaim
All Vintages
Sweetly ripe black raspberry, pungently bitter-sweet herbal concentrate (bay, fennel, and horehound), buddleia perfume, and wood smoke vie for attention in the aromatic display of Dujac's 2006 Bonnes Mares. It exhibits a sweetness and concentration of primary fruit one rarely encounters in this vintage, yet it tones down the savagery of the site in its textural refinement and the sense of harmoniously entwined threads of fruit, herb, floral, and carnal flavors in a long finish that still doesn't lack for the "sizzle" of berry skin, citrus zest, and herbal bitter-sweetness. Where the corresponding Echezeaux displays vintage-typical virtues, this is something of an exception. I suspect it will also be exceptionally age-worthy in the context of its vintage, and probably worth following for at least a decade. Jeremy Seysses only destemmed a minority of his 2006 fruit, and in some appellations none. The results demonstrate that Dujac got things ripe – not to mention right – in a challenging vintage, with a collection that need not fear comparison with 2005 at this address. (Perhaps, if anything, 2005 ought to look to its laurels!) The team here started picking only on September 23, and then very meticulously and selectively. Clos de la Roche, for example, was picked in two passes nearly a week apart. The top wines came in at between 13 and 13.5% natural alcohol, with minimal chaptalization employed in some instances to extend fermentation. "Color and flavor extraction was easy," says Seysses, "and we did more punch-downs than in 2005, because we felt quite confident of our material. The fruit is fresh and crisp, but not green, and we had no jamminess. It was just right. There's very little to complain about." Indeed!
View More
Louis Seysses, biscuit manufacturer and gastronome, had a taste for good food and fine wines. His son Jacques Seysses quickly came to share his father's passion, and he decided he would not only like to drink the wine but make it as well. With the help of his father, Jacques began his career in wine with an apprenticeship with Gérard Potel at the Domaine de la Pousse d'Or. He spent two harvests there during which time he was lucky enough to talk and listen to the famous Burgundian winemakers of the times whom he greatly admired.
Possibly Jacques' greatest contribution to the Domaine has been to instill his desire to search for new ways to improve the wine and the way wine is made. Though his vinification style looks relatively simple and non interventionist, it is result of much thought and experimentation. The style of wines must be elegance and finesse, with supple and well integrated tannins. The search is for equilibrium, harmony, length and complexity! This is why the grapes are vinifed with little or no destemming, Jacques being convinced that experience has shown that, despite certain inconveniences, such as loss of color, this give the wines greater complexity.
His style is influenced by his great respect for Burgundy's terroir. His complete trust in the terroir means he tries interfere as little as possible in order to allow the fruit to fully express itself and its origins. Burgundy made great wines far before the arrival of oenology and modern equipment. Experience, knowledge and technology are here to help us remedy the imperfections of the year, but if all is well there is no reason to tamper or intervene.
Celebrated as some of the best wine in the universe, red wine from Burgundy, otherwise known as red Burgundy, is Pinot noir. In fact Burgundy is the birthplace of Pinot noir and the source of the planet's most sensual, delicate, valuable and sought-after Pinot noir wines.
Understanding and enjoying red Burgundy can stay simple, with a basic knowledge of its subregions, become more intricate by dialing down to the villages and vineyards or become a life-long passion, exploring climats (plots of vines), vintages and the post French Revolution land ownership laws. In any case, a fine red Burgundy will display refined nuances of black currant, red fruit, earth, spice, alluring floral aromatics and have great elegance, complexity and longevity.
Most famous, praised and collected of Burgunday are those from the Côte d'Or. Hundreds of millions of years ago, the area now called Côte d'Or was under a warm ocean whose sea floor has, over time, shifted and decomposed into various layers of limestone, sandstone and clay interspersed with ancient fossilized sea creatures. This is what is referred to as the famous escarpment upon which all of the highly sought-after Grands Crus and Premiers Crus vineyards can be found. In other words, from north to south, the best vineyards of Gevrey-Chambertin, Morey-St-Denis, Chambolle-Musigny, Vougeot, Vosne-Romanée, Flagey-Echezeaux, Nuits-St-Georges, Aloxe-Corton, Pommard and Volnay follow the path of this ancient sea bed.
LOA155620_2006
Item#
155620