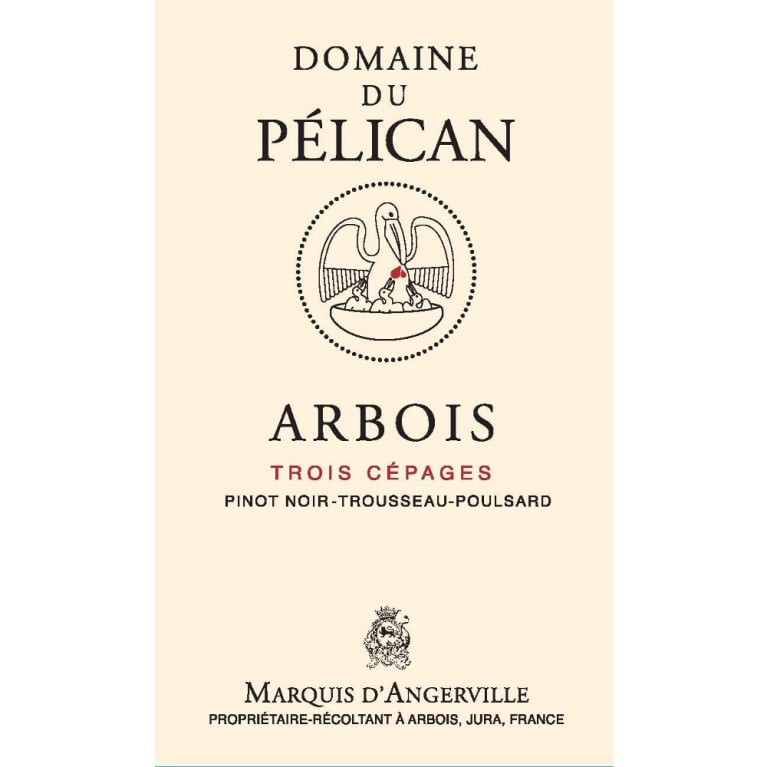 Domaine Du Pelican Arbois Trois Cepages 2013
Winemaker Notes
Critical Acclaim
All Vintages
Trois Cépages shows the polish and elegance of pinot noir and the earthy, gamey tones of poulsard and trousseau. Fine tannins and vibrant acidity run through its sappy red-berry flavors, surging toward a mineral-washed finish. One of our tasters called it "a happy wine that you want to drink by the gallon."
View More
Guillaume D'Angerville became obsessed with the Jura after a sommelier in Paris poured him a glass of Tissot Chardonnay blind and he was very impressed, believing that it was a Burgundy.
This sent him off on a five year search to find a choice location in the Jura. He consulted with a well-known geologist to find ideal vineyards. In the end, he and Francois Duvivier purchased two domaines, one with well tended vines and another where the vineyards were in need of some rehabilitation. At Chateau Chavanes in Montigny-les-Arsures, they created a state of the art winery surrounded by 5 hectares of biodynamically farmed vines that had been impeccably replanted 10 years prior by former owner Francois de Chavanes. The domaine is supported by an additional 5 hectares of chemically-free vines formerly farmed by Jean-Marc Brignot at a site of high-quality geology and exposure.
He named it Domaine du Pélican, a reference to the pelican on the crest of the city of Arbois.
All of Pélican's wines are currently made in a topped up, non-oxidative style.
On the foothills of the Jura Mountains, just east of the Cote de Beaune on the Switzerland border, the Jura wine-producing zone is recognized for its unique reds, as well as its particular and diverse styles of whites.
Though borrowed from their neighbor Burgundy, Chardonnay and Pinot noir have been growing in Jura since the Middle Ages. But here the altitude, topography, climate and clay-rich, marl soils support a different style of Pinot noir, not to mention its other deeply-colored, full-bodied indigenous reds, Poulsard and Trousseau.
Considering area under vine, growers here favor Chardonnay for its consistency and reliability; it comprises almost half of Jura's vineyard acreage. However, Jura Chardonnay is anything but boring; its many offbeat styles are part of what make region's wines so distinctive. It is used for Cremant (sparkling), Macvin (a fortified wine), as well as fine examples at the quality level of Burgundy.
Jura also has a unique oxidative style for Chardonnay but is better recognized for its similarly-styled "vin jaune," meaning 'yellow wine,' which is made from the indigenous variety, Savagnin. Vin jaune is made using techniques similar to those used to make Sherry.
For all of its wines, Jura favors a traditional, natural and often organic style in viticulture and winemaking.
With hundreds of red grape varieties to choose from, winemakers have the freedom to create a virtually endless assortment of blended red wines. In many European regions, strict laws are in place determining the set of varieties that may be used, but in the New World, experimentation is permitted and encouraged resulting in a wide variety of red wine styles. Blending can be utilized to enhance balance or create complexity, lending different layers of flavors and aromas. For example, a red wine blend variety that creates a fruity and full-bodied wine would do well combined with one that is naturally high in acidity and tannins. Sometimes small amounts of a particular variety are added to boost color or aromatics. Blending can take place before or after fermentation, with the latter, more popular option giving more control to the winemaker over the final qualities of the wine.
How to Serve Red Wine
A common piece of advice is to serve red wine at "room temperature," but this suggestion is imprecise. After all, room temperature in January is likely to be quite different than in August, even considering the possible effect of central heating and air conditioning systems. The proper temperature to aim for is 55° F to 60° F for lighter-bodied reds and 60° F to 65° F for fuller-bodied wines. How much does this matter?
How Long Does Red Wine Last?
Once opened and re-corked, a bottle stored in a cool, dark environment (like your fridge) will stay fresh and nicely drinkable for a day or two. There are products available that can extend that period by a couple of days. As for unopened bottles, optimal storage means keeping them on their sides in a moderately humid environment at about 57° F. Red wines stored in this manner will stay good – and possibly improve – for anywhere from one year to multiple decades. Assessing how long to hold on to a bottle is a complicated science. If you are planning long-term storage of your reds, seek the advice of a wine professional.
GCGCRU907580WC13_2013
Item#
148505