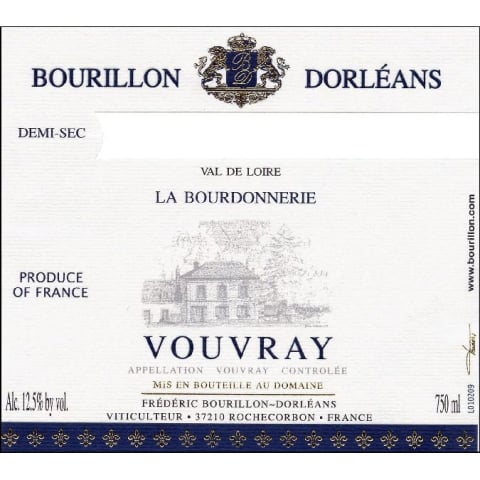 Domaine Bourillon-Dorleans Vouvray Demi-sec 2014
Winemaker Notes
With Bourillon's Vouvray Demi-Sec there are wonderful rich flavours of apples, exotic fruit and, above all, the polish that shows the wines have been made with enormous care. The sweet to very sweet 'moelleux' wines must rank with the great dessert wines of the world. They are only made in a good vintage when conditions for the development of botrytis are perfect. Again, the very small yield and enormous concentration provide us with something very special and unique.
Fredric Bourillon is young and energetic. Not content to be a great wine maker, he is also a great promoter, always successfully banding together young Vouvray growers for participation in Tasting and trade fairs throughout Europe.
The Bourillon family has been making wine at Rochecorbon for many generations. Documents show the estate was founded in 1875, but it was in the 1930's that Frederic's great grandfather, Gaston, started to organize the estate as it is today. Recently Frederic has been energetically consolidating the vineyard holdings still further.
Most of them are on the plateau above Rochecorbon, near the Lanterne, a beacon tower that gave warning of river born invaders in the middle ages.
A new vinification plant has just been built, outside the medieval underground cellars. Brand new stainless steel vats permit fermentation in ideal conditions. Ageing in the tortuous old cellars at a constant temperature allows the oldest wines to show their full potential, even after 50 years or more. A recently tasted 1921 was still young with wonderful flavours of honey and flowers, mature Chenin Blanc at perfection.
Above all the Bourillon Dorleans wines display the passion that Frederic devotes to their product. A moelleux will only be produced when conditions are perfect. The 1985 was very fine and both 1989 and 1990 quite exceptional. These are surely wines of world class status, among the best the Loire can produce; wines for future generations, lasting 75 years and more.
An important white wine appellation in the Touraine and one of the top in all of the Loire, Vouvray uniquely specializes in a wide range of styles from dry to sweet, and still to sparkling, each with its own definitive character. Vouvray is almost always 100% Chenin blanc (however up to 5% Menu Pineau is theoretically allowed but not often used).
Vouvray is also the name of a pretty little town just east of Tours on the northern bank of the Loire—its vineyards surround it to the northeast. Houses and cellars are carved out of the local tuffeau, a chalky or sandy, fine-grained limestone. Vineyards inhabit clay and gravel topsoil over tuffeau on the plateau, the best of which have a slight slope with a southerly aspect.
Chenin blanc's high acidity and natural adaptability allow it to produce a wide range of styles with enormous success. Styles under the Vouvray name include sparkling, both Brut and Demi-Sec and still: Sec (dry) and Tendre (off-dry) as well as Demi-Sec (noticeably sweet), Moelleux (very sweet) and Liquoreaux (botrytized). Most can age about five years but the best quality versions will continue to improve over decades.
Unquestionably one of the most diverse grape varieties, Chenin Blanc can do it all. It shines in every style from bone dry to unctuously sweet, oaked or unoaked, still or sparkling and even as the base for fortified wines and spirits. Perhaps Chenin Blanc's greatest asset is its ever-present acidity, maintained even under warm growing conditions. Somm Secret—Landing in South Africa in the mid 1800s, today the country has double the acreage of Chenin Blanc planted compared to France. There is also a new wave of dedicated producers committed to restoring old Chenin vines.
GSW11722014_2014
Item#
179458