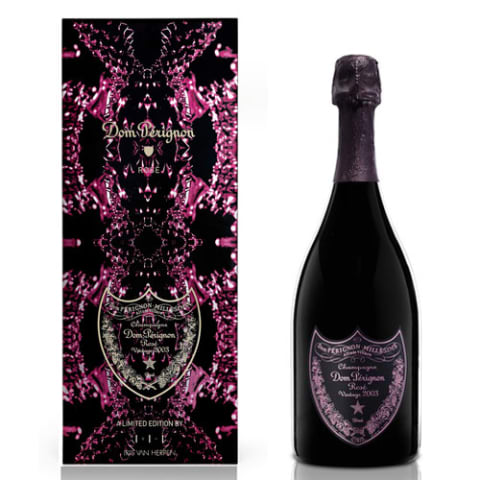 Dom Perignon Rose Limited Edition Metamorphosis in Gift Box 2003
Ships Mon, Jan 25
Limit
0
bottles
per customer
Winemaker Notes
Concentrated and remarkably well-defined. The fullness is structured, rich. The silky, spicy material very gradually disappears into a mineral, iodine, salty finish.
The 2003 vintage is one of superlatives: a year like no other, defined by extremes. The vineyard was first touched by severe spring frosts and then by an unparalleled heat wave. The vintage of a perfectly ripe and healthy small harvest, is thus the most precocious since 1822.
This special limited edition release showcases fashion designer Iris Van Herpen's concept of metamorphosis as embodied by Dom Pérignon. The über premium bottle and presentation box is inspired by fossils and features striking organic structures in its design. Celebrating the evolution and transformation of Dom Pérignon 2003 as it mutates and changes over time in the bottle, this release arguably represents the most ambitious Champagne/fashion collaboration to date. Highly collectable (and here for a short time only) Dom Pérignon "Metamorphosis" displays all of the hallmark power, opulence and intensity that marks the 2003 harvest as being one of the most attractive of recent times.
Critical Acclaim
All Vintages
Exquisite rose-colored wine with a nose of cherry and soft citrus; it is creamy textured and precise with flavors that are at once complex and rich yet delicate and pure; focused and elegant with subtlety and depth; graceful, balanced and astonishingly beautiful.
Finely detailed in texture, with an expressive flavor profile of strawberry pâte de fruit, biscotti, ground anise and ginger, matched to vivid acidity and a rich, minerally character. Broad and creamy on the palate, featuring a long, echoing finish. Drink now through 2029.
What's more, the price-quality rapport here is excellent by any Champagne standards, and puts that of many a prestige cuvee to shame. Moet's 2003 Brut Rose Dom Perignon exhibits both richness and robustness reflecting its torrid vintage, yet manages to stint neither on primary juiciness nor transparency to nuance; nor does it come off as at all heavy. Lightly cooked ripe strawberry and fig infused with rose hip, licorice, Ceylon tea, heliotrope and leather inform a delightfully forward nose and lush, effusively fruity palate. A tart and seedy edge to the strawberry serves for invigoration; and lobster shell reduction serves for mouthwatering salinity and somehow downright sweet animal savor. There is a hint of tannin, but it is fine-grained and suggestive of structural support. A long, seductively rich finish manages to harbor not just the immediately aforementioned virtues, but also a sense of transparency to floral and tea-like nuances and to virtually shimmering stoniness. This alluring and distinctive beauty should be worth following for at least the next half dozen years.
View More
Learn about Dom Perignon, the history of the famed Champagne brand, how it's made, and its flagship Vintage Blanc, Vintage Rosé and P2 Plenitude.
History of Dom Perignon
Dom Pierre Perignon, a French Benedictine monk, set out his vision to "create the best wine in the world" when he became Cellar Master at the sacred Abbey of Hautvillers in 1668. Dom Perignon dedicated over 40 years to this mission, employing a visionary spirit and daring approach to the wine making process. Over that time, he became known as the 'father of champagne' for laying down the fundamental rules for the traditional Champagne production method (La Methode Champenoise or Traditionelle). A favored wine of the Sun King Louis XIV, Dom Perignon himself compared his wine to "drinking stars".
How Dom Perignon is Made
Dom Perignon Champagne is made through an assemblage of Pinot Noir and Chardonnay, created by using only the best grapes harvested from the 17 Grands Crus in Champagne and the Premier Cru of Hautvillers. One of the principle hallmarks of Dom Perignon is its absolute commitment to only producing vintage wines. Unlike many other Champagne houses, Dom Perignon does not produce a non-vintage Champagne. This commitment to vintage only requires Dom Perignon to reinvent itself every year, staying true to the daring and creative principles laid down by the Dom Pierre Perignon himself.
Dom Perignon Flagship Bottles
The flagship of the House – the Vintage Blanc – is a perfect example of the intricacy of Dom Perignon Champagne, expressing the perfect harmony and savoir-faire of the wine making process, while the other key pillars; Vintage Rose and P2 Blanc both bring their own different and exciting elements to be explored.
Dom Perignon Pronunciation 
dawm per-irr-nyon
Associated with luxury, celebration, and romance, the region, Champagne, is home to the world's most prized sparkling wine. In order to bear the label, 'Champagne', a sparkling wine must originate from this northeastern region of France—called Champagne—and adhere to strict quality standards. Made up of the three towns Reims, Épernay, and Aÿ, it was here that the traditional method of sparkling wine production was both invented and perfected, birthing a winemaking technique as well as a flavor profile that is now emulated worldwide.
Well-drained, limestone and chalky soil defines much of the region, which lend a mineral component to its wines. Champagne's cold, continental climate promotes ample acidity in its grapes but weather differences from year to year can create significant variation between vintages. While vintage Champagnes are produced in exceptional years, non-vintage cuvées are produced annually from a blend of several years in order to produce Champagnes that maintain a consistent house style.
With nearly negligible exceptions, . These can be blended together or bottled as individual varietal Champagnes, depending on the final style of wine desired. Chardonnay, the only white variety, contributes freshness, elegance, lively acidity and notes of citrus, orchard fruit and white flowers. Pinot Noir and its relative Pinot Meunier, provide the backbone to many blends, adding structure, body and supple red fruit flavors. Wines with a large proportion of Pinot Meunier will be ready to drink earlier, while Pinot Noir contributes to longevity. Whether it is white or rosé, most Champagne is made from a blend of red and white grapes—and uniquely, rosé is often produce by blending together red and white wine. A Champagne made exclusively from Chardonnay will be labeled as 'blanc de blancs,' while ones comprised of only red grapes are called 'blanc de noirs.'
What are the different types of Champagne and sparkling wine?
Beloved for its lively bubbles, sparkling wine is the ultimate beverage for any festivity, whether it's a major celebration or a mere merrymaking of nothing much! Sparkling wine is made throughout the winemaking world, but only can be called "Champagne" if it comes from the Champagne region of France and is made using what is referred to as the "traditional method." Other regions have their own specialties—Crémant in other parts of France, Cava in Spain and Prosecco in Italy, to name a few. New World regions like California, Australia and New Zealand enjoy the freedom to make many styles, with production methods and traditions defined locally. In a dry style, Champagne and sparkling wine goes with just about any type of food. Sweet styles are not uncommon and among both dry and sweet, you'll find white, rosé—or even red!—examples.
How is Champagne and sparkling wine made?
Champagne, Crémant, Cava and many other sparkling wines of the world are made using the traditional method, in which the second fermentation (the one that makes the bubbles) takes place inside the bottle. With this method, spent yeast cells remain in contact with the wine during bottle aging, giving it a creamy mouthful, toasted bread or brioche qualities and in many cases, the capacity to age. For Prosecco, the carbonation process usually occurs in a stainless steel tank (before bottling) to preserve the fresh fruity and floral aromas imminent in this style.
What gives Champagne and sparkling wine its bubbles?
The bubbles in sparkling wine are formed when the base wine undergoes a secondary fermentation, which traps carbon dioxide inside the bottle or fermentation vessel.
How do you serve Champagne and sparkling wine?
Ideally for storing Champagne and sparkling wine in any long-term sense, they should be at cellar temperature, about 55F. For serving, cool Champagne and sparkling wine down to about 40F to 50F. (Most refrigerators are colder than this.) As for drinking Champagne and sparkling wine, the best glasses have a stem and flute or tulip shape to allow the bead (bubbles) to show.
How long does Champagne and sparkling wine last?
Most sparkling wines like Prosecco, Cava or others around the "$20 and under" price point are intended for early consumption. Wines made using the traditional method with extended cellar time before release can typically improve with age. If you are unsure, definitely consult a wine professional for guidance.
SWS368991_2003
Item#
134791