Do Ferreiro Albarino 2014
Out of Stock

(was $25.99)
Winemaker Notes
Complex aromas of salinity exotic fruits with wet earth/herbal tones. The palate is textured with excellent acidity.
Critical Acclaim
All Vintages
I retasted the regular 2014 Albariño, since the bottle I sampled last time might have been marred by the cork, and they wanted to show it again. This is from a cold, rainy and challenging year, when they did not produce the Cepas Vellas; they lost almost 45% of the grapes, and the wine has a very different profile. They harvested late, into October, which might be why the wine is golden colored. The nose feels almost tropical, but the palate is lighter and feels leaner than anticipated. This is an unusual Do Ferreiro.
Can Galicia entice the American wine drinker? I for one am in love with this part of Spain. Having been there eating and drinking on a couple of occasions, I have become so enraptured with Albariño that I sometimes even dream about it. The 2014 Do Ferreiro is almost international in style. While it brings the area into the fore, the wine also shows a richness that is sometimes not seen from other producers, would be nice with lightly grilled oysters. Light straw, green in color; rich and aromatic in the nose with some flowers, mineral and core fruits; round and textured on the palate; dry, pleasing acidity and well balanced; bright apple and some flowers in the flavors; crisp mineral finish. (Tasted: January 27, 2016, San Francisco, CA)
Plenty of pear and sliced apple character. Full body, fresh acidity and a fresh and clean finish.
The flavor of tart white fruit remains in the background, while intense mineral notes surround the palate in a hug. This albarino is juicy, refreshing and full of life, its acidity present from beginning to end and everywhere in between. Ope it now for seafood linguini.
View More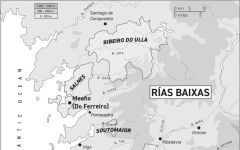 Do Ferreiro is a small family winery in the historic heart of Spain's coastal Rías Baixas region. Highly regarded for crafting albariño, the winery has become a reference point for the grape. They farm over 175 tiny plots of albariño by hand, located in the Salnès subzone of Rías Baixas. This valley's proximity to the ocean, ideal climate due to the natural protection by mountain ranges, and decomposed granitic soil have gained the reputation for being the ideal zone in Rías Baixas for growing profound albariño. The blend of these plots is what makes up Do Ferreiro Albariño.
Gerardo Méndez was part of the original group of 14 growers who elevated the region's potential, as he and his father Francisco were integral in forming the original denomination of origin Rías Baixas in 1988. Gerardo has become known for his outsized contribution to the region as a leader in quality winemaking and for his incredible generosity and amazing hospitality. In addition to his work in creating the denomination, Gerardo also began recovering old vineyards, introducing organic farming, and restoring traditional trellising methods. Gerardo is known for his absolute faith in the local emparrado system (pergola training), which he has adapted and refined over the years to allow more sun into the canopy, allowing for even ripeness and naturally lower yields. He lets his chickens roam through the vineyards the way his ancestors had done in the past, providing both natural pest control and contributing valuable nitrogen to the soil. Grapes are harvested by hand with great scrutiny, sorting happens in the vineyard, bunch-by-bunch, as opposed to ever using a sorting table. Such is the dedication to quality that the farming and daily tending to vineyards is where the time and investment is spent. The winemaking is straightforward with no makeup.
Most of Gerardo's neighbors in that era didn't understand why someone would work so hard, risking their harvest by using indigenous yeasts and waiting to harvest until the grapes were perfectly ripe. Initially, they thought he was crazy, but as the wine started to achieve fame outside of the region, people realized that he had been a visionary all along. Aspiring growers began to seek his advice in both farming and winemaking. Do Ferreiro was born from incredible raw material and an uncompromising dedication to quality, a legacy that continues today with his son, Manuel, and daughter, Encarna, all working together to craft Do Ferreiro.
Today, Manuel and Encarna contribute to the same spirit of uncompromising quality to the family business as they also push the exploration of Rías Baixas into new, uncharted territory. Manuel, who took over as lead-winemaker from his father with the 2015 vintage, is busy isolating plots and exploring how different soils, elevations, and exposures can affect these transparent wines. He is farming single vineyards, which demonstrate that the site is multidimensional here in the same way that it is in all great wine growing regions of the world.
Named after the rías, or estuarine inlets, that flow as far as 20 miles inland, Rías Baixas is an Atlantic coastal region with a cool and wet maritime climate. The entire region claims soil based on granite bedrock, but the inlets create five subregions of slightly different growing environments for its prized white grape, Albariño.
Val do Salnés on the west coast is said to be the birthplace of Albariño; it is the coolest and wettest of all of the regions. Having been named as the original subregion, today it has the most area under vine and largest number of wineries.
Ribeira do Ulla in the north and inland along the Ulla River is the newest to be included. It is actually the birthplace of the Padrón pepper!
Soutomaior is the smallest region and is tucked up in the hills at the end of the inlet called Ria de Vigo. Its soils are light and sandy over granite.
O Rosal and Condado do Tea are the farthest south in Rías Baixas and their vineyards actually cover the northern slopes of the Miño River, facing the Vinho Verde region in Portugal on its southern bank.
Albariño gives this region its fame and covers 90% of the area under vine. Caiño blanco, Treixadura and Loureira as well as occasionally Torrontés and Godello are permitted in small amounts in blends with Albariño. Red grapes are not very popular but Mencía, Espadeiro and Caiño Tinto are permitted and grown.
Bright and aromatic with distinctive floral and fruity characteristics, Albariño has enjoyed a surge in popularity and an increase in plantings over the last couple of decades. Thick skins allow it to withstand the humid conditions of its homeland, Rías Baixas, Spain, free of malady, and produce a weighty but fresh white. Somm Secret—Albariño claims dual citizenship in Spain and Portugal. Under the name Alvarinho, it thrives in Portugal's northwestern Vinho Verde region, which predictably, borders part of Spain's Rías Baixas.
EWLSPDFRALB14_2014
Item#
151557