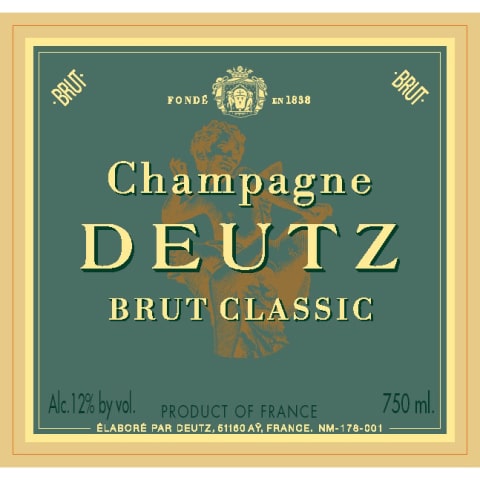 Deutz Brut Classic (375ML half-bottle)
Ships Wed, Sep 25
Limit
0
bottles
per customer
Winemaker Notes
The distinctive house style of elegance and finesse which has made Champagne Deutz one of the most respected of all Champagne houses, is reflected in this fine non-vintage Champagne. Matured according to traditional methods from a blend of several vintages from twenty of the best crus of Champagne, it reaches a perfect balance of flavor.
Critical Acclaim
All Vintages
Firm and focused, with a mouthwatering palate of poached pear and berry, lemon curd, pastry cream and a pronounced streak of smoky minerality that lingers on the finish.
This wine's concentrated flavors focus on mineral richness rather than freshness, lemon pith rather than zest. Its green apple and pear fruit blends into the chalkiness, all of a piece. For wood-roasted oysters.
The NV Brut Classic is a pretty, entry-level wine. Warm, generous fruit comes together beautifully in this rich, expansive, mid-weight Champagne. The bouquet, texture and purity of the finish are all first-rate. The Brut Classic is equal parts Pinot Noir, Pinot Meunier and Chardonnay. Like all Deutz Champagnes, it undergoes full malolactic fermentation. This is Lot LB1100D0169, disgorged January, 2009. Anticipated maturity: 2010-2014.
Lemon pith and yellow grapefruit on the nose. Some very gentle pastry elements, too. The palate is bright, crisp and zesty with plenty of lemon and glacé peach flavor. Drink now.
This nonvintage classic is on point with its soft, ripe style. It has just enough maturity to fill out the fruit, with hints of almond and toast. On the palate, attractive bright citrus and green apple flavors dominate.
Distinctively Deutz in style with vinosity and verve, this is fresh, elegant and round with a precocious ripeness and good depth. The base is largely the 2015 vintage (50%) with additions from 2013 and 2014 reserve wines. As always, it's an equal blend of Pinot Noir, Pinot Meunier and Chardonnay, sourced from premier cru and grand cru vineyards from the Marne area. Drinking Window 2019 - 2022
View More
Since 1838, CHAMPAGNE DEUTZ, one of the oldest members of the former and prestigious Association of Grandes Marques, has been making champagnes of a distinctive style characterised by a perfect harmony of finesse, elegant vinosity and complexity. Sourcing from more 245 hectares (approx. 600 acres) of vineyards, amongst the finest of Champagne's crus, as well as a rigorous selection of the choice bunches, allow Deutz to use only top quality grapes. The wines are slowly and carefully aged in the cool hush of the 3 kilometres of the House cellars which have been carved in the chalky soil of the famous historic village of Aÿ. The "DEUTZ trio Prestige" comprises three prestige cuvées, each with its very distinct personality. Cuvée William Deutz is made from the best pinots and chardonnays; Cuvée Amour de Deutz is composed uniquely of the finest chardonnays; finally there is Cuvée William Deutz Rosé. In each of these styles, Maison DEUTZ shows the full extent of its know-how and its attachment to precise, finely tuned wines. DEUTZ champagnes are distributed all over the world in first class restaurants, fine food shops and specialized wine shops.
Associated with luxury, celebration, and romance, the region, Champagne, is home to the world's most prized sparkling wine. In order to bear the label, 'Champagne', a sparkling wine must originate from this northeastern region of France—called Champagne—and adhere to strict quality standards. Made up of the three towns Reims, Épernay, and Aÿ, it was here that the traditional method of sparkling wine production was both invented and perfected, birthing a winemaking technique as well as a flavor profile that is now emulated worldwide.
Well-drained, limestone and chalky soil defines much of the region, which lend a mineral component to its wines. Champagne's cold, continental climate promotes ample acidity in its grapes but weather differences from year to year can create significant variation between vintages. While vintage Champagnes are produced in exceptional years, non-vintage cuvées are produced annually from a blend of several years in order to produce Champagnes that maintain a consistent house style.
With nearly negligible exceptions, three varieties are permitted for use in Champagne: Chardonnay, Pinot Noir, and Pinot Meunier. These can be blended together or bottled as individual varietal Champagnes, depending on the final style of wine desired. Chardonnay, the only white variety, contributes freshness, elegance, lively acidity and notes of citrus, orchard fruit and white flowers. Pinot Noir and its relative Pinot Meunier, provide the backbone to many blends, adding structure, body and supple red fruit flavors. Wines with a large proportion of Pinot Meunier will be ready to drink earlier, while Pinot Noir contributes to longevity. Whether it is white or rosé, most Champagne is made from a blend of red and white grapes—and uniquely, rosé is often produce by blending together red and white wine. A Champagne made exclusively from Chardonnay will be labeled as 'blanc de blancs,' while ones comprised of only red grapes are called 'blanc de noirs.'
A term typically reserved for Champagne and Sparkling Wines, non-vintage or simply "NV" on a label indicates a blend of finished wines from different vintages (years of harvest). To make non-vintage Champagne, typically the current year's harvest (in other words, the current vintage) forms the base of the blend. Finished wines from previous years, called "vins de reserve" are blended in at approximately 10-50% of the total volume in order to achieve the flavor, complexity, body and acidity for the desired house style. A tiny proportion of Champagnes are made from a single vintage.
There are also some very large production still wines that may not claim one particular vintage. This would be at the discretion of the winemaker's goals for character of the final wine.
PRG000940_NV_375_0
Item#
22253