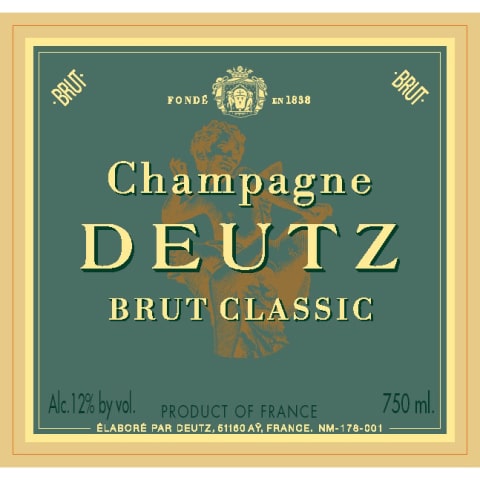 Deutz Brut Classic (375ML half-bottle)
Winemaker Notes
The intense golden appearance is topped with a mousse of great finesse – the Deutz signature – characteristic of wines having benefited from long maturation on the lees. On the nose, the wine initially displays floral notes (hawthorn blossom, white flowers), followed by aromas of toast, marzipan and ripe fruits (apples, pears). In the mouth, the freshness of the Chardonnay and the richness of the Pinot Noir enhance the wine's full-bodied elegance, presenting a wine with finely integrated aromas and a silky texture. The wine is well-rounded with an intensely fruity finish. 
Critical Acclaim
All Vintages
This is very dry with apple, praline and pie-crust character. It's full, layered and gorgeous with a lovely, creamy texture. The base is from the 2017 vintage, one third each of pinot noir, chardonnay and pinot meunier.
COMMENTARY: The Champagne Deutz Brut Classic is excellent from start to finish. TASTING NOTES: This wine shows aromas and flavors of chalk, dried apples, and earth. Enjoy its palate staying power with pan-fried Petrale sole in a savory cream sauce. (Tasted: April 27, 2022, San Francisco, CA)
Very approachable and refreshing citrus, apples and brioche aromas. Refined palate with toasty and honeyed almond notes. Harmonious finish. Blend: 33% Pinot Noir, 33% Pinot Meunier, 33% Chardonnay.
Ripe apple, toast point, preserved lemon and honeycomb aromas and flavors lead the way in this elegant version. Featuring a lacy mousse and a bright spine of well-meshed acidity. The pretty flavor range transitions to chalky minerality on the finish. Pinot Noir, Chardonnay and Pinot Meunier. Drink now
Open and expressive, the latest NV Brut Classic from Deutz offers up aromas of green pear, peach, pastry cream and flowers. Medium to full-bodied and fleshy but precise, it's elegant and charming, with a seamless profile and considerable immediate appeal.
View More
Since 1838, Champagne Deutz, one of the oldest members of the former and prestigious Association of Grandes Marques, has been making champagnes of a distinctive style characterized by a perfect harmony of finesse, elegant vinosity and complexity.
Sourcing from 300 hectares (approx. 615 acres) of vineyards, amongst the finest of Champagne's crus, as well as a rigorous selection of the choice bunches, allow Deutz to use only top quality grapes.
The wines are slowly and carefully aged in the cool hush of the 3 kilometres of the House cellars which have been carved in the chalky soil of the famous historic village of Aÿ.
The "DEUTZ trio Prestige" comprises three prestige cuvées, each with its very distinct personality. William Deutz is made from the best pinots and chardonnays; Amour de Deutz is composed uniquely of the finest chardonnays ; finally there is Amour de Deutz Rosé. In each of these styles, Maison DEUTZ shows the full extent of its know-how and its attachment to precise, finely-tuned wines.
Each blend, from the renowned Deutz Brut Classic, is recognized for its high quality and remarkable consistency. Year after year, each of them epitomizes the expertise and the passion of Maison Deutz for its finely-tuned champagnes.
Associated with luxury, celebration, and romance, the region, Champagne, is home to the world's most prized sparkling wine. In order to bear the label, 'Champagne', a sparkling wine must originate from this northeastern region of France—called Champagne—and adhere to strict quality standards. Made up of the three towns Reims, Épernay, and Aÿ, it was here that the traditional method of sparkling wine production was both invented and perfected, birthing a winemaking technique as well as a flavor profile that is now emulated worldwide.
Well-drained, limestone and chalky soil defines much of the region, which lend a mineral component to its wines. Champagne's cold, continental climate promotes ample acidity in its grapes but weather differences from year to year can create significant variation between vintages. While vintage Champagnes are produced in exceptional years, non-vintage cuvées are produced annually from a blend of several years in order to produce Champagnes that maintain a consistent house style.
With nearly negligible exceptions, . These can be blended together or bottled as individual varietal Champagnes, depending on the final style of wine desired. Chardonnay, the only white variety, contributes freshness, elegance, lively acidity and notes of citrus, orchard fruit and white flowers. Pinot Noir and its relative Pinot Meunier, provide the backbone to many blends, adding structure, body and supple red fruit flavors. Wines with a large proportion of Pinot Meunier will be ready to drink earlier, while Pinot Noir contributes to longevity. Whether it is white or rosé, most Champagne is made from a blend of red and white grapes—and uniquely, rosé is often produce by blending together red and white wine. A Champagne made exclusively from Chardonnay will be labeled as 'blanc de blancs,' while ones comprised of only red grapes are called 'blanc de noirs.'
A term typically reserved for Champagne and Sparkling Wines, non-vintage or simply "NV" on a label indicates a blend of finished wines from different vintages (years of harvest). To make non-vintage Champagne, typically the current year's harvest (in other words, the current vintage) forms the base of the blend. Finished wines from previous years, called "vins de reserve" are blended in at approximately 10-50% of the total volume in order to achieve the flavor, complexity, body and acidity for the desired house style. A tiny proportion of Champagnes are made from a single vintage.
There are also some very large production still wines that may not claim one particular vintage. This would be at the discretion of the winemaker's goals for character of the final wine.
PRG000940_NV_375_0
Item#
22253