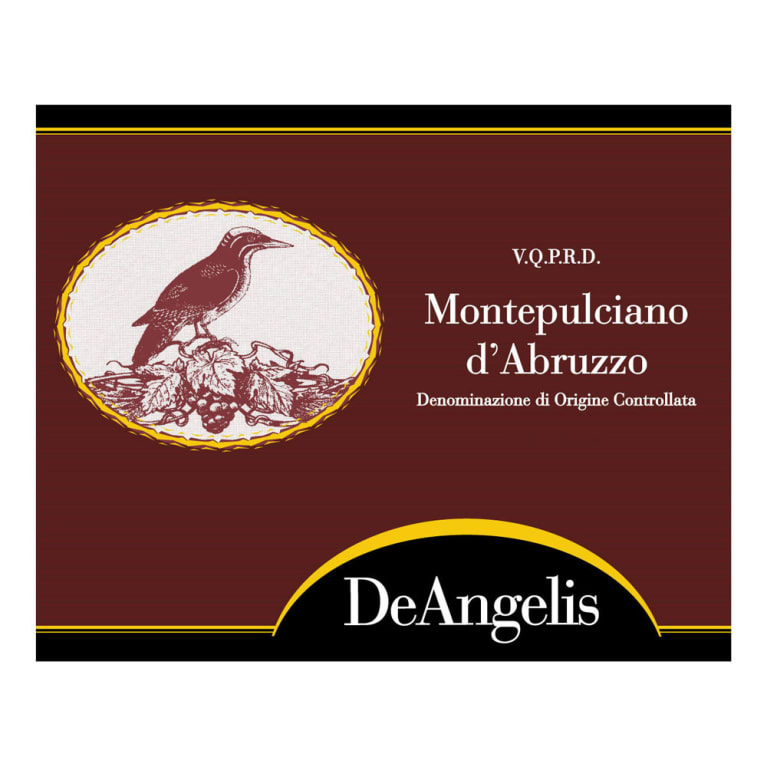 DeAngelis Montepulciano d'Abruzzo 2015
Winemaker Notes
Intense ruby color, tending to mauvish, full bodied flavors, slightly tannic with aromas of black currant, plum and morello cherry.
Pair with red meat and fresh cheeses.
The estate, owned and run by the family De Angelis, was founded in the 1950's by Alighiero De Angelis and Giovanna Ciabattoni in Cossignano, a small inland town in the Piceno region. The first ten years of intense work and gratification saw the realization of a winery in Cossignano and a vineyard of 50 hectares in the rural areas of Offida,Castel di Lama and Cossignano.
In 1985, with the arrival of Quinto Fausti, a new winery was established in Castel di Lama to relaunch the qualitative production of the establishment, passing from enormous quantities of wine to the production of quality DOC wines and thus including the De Angelis Estate in the list of the elite wine producers of the Marche region.
The estate started production with three historical vines of the Marche region, Montepulciano, Sangiovese and Trebbiano for the production of the three DOC wines Rosso Piceno, Rosso Piceno Superiore and Falerio. Later, these wines were flanked by Prato grand made from Chardonnay grapes, and Anghelos, the estate's flagship wine, made from Montepulciano, Cabernet Sauvignon and Sangiovese.
With the arrival of the third generation Elisa, Alighiero and Ravi, the grandchilden of the founder, the estate gave further confirmation of its historical interest in territorial production by adopting and nuturing two antique vines Pecorino and Passerina and, together with other local estates, became a supporter of the new Offida DOC for the production of DOC wines with high typological value.
A warm, Mediterranean vine-growing paradise, in Abruzzo, the distance from mountains to seaside is relatively short. The Apenniness, which run through the center of Italy, rise up on its western side while the Adriatic Sea defines its eastern border.
Wine composition tends to two varieties: Abruzzo's red grape, Montepulciano and its white, Trebbiano. Montepulciano d'Abruzzo can come in a quaffable, rustic and fruity style that generally drinks best young. It is also capable of making a more serious style, where oak aging tames its purely wild fruit.
Trebbiano in Abruzzo also comes in a couple of varieties. Trebbiano Toscana makes a simple and fruity white. However when meticulously tended, the specific Trebbiano d'Abruzzo-based white wines can be complex and long-lived.
In the region's efforts to focus on better sites and lower yields, vine acreage has decreased in recent years while quality has increased.
Montepulciano is the second most planted red variety in Italy after Sangiovese, though it is achieves its highest potential in the region of Abruzzo. Consistently enticing and enjoyable, Montepulciano enjoys great popularity throughout central and southern Italy as well. A tiny bit grows with success in California, Argentina and Australia. Somm Secret—Montepulciano is also the name of a village in Tuscany where, confusingly, they don't grow the Montepulciano grape at all! Sangiovese shines in yet another Tuscan village, here making the reputable wine called Vino Nobile di Montepulciano.
DBWDB004315_2015
Item#
169831