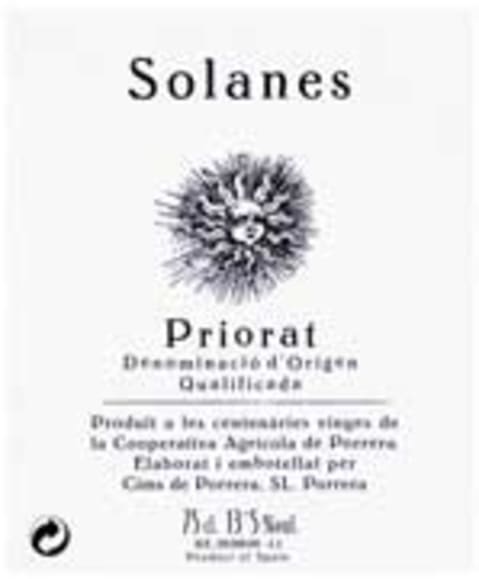 Cims de Porrera Solanes Priorat 2003
Winemaker Notes
The 2003 vintage of Cims de Porrera's "Solanes" is a distinctive blend of the only five red grape varieties grown in the D.O.Q. Priorat. Made from grapes from select vineyards of the Porrera region, this wine has elegant aromas of wild blackberries and mountain herbs. On the palate this wine showcases black fruit, deep mineral notes, milk chocolate, sultanas and spices.
Blend: 50% old-vine Carineña, 30% Garnacha, 8% Cabernet Sauvignon, 7% Merlot, 5% Syrah
Cims
is Spanish for
summits
, and this geography plays an integral part in the wines of Cims de Porrera. Each vineyard sits on the steep, rocky slopes above the village of Porrera in the D.O.Q. Priorat, at an altitude of 400 to 600 meters. This rugged terrain demands meticulous harvesting by hand, and wines remain with their separate vineyard blocks until final blending. The combination of unique black slate soils, a rich variety of micro-climates and vines older than 60 years results in widely-recognized wines of exceptional quality.
Cims de Porrera was founded by the Pérez family, one of five pioneering wine families who rediscovered the now-renowned region in the late 1980s. Only five grape varieties are cultivated in the area surrounding Porrera—Cariñena, Garnacha (Grenache), Cabernet Sauvignon, Merlot and Syrah; the 2002 Solanes—the second label of Cims de Porrera—combines all of them to create an ambitious, distinctive blend. Winemaker Adria Pérez, son of founder Luis, also produces the Classic in only the finest vintage years. These discerning procedures have secured the label's reputation, and Cims de Porrera sells up to 75% of their wine internationally.
Tiny and entirely composed of craggy, jagged and deeply terraced vineyards, Priorat is a Catalan wine-producing region that was virtually abandoned until the early 1990s. Its renaissance came with the arrival of one man, René Barbier, who recognized the region's forgotten potential. He banded with five friends to create five "Clos" in the village of Gratallops. Their aim was to revive some of Priorat's ancient Carignan vines, as well as plant new—mainly French—varieties. These winemakers were technically skilled, well-trained and locally inspired; not surprisingly their results were a far cry from the few rustic and overly fermented wines already produced.
This movement escalated Priorat's popularity for a few reasons. Its new wines were modern and made with well-recognized varieties, namely old Carignan and Grenache blended with Syrah, Cabernet Sauvignon and Merlot. When the demand arrived, scarcity commanded higher prices and as the region discovered its new acclaim, investors came running from near and far. Within ten years, the area under vine practically doubled.
Priorat's steep slopes of licorella (brown and black slate) and quartzite soils, protection from the cold winds of the Siera de Monstant and a lack of water, leading to incredibly low vine yields, all work together to make the region's wines unique. While similar blends could and are produced elsewhere, the mineral essence and unprecedented concentration of a Priorat wine is unmistakable.
Beyond the usual suspects, there are hundreds of red grape varieties grown throughout the world. Some are indigenous specialties capable of producing excellent single varietal wines, while others are better suited for use as blending grapes. Each has its own distinct viticultural characteristics, as well as aroma and flavor profiles, offering much to be discovered by the curious wine lover. In particular, Portugal and Italy are known for having a multitude of unique varieties but they can really be found in any region.
HNYCIMSLS03C_2003
Item#
91279