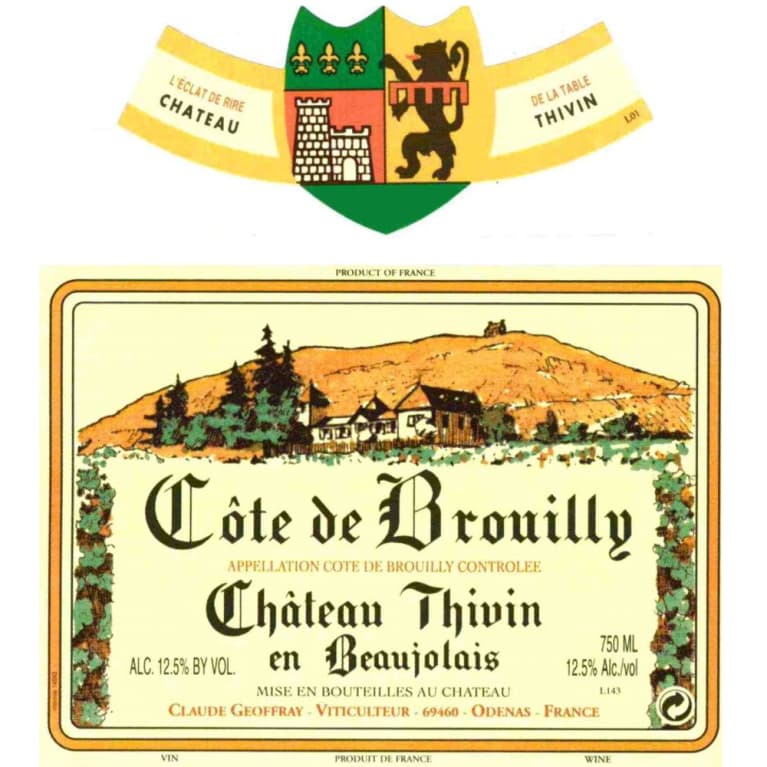 Chateau Thivin Cote de Brouilly 2006
Gamay
from
Beaujolais, Burgundy, France
Ships Tue, Apr 2
Limit
0
bottles
per customer
Winemaker Notes
"The Chateau Thivin 2006 Cote de Brouilly leads with fascinating and intense aromas of smoky, toasted nuts and salted tomato puree. Bright salinity and the unusual suggestion of tomato paste persist on the surprisingly concentrated palate, along with suggestions of smoked meat, juniper berry, and tart black fruit skins. The finish is bright and savory, with a surprising hint of tongue-numbing tannin. While less generous with the sort of overtly ripe berry character than one generally expects of Beaujolais, this Cote de Brouilly holds an undeniable fascination of its own and should be interesting to work with in the kitchen and to follow for another year or two in bottle. The estate's track record is consistently excellent."
-Wine Advocate
Wine lovers who experience is limited to Noveau owe it to themselves to try the other side of Beaujolais, the hillside Beaujolais, where the soils are more granite and the terrain more rugged. The name Beaujolais may not be present of the label; instead one will find the village name, such as Brouilly, Cote de Brouilly, Morgan or Fleurie.
Chateau Thivin is located in the Cote de Brouilly, an ancient volcanic mound which juts unexpectedly from the Beaujeu Valley floor, about 30 miles north of Lyon.
In the heart of Cote de Brouilly, on the south-facing, crumbling granite slopes, Claude Geoffray at Chateau Thivin works twenty acres of vines. The vineyards are planted entirely to Gamay Noir a jus blanc, a variety of Gamay that is cultivated to stand free of wires and stakes, sturdily attached to the hillside by deep-seeking roots.
At Chateau Thivin, each section of the vineyard is harvested and fermented separately, to preserve the characteristic differences afforded by variations in exposure and altitude. The final wine is a selected blend of these cuvees. Traditional whole cluster fermentation is used in order to keep the characteristic fruity qualities of Gamay, after which the grapes are put into cuve by gravity without being crushed or destemmed. Each vintage spends a few months in large oak foudres before bottling.
The bucolic region often identified as the southern part of Burgundy, Beaujolais actually doesn't have a whole lot in common with the rest of the region in terms of climate, soil types and grape varieties. Beaujolais achieves its own identity with variations on style of one grape, Gamay.
Gamay was actually grown throughout all of Burgundy until 1395 when the Duke of Burgundy banished it south, making room for Pinot noir to inhabit all of the "superior" hillsides of Burgundy proper. This was good news for Gamay as it produces a much better wine in the granitic soils of Beaujolais, compared with the limestone escarpments of the Côte d'Or.
Four styles of Beaujolais exist though most is sold under the basic Beaujolais appellation. The simplest, and one that has regrettably given the region a subpar reputation, is Beaujolais Nouveau. This is the wine that is made using carbonic maceration (a quick fermentation that results in sweet aromas) and is released on the third Thursday of November in the same year as harvest. It's meant to drink young and is flirty, fruity and fun. The rest of Beaujolais is where the serious wines are found. Beaujolais-Villages, which must come from the hilly northern part of the region, offer reasonable values with some gems among them. The superior section are the cru vineyards coming from ten distinct communes: St-Amour, Juliénas, Chénas, Moulin-à-Vent, Fleurie, Chiroubles, Morgon, Regnié, Brouilly, and Côte de Brouilly. Any cru Beajolais will have its commune name prominent on the label.
Delightfully playful, yet at its best capable of impressive gravitas, Gamay is responsible for juicy, berry-packed wines from Beaujolais and parts of the Loire Valley. While it has received some criticism for its role in Beaujolais Nouveau—a decidedly young, charming and fruit-driven wine—the Gamay grape is very capable of producing serious wines. The variety is also widely planted in Savoie, Valle d'Aosta and Switzerland, and has recently found success on a small but growing scale in Oregon.
In the Glass
In its simplest form as Beaujolais Nouveau, a wine released just a couple of months after harvest, Gamay is fresh and full of cranberry and cherry candy flavors. But Gamay is capable of much more. The region of Beaujolais is divided into Villages and Crus, where granite-rich soils and conditions are perfect for Gamay. The Villages and Crus wines, given more time on the vine and in the winery, are capable of improving with age and offer dark blackberry or ripe cherry flavors with enticing aromas of baking spice, violets and dark wet earth.
Perfect Pairings
Gamay is delicious on its own; the simpler bottling can even benefit from a light chill before serving. It is the quintessential picnic red and goes well with simple charcuterie, country pâté and terrines. Gentle tannins and bright acidity make it a great option with Asian food, even dishes with a bit of spice. Gamay is also great with poultry, especially duck or Thanksgiving turkey with cranberry sauce.
Sommelier Secret
Within Beaujolais, there are ten different Crus, or highly ranked grape-growing communes. Each one has its own distinct personality—Fleurie is delicate and floral, Côte de Brouilly is concentrated and elegant and Morgon is serious, structured, and age-worthy, capable of rivaling some red Burgundies.
HNYCTHCBY06C_2006
Item#
99868