Chateau Palmer Historical XIXth Century Blend 2019
---
Product Details
---
Varietal
---
Region
---
Producer
---
Vintage
2019
---
Size
750ML
---
Winemaker Notes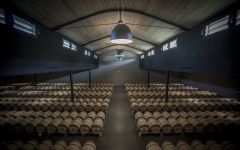 A gentleman, officer, and aide-de-camp of the Prince of Wales, Charles Palmer was famous at the English court as a ladies man and for his military victories. He fell under the spell of Bordeaux as well as the charms of Marie de Gascq, a beautiful widow who convinced him to buy her estate.
Charles Palmer devoted a great deal of time, energy, and money to developing his property. The Major General lived mainly in England, and so the estate was managed by his authorized representative, Mr Grey, who helped to increase the wine's reputation among wealthy connoisseurs.
In June 1853, the brothers Isaac and Emile Péreire, famous bankers and rivals of the Rothschilds, bought Palmer and began investing in the estate immediately. However, there was not enough time to bring Chateau Palmer up to first growth status in time for the famous 1855 classification. It was thus ranked a Third Growth, although it is widely recognized as among the greatest wines of Bordeaux.
Several families of Bordeaux, English, and Dutch extraction all involved in the wine trade, united to buy Palmer in 1938 and have worked hard to give the estate its present reputation. These families have always given priority to quality, despite the financial risk this entailed. They have unfailingly applied the principles that have made the great wines of Bordeaux so successful: authenticity, quality, and permanence.
With hundreds of red grape varieties to choose from, winemakers have the freedom to create a virtually endless assortment of blended red wines. In many European regions, strict laws are in place determining the set of varieties that may be used, but in the New World, experimentation is permitted and encouraged resulting in a wide variety of red wine styles. Blending can be utilized to enhance balance or create complexity, lending different layers of flavors and aromas. For example, a red wine blend variety that creates a fruity and full-bodied wine would do well combined with one that is naturally high in acidity and tannins. Sometimes small amounts of a particular variety are added to boost color or aromatics. Blending can take place before or after fermentation, with the latter, more popular option giving more control to the winemaker over the final qualities of the wine.
How to Serve Red Wine
A common piece of advice is to serve red wine at "room temperature," but this suggestion is imprecise. After all, room temperature in January is likely to be quite different than in August, even considering the possible effect of central heating and air conditioning systems. The proper temperature to aim for is 55° F to 60° F for lighter-bodied reds and 60° F to 65° F for fuller-bodied wines.
How Long Does Red Wine Last?
Once opened and re-corked, a bottle stored in a cool, dark environment (like your fridge) will stay fresh and nicely drinkable for a day or two. There are products available that can extend that period by a couple of days. As for unopened bottles, optimal storage means keeping them on their sides in a moderately humid environment at about 57° F. Red wines stored in this manner will stay good – and possibly improve – for anywhere from one year to multiple decades. Assessing how long to hold on to a bottle is a complicated science. If you are planning long-term storage of your reds, seek the advice of a wine professional.
A small category representing the wines that either fall outside of appellation lines or don't subscribe to the law and traditions set forth by the French government within certain classified appellations, "Vin De France" is a catch-all that includes some of the most basic French wines as well as those of superior quality. The category includes large production, value-driven wines. It also includes some that were made with a great deal of creativity, diligence and talent by those who desire to make wine outside of governmental restrictions. These used to be called Vin de Table (table wine) but were renamed to compete with other European countries' wines of similar quality.
FCA982117_2019
Item#
982117