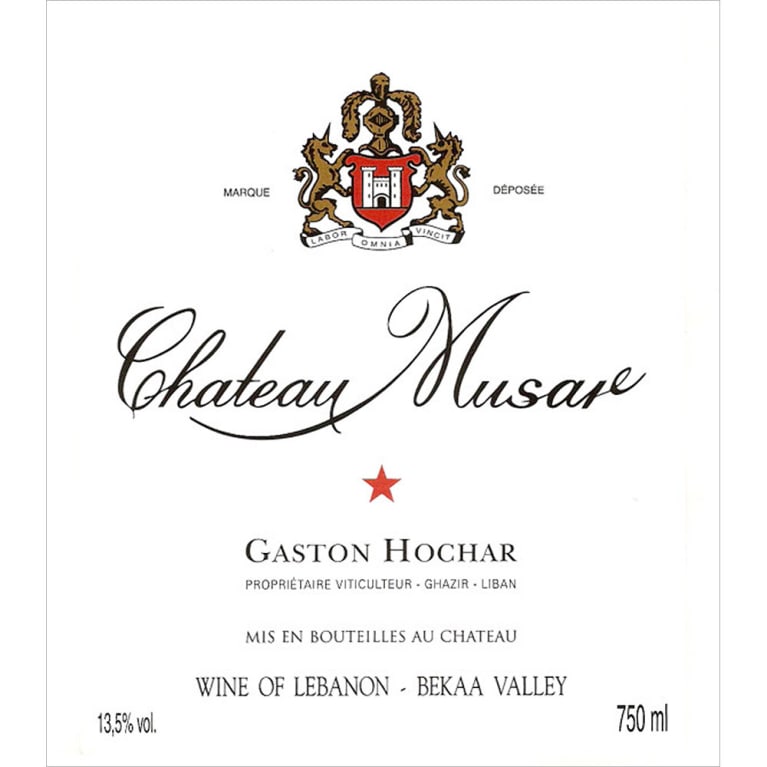 Chateau Musar Lebanon Rouge 2005
Out of Stock

(was $52.99)
Winemaker Notes
The 2005 vintage is a deep blood red color with a smoky, spicy, nose of black fruits, toasted bread, dark chocolate and cigar box – an impressive fragrance of fruits and spices. The palate is well structured; full of black and red fruits such as cherries, blackcurrants and prunes with a hint of dark chocolate and fresh tea leaves. The finish is long and fine with velvety tannins.
Critical Acclaim
All Vintages
The abundant rain and snow that fell in the winter of 2005 set Musar's vines up for a long, sunny summer, the months between May and September memorable for their mildness. This is a wine that takes days to unfold, starting out deeply toasty and even tannic, getting brighter and more refined as it opens. Never does the flavor come across as fruity; instead, the flavor is so deeply savory it brings to mind brioche spread with foie gras. A blend of obaideh and merwah fermented in oak for seven months and aged in bottle for seven years before release, it feels as though it can go another seven without any problem.
A pretty fine and sophisticated effort, the 2004 Ch Musar Red definitely has a Bordeaux spin to it, perfect with rotisserie chicken. Medium garnet color, with a brick edge; bright red currants, with some sweet, dried earth, fine depth and excellent complexity, a hint of volatile acidity; medium bodied, quite soft on the palate; dry, very good acidity, well balanced; pleasing red fruit flavors, with a Bordelais spin to it, excellent concentration; medium finish, zesty aftertaste. (Tasted: July 29, 2015, San Francisco, CA)
View More
The wines of Chateau Musar are unique expressions from a country with an ancient winemaking culture, as vines have been cultivated from Lebanon's high altitude Bekaa Valley for over 6,000 years. The Hochar family's philosophy of respect for the environment means that the 180 hectares of Musar vineyards are managed with minimal human interference and all the wines are made naturally.
Chateau Musar was founded in 1930 by Gaston Hochar. In 1959, after studying oenology at the University of Bordeaux, his son Serge became winemaker. The civil war that tore Lebanon apart from 1975 to 1990 did not defeat Chateau Musar; Serge refused to abandon the wine, and lost only the 1976 and 1984 vintages to the war. Owing to his inspiring determination and grand passion for his wines, Serge received the inaugural "Man of the Year Award" from Decanter magazine in 1984. Recognition from Michael Broadbent, at the 1979 Bristol Wine Fair, threw Musar into the international spotlight and helped create a cult-like following. Chateau Musar is one of the most written-about and discussed wines in the world today.
Home of the actual, historical temple of Bacchus, which dates back to the middle of the 2nd century AD, the Bekaa Valley today continues to represent the center of Lebanese winemaking. Here summers are dry, nights cool and consistent rainfall provides an excellent environment for viticulture.
What today is known geographically as Lebanon, was the original home of the Phoenicians (approximately 1550 to 300 BC), who were sea-faring merchants and the first to trade wine as a commodity. Jumping to the Middle Ages (476 to 1453 AD), Lebanese wine continued to be of high value for Venice merchants, who sold it to the eager European buyers. But in 1517, when the Ottoman Empire took command in Lebanon, winemaking came to a halt. Christians were the only ones allowed to make it, and only for religious purposes.
The foundations of the modern Lebanese wine industry come from the mid-19th century Jesuit missionaries of Ksara, who introduced new varieties and production methods from the then French-dominated Algeria. Today French varieties still prevail with Cinsault, Carignan, Cabernet Sauvignon, Merlot and Syrah as the main red grape varieties and Ugni blanc, Chardonnay, Sauvignon blanc and Viognier as the main whites.
While Chateau Musar was the only producer to survive the Lebanese 15 year-long civil war, the 1990s saw an emergence of new producers such as Chateau Kefraya, Chateau Ksara and new investment from major French producers.
With hundreds of red grape varieties to choose from, winemakers have the freedom to create a virtually endless assortment of blended red wines. In many European regions, strict laws are in place determining the set of varieties that may be used, but in the New World, experimentation is permitted and encouraged resulting in a wide variety of red wine styles. Blending can be utilized to enhance balance or create complexity, lending different layers of flavors and aromas. For example, a red wine blend variety that creates a fruity and full-bodied wine would do well combined with one that is naturally high in acidity and tannins. Sometimes small amounts of a particular variety are added to boost color or aromatics. Blending can take place before or after fermentation, with the latter, more popular option giving more control to the winemaker over the final qualities of the wine.
How to Serve Red Wine
A common piece of advice is to serve red wine at "room temperature," but this suggestion is imprecise. After all, room temperature in January is likely to be quite different than in August, even considering the possible effect of central heating and air conditioning systems. The proper temperature to aim for is 55° F to 60° F for lighter-bodied reds and 60° F to 65° F for fuller-bodied wines.
How Long Does Red Wine Last?
Once opened and re-corked, a bottle stored in a cool, dark environment (like your fridge) will stay fresh and nicely drinkable for a day or two. There are products available that can extend that period by a couple of days. As for unopened bottles, optimal storage means keeping them on their sides in a moderately humid environment at about 57° F. Red wines stored in this manner will stay good – and possibly improve – for anywhere from one year to multiple decades. Assessing how long to hold on to a bottle is a complicated science. If you are planning long-term storage of your reds, seek the advice of a wine professional.
EPC24803_2005
Item#
145724