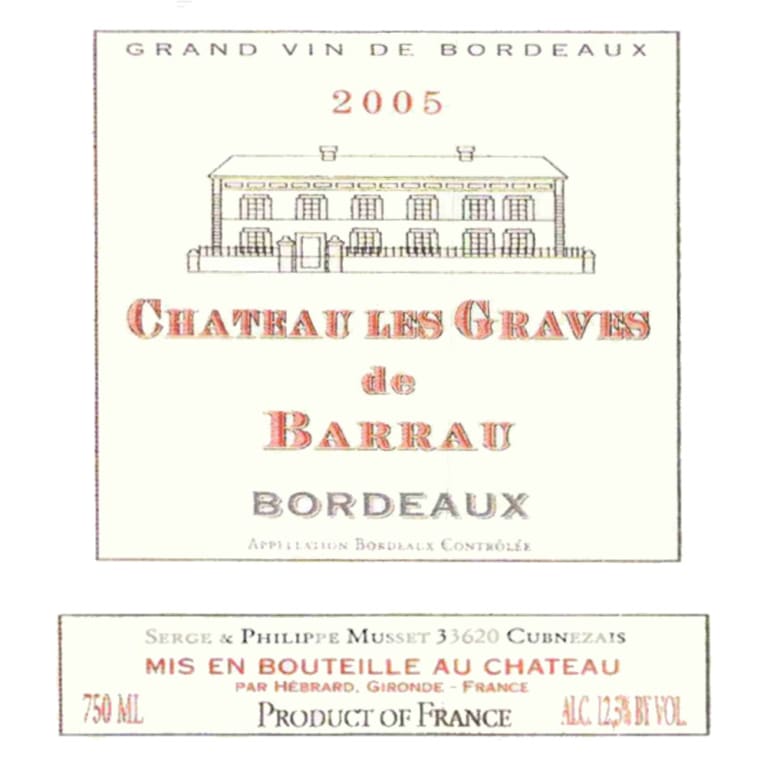 Chateau Les Graves de Barrau 2005
Winemaker Notes
This estate has been well-known for several centuries and is located 18 miles north of the city of Bordeaux. A luscious and fruity Bordeaux wine made by Dominique Hebrard of the Cheval Blanc family.
60% Merlot, 20% Cabernet Sauvignon, 20% Cabernet Franc
Nice crimson color and lovely aromas of cherry with just a hint of vanilla. Well-rounded and fleshy in the mouth, with well-balanced tannins. A long, silky finish.
The Chateau Les Graves de Barrau is part of an estate, 11 miles north of Bordeaux, that has been famous for centuries. Set high up on a south-facing plateau, the vineyard benefits from an exceptional position giving the grapes excellent ripeness.
The Musset family has been on this estate for several generations. Serge Musset took over in 1966. With all the savoir-faire of his ancestors, he grows the vines in the traditional way and makes his wine slowly and patiently.
In most of France, wines are named by their place of origin and not by the type of grape (with the exception of Alsace). Just like a red Burgundy is by law, always made of Pinot noir, a red Bordeaux is a blended wine composed mainly of Cabernet Sauvignon and Merlot. Depending on the laws of the village from which the grapes come, the conditions of the vintage and decisions of the winemaker, the blend can be further supported by Cabernet Franc, Malbec, Petit Verdot and in rare cases, Carmenere. So popular and repeated has this mix of grape varieties become worldwide, that the term, Bordeaux Blend, refers to a wine blended in this style, regardless of origin.
LNI1OIGRAR302_2005
Item#
95371