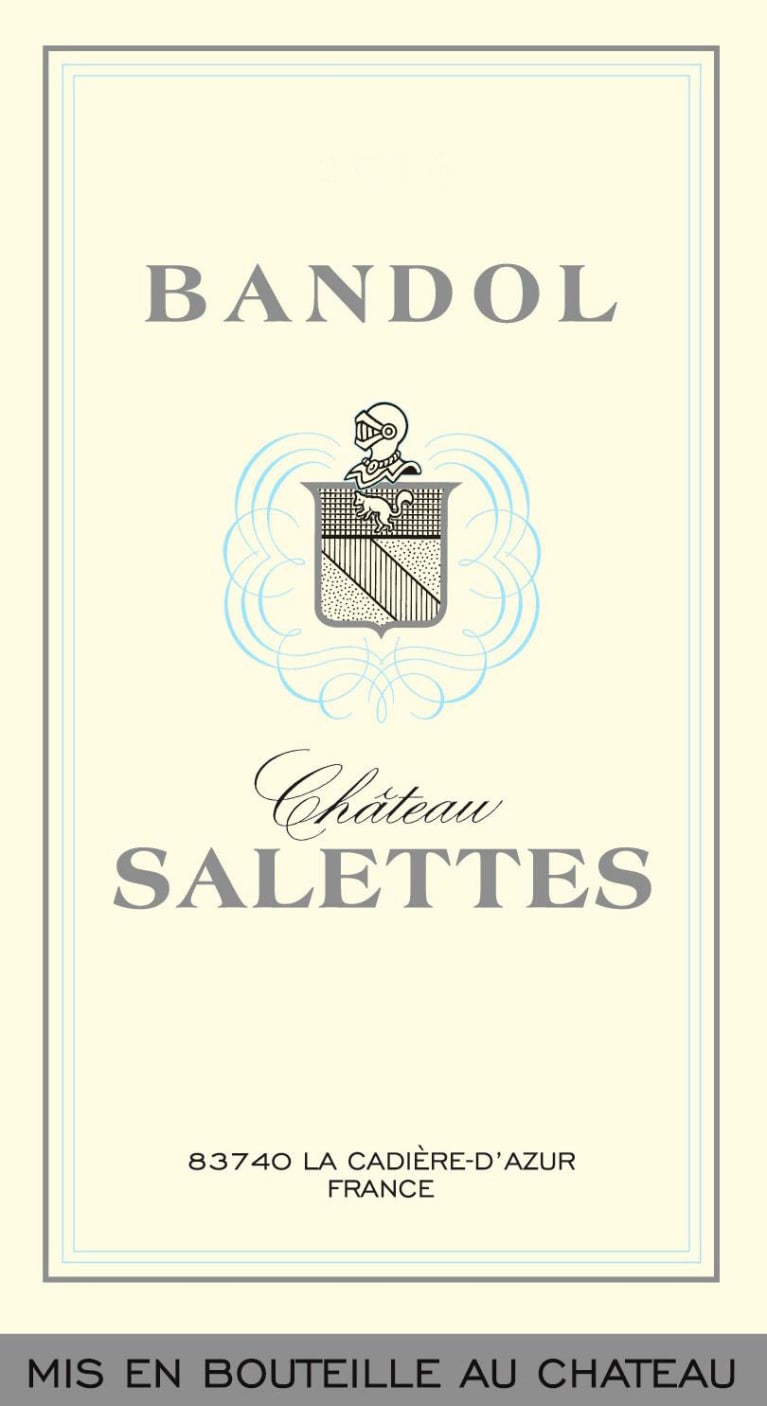 Chateau de Salettes Bandol Rose 2017
Out of Stock

(was $22.99)
Winemaker Notes
Blend: 40% Mourvedre, 40% Cinsault, and 20% Grenache.
The 17th century Chateau Salettes is situated on the Mediterranean coast between Toulon and Marseille at the foot of the hilltop village of La Cadière d'Azur. The vineyard is planted on a gentle slope overlooking the azure waters of the Golfe de Saint-Cyr-les-Lecques, ideal for the estate's prized Mourvèdre vines to soak up Bandol's abundant sunshine. As the appellation's signature grape, Mourvèdre constitutes 50% of Chateau Salettes' plantings.
For 35 years, Jean-Pierre Boyer directed this beautiful 120-acre estate before handing over the reins to his son Nicolas at the turn of the millennium. The dynamic and charismatic Nicolas became the 17th generation of the Ricard-Boyer family to oversee the domaine. Under Nicolas' direction, an ambitious and costly, ten-year expansion project was undertaken that included modernization of Salette's 17th century cellar and the removal of enormous slabs of rock from potentially great vineyard plots. Sadly, as Nicolas' vision was becoming reality, he lost his courageous, two-year battle with cancer. Since Nicolas' passing in 2011, his father has resumed stewardship of the family business and today, with the help of talented, young University of Montpellier enologist, Alexandre Le Corguillé, Jean-Pierre continues to make the upgrades necessary to ensure that Chateau Salettes is still a leading Bandol estate when Nicolas' young son (also named Alex), the 18th generation, is ready to take over.
Salettes' production is 50% Bandol Rosé, 38% Bandol Rouge, and 12% Bandol Blanc. The powerful and age-worthy red wine is comprised of a minimum of 80% Mourvèdre from the estate's oldest vines planted in the 1960s. With the 2012 vintage, Jean-Pierre Boyer and Winemaker Alex Le Corguillé introduced a new red cuvée called Cayenne. Made from a perfectly-situated parcel of 40-plus year-old Mourvèdre planted on sandstone and clay, the new wine is named for Le Bagne de Cayenne, the 19th Century prison established in French Guyana for political prisoners. The backbreaking efforts of Salettes' vineyard crew in the early 1970s evoke images of the classic Steve McQueen-Dustin Hoffman movie, Papillon, as the workers had to bust up slabs of sandstone with pickaxes to make this parcel arable. Both the Classic Bandol Rouge and Cuvée Cayenne are aged in large oak foudres for 18 to 22 months in a vaulted cellar built in 1677. As for Salettes' Rosé, it validates Bandol's reputation as France's finest. Much more than a Provence vin de soif, this delicious blend of Mourvèdre, Cinsault and Grenache is a surprisingly complex and versatile wine.
Provence's leader in concentrated and age-worthy red wines, Bandol is home to the dense, deep and earthy Mourvèdre grape. Like Châteauneuf-du-Pape, Bandol produces characterful reds that, while approachable in their youth, are typically designed for the cellar.
Given its coastal, Provencal situation, Bandol also naturally produces an assortment of charming, aromatic rosés made of Mourvèdre, Grenache and Cinsault.
Whether it's playful and fun or savory and serious, most rosé today is not your grandmother's White Zinfandel, though that category remains strong. Pink wine has recently become quite trendy, and this time around it's commonly quite dry. Since the pigment in red wines comes from keeping fermenting juice in contact with the grape skins for an extended period, it follows that a pink wine can be made using just a brief period of skin contact—usually just a couple of days. The resulting color depends on grape variety and winemaking style, ranging from pale salmon to deep magenta.
MIWMMSALROS17C_2017
Item#
510207