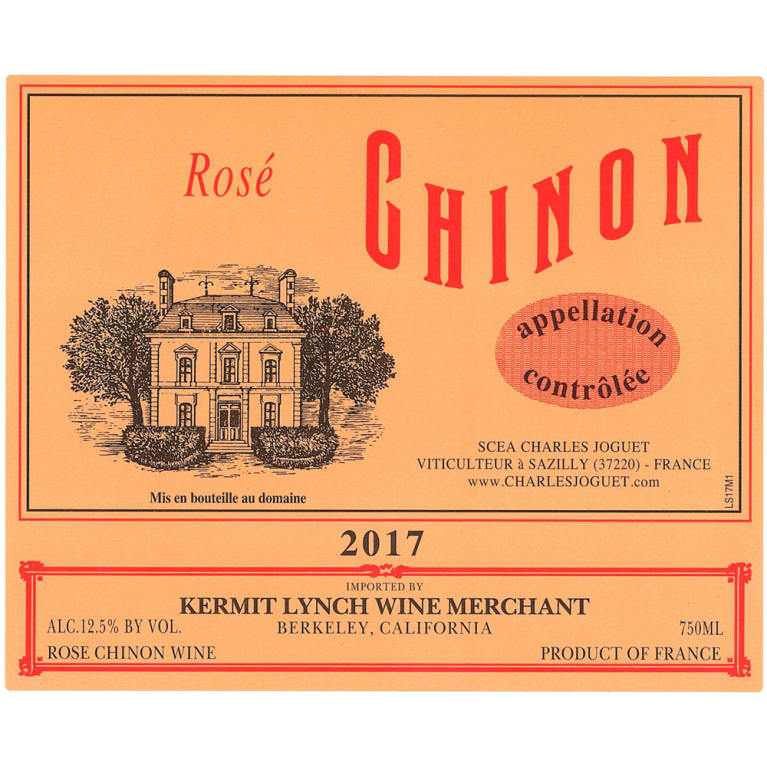 Charles Joguet Chinon Rose 2017
Regular price
Currently Unavailable

$22.99
Winemaker Notes
If you walk five minutes north of Domaine Charles Joguet, in the sleepy commune of Sazilly, you come to a picture-perfect clearing on the Vienne, an offshoot of the Loire river, roughly halfway between Tours and Saumur. You could not design a better location for a barbecue or picnic if you tried.
If this is nature's answer to where you should spend an afternoon picnic, Joguet's Chinon Rosé is wine's answer to what you should drink once you're there. First imported in 1978, long before rosé became a pink rush—this wine has reached new heights this year. Domaine Joguet's Kevin Fontaine uses the saignée method, giving this cuvée a gorgeous salmon hue and delicious, refreshing, and elegant balance of strawberries, raspberries, and spice. And it goes with pretty much every kind of picnic food you can imagine.
Charles Joguet, a young painter and sculptor, abandoned a budding art career to assume direction of the family domaine in 1957. He began to question the common practice of selling grapes to negociants, as his family had done for years. The Joguets owned prime vineyard land between the Loire and Vienne Rivers with distinct variations in the soils. To sell the grapes off or vinify the individualized plots together would have been madness. Separate terroirs, Charles believed, necessitate separate vinifications. He took the risks necessary to master single-vineyard bottling with an artistry that Chinon had never before seen. Charles has since retired. Today, the eager and talented Kevin Fontaine oversees the vineyards and the cellars.
An important red wine appellation in the Touraine district of the Loire, Chinon produces fanciful, light-bodied reds from the Cabernet Franc grape. Chinon also makes charming rosés from the same grape as well as white wines from Chenin blanc. But the reds give the area its fame. Often scented with fresh herbs, black tea and violets, Chinon reds show a lovely combination of fruit and acidity. However, styles have become more concentrated and ripe in recent years from improvements in vineyard management. Modern methods include planting grass between vineyard rows, using higher trellises and deleafing to increase sunlight to berries and therefore improve ripening. Even still, red Chinon is intended to be a light to medium bodied, refreshing wine to be enjoyed in its youth.
Fuller-bodied Chinons come from vineyard sites on the clay and tuffeau limestone slopes, usually from the southern exposed slopes of Cravant-les-Coteaux, and the plateau above Beaumont. Lighter styled wines come from the sand and gravel vineyards near the Loire or Vienne Rivers with the most refined examples coming from the area around Panzoult
Whether it's playful and fun or savory and serious, most rosé today is not your grandmother's White Zinfandel, though that category remains strong. Pink wine has recently become quite trendy, and this time around it's commonly quite dry. Since the pigment in red wines comes from keeping fermenting juice in contact with the grape skins for an extended period, it follows that a pink wine can be made using just a brief period of skin contact—usually just a couple of days. The resulting color depends on grape variety and winemaking style, ranging from pale salmon to deep magenta.
KMT17FGJ02_2017
Item#
431154