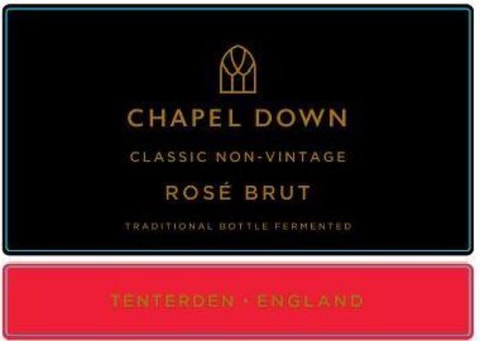 Chapel Down Brut Rose
Ships today if ordered in next 4 hours
Limit
0
bottles
per customer
Winemaker Notes
Delicate rose petal pink in color with a fine prolonged mousse, this sparkling rose offers aromas of lemon sherbet on the nose with notes of blackcurrant, rosehip and wild strawberry on the palate.
Ideal served with canapes or enjoyed at the end of a meal with summer fruit desserts.
Critical Acclaim
All Vintages
Chapel Down's first vineyards were planted in the 1970s; the winery now has 200 acres in the chalk soils of Kent, along with plots in Sussex, Surrey, Hampshire and Essex. This wine is 100 percent pinot noir, ripened just to the point of tart red fruit, edgy with strawberry and strawberry-leaf flavors. It's vinous and elegant, a sparkler to pour at brunch with smoked salmon, or even bangers and mash.
View More
Chapel Down's head winemaker Josh Donaghay-Spire looks for the key features of freshness and vibrancy in wines -- and English fruit really delivers on this, whether it be unique aromatic white wines, classic fizz, or a twist on a rich Chablis-esque Chardonnay. Balance is at the heart of every good wine and Josh's aim, in the vineyard and in the winery, is to strive for perfect balance.
Chapel Down's sparkling wines are produced using the intricate Traditional Method, the same method as Champagne, where the bubbles occur naturally within the bottle. The winery produces a variety of styles from the youthful and vibrant Brut NV, to the more mature and complex Three Graces which is aged for four years before release. Honing what are becoming classic English wine styles is very important, but the team at Chapel Down also seeks to continually improve and develop styles.
The still wines are typified by aromatic delicacy and vibrancy of fruit from crisp, clean white wines to delicate rosés and elegant light red wines. England is becomingly increasingly known for its Bacchus white wines, which are considered England's answer to Marlborough Sauvignon Blanc. Chapel Down produces five different expressions of Bacchus ranging from crisp and vegetal to rich and tropical. The team is continually experimenting with new varieties and winemaking styles, such as the winery's late harvest Nectar and England's first Albariño.
The limestone soils of England's southern end have proven ideal for the production of sparkling wine. While it might seem too damp and cold for grape growing, recent warm summers and the onset of global warming signify great future growth for the British wine industry.
What are the different types of Champagne and sparkling wine?
Beloved for its lively bubbles, sparkling wine is the ultimate beverage for any festivity, whether it's a major celebration or a mere merrymaking of nothing much! Sparkling wine is made throughout the winemaking world, but only can be called "Champagne" if it comes from the Champagne region of France and is made using what is referred to as the "traditional method." Other regions have their own specialties—Crémant in other parts of France, Cava in Spain and Prosecco in Italy, to name a few. New World regions like California, Australia and New Zealand enjoy the freedom to make many styles, with production methods and traditions defined locally. In a dry style, Champagne and sparkling wine goes with just about any type of food. Sweet styles are not uncommon and among both dry and sweet, you'll find white, rosé—or even red!—examples.
How is Champagne and sparkling wine made?
Champagne, Crémant, Cava and many other sparkling wines of the world are made using the traditional method, in which the second fermentation (the one that makes the bubbles) takes place inside the bottle. With this method, spent yeast cells remain in contact with the wine during bottle aging, giving it a creamy mouthful, toasted bread or brioche qualities and in many cases, the capacity to age. For Prosecco, the carbonation process usually occurs in a stainless steel tank (before bottling) to preserve the fresh fruity and floral aromas imminent in this style.
What gives Champagne and sparkling wine its bubbles?
The bubbles in sparkling wine are formed when the base wine undergoes a secondary fermentation, which traps carbon dioxide inside the bottle or fermentation vessel.
How do you serve Champagne and sparkling wine?
Ideally for storing Champagne and sparkling wine in any long-term sense, they should be at cellar temperature, about 55F. For serving, cool Champagne and sparkling wine down to about 40F to 50F. (Most refrigerators are colder than this.) As for drinking Champagne and sparkling wine, the best glasses have a stem and flute or tulip shape to allow the bead (bubbles) to show.
How long does Champagne and sparkling wine last?
Most sparkling wines like Prosecco, Cava or others around the "$20 and under" price point are intended for early consumption. Wines made using the traditional method with extended cellar time before release can typically improve with age. If you are unsure, definitely consult a wine professional for guidance.