Champagne Mandois Brut Origine
Winemaker Notes
Pale yellow gold color with a nose of ripe fruits and hints of honey with slightly toasted aromas hat reveal a long ageing potential.
Blend: 40% Chardonnay, 30% Pinot Noir, 30% Pinot Meunier
Critical Acclaim
All Vintages
COMMENTARY: Champagne Mandois Brut Origine is an authentic Champagne. Made by a family of winegrowers, with the 9th generation now in charge, this a standout non-vintage brut. TASTING NOTES: This wine offers excellent mousse, aromas, and flavors of apples and earthy spiciness. Enjoy it with grilled chicken. (Tasted: November 24, 2022, San Francisco, CA)
This producer, based at the entry to the Côte des Blancs, offers a balanced blend in this nonvintage Champagne. It has richness while also keeping the crispness and texture of Chardonnay. The wine is ready to drink.
A lithe Champagne backed by vibrant acidity, this dances a fox trot across the palate with the lively bead and notes of yellow apple, nectarine, grilled nut, verbena and graphite. Chardonnay, Pinot Noir and Pinot Meunier. Drink now. 
View More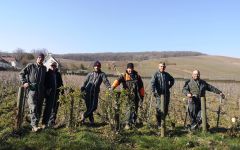 The "birth certificate' of the Mandois vineyards dates back to 1735 when the family decided to acquire some vineyards in Champagne. At that time, Jean Mandois, a contemporary of Brother Oudart, possessed and worked a few plots of vines on the hillsides of Epernay. 1860 was a revolutionary year in the long family history. This was the year when Jean Mandois' great-grandson, Victor Mandois, a visionary and trailblazer, took the decision that he would vinify and sell the wines of Champagne in Epernay. Thanks to Victor's passion for his craft, shared by the ensuing generations inspired by his work, Champagne Mandois is now available around the world and is reputed to be among the great Champagne Houses. Situated in Pierry, a village in "Côte des Blancs" classified 1st growth in Champagne, Mandois owns a 35 hectares' vineyard. The slopes of Epernay, the Côte des Blancs, together with the region around Sézanne constitute the major part of its vineyards spread amongst 12 different villages. Grapes come from famous villages and prestigious terroirs such as Chouilly, Vertus, Pierry and Epernay. Mandois's vineyard is made up of 70% Chardonnay, 15% Pinot Meunier and 15% Pinot Noir. After many years experimenting in the Clos, Claude Mandois adopted the method of ploughing the soil in every other row of vines. In 2010, he decided to use this alternative method in all his vineyards. The results have been a deeper rooting of the vine and a natural expression of the terroir. To date Mandois Champagne is the only Champagne House to use this pioneering method.
Associated with luxury, celebration, and romance, the region, Champagne, is home to the world's most prized sparkling wine. In order to bear the label, 'Champagne', a sparkling wine must originate from this northeastern region of France—called Champagne—and adhere to strict quality standards. Made up of the three towns Reims, Épernay, and Aÿ, it was here that the traditional method of sparkling wine production was both invented and perfected, birthing a winemaking technique as well as a flavor profile that is now emulated worldwide.
Well-drained, limestone and chalky soil defines much of the region, which lend a mineral component to its wines. Champagne's cold, continental climate promotes ample acidity in its grapes but weather differences from year to year can create significant variation between vintages. While vintage Champagnes are produced in exceptional years, non-vintage cuvées are produced annually from a blend of several years in order to produce Champagnes that maintain a consistent house style.
With nearly negligible exceptions, . These can be blended together or bottled as individual varietal Champagnes, depending on the final style of wine desired. Chardonnay, the only white variety, contributes freshness, elegance, lively acidity and notes of citrus, orchard fruit and white flowers. Pinot Noir and its relative Pinot Meunier, provide the backbone to many blends, adding structure, body and supple red fruit flavors. Wines with a large proportion of Pinot Meunier will be ready to drink earlier, while Pinot Noir contributes to longevity. Whether it is white or rosé, most Champagne is made from a blend of red and white grapes—and uniquely, rosé is often produce by blending together red and white wine. A Champagne made exclusively from Chardonnay will be labeled as 'blanc de blancs,' while ones comprised of only red grapes are called 'blanc de noirs.'
A term typically reserved for Champagne and Sparkling Wines, non-vintage or simply "NV" on a label indicates a blend of finished wines from different vintages (years of harvest). To make non-vintage Champagne, typically the current year's harvest (in other words, the current vintage) forms the base of the blend. Finished wines from previous years, called "vins de reserve" are blended in at approximately 10-50% of the total volume in order to achieve the flavor, complexity, body and acidity for the desired house style. A tiny proportion of Champagnes are made from a single vintage.
There are also some very large production still wines that may not claim one particular vintage. This would be at the discretion of the winemaker's goals for character of the final wine.
YNG449796_0
Item#
1058786