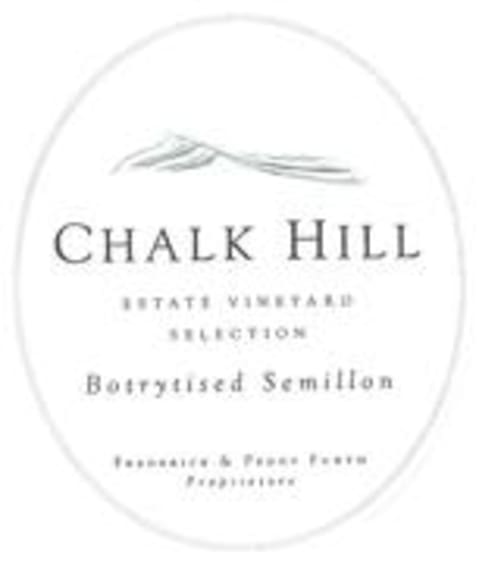 Chalk Hill Vineyard Selection Botrytis Semillon (half-bottle) 1997
Winemaker Notes
Semillon was planted on the Chalk Hill Estate in 1981, primarily to blend with Sauvignon blanc. The site, however, was chosen to take advantage of Semillons susceptibility to botrytis, or "noble rot". This block is planted to 80% Semillon and 20% Sauvignon blanc, as in Sauternes, and lies at the bottom of a north-facing slope, sheltered by the hills to the east and west. There is little morning or afternoon sun, and moisture burns off slowly late in the season. After the grapes are fully ripe, light rainfall encourages botrytis development. When this is followed by a period of warm, dry weather the fruit is dessicated, concentrating the acid and sugar. This rare combination of events occurred in 1994, and a small lot of Semillon and Sauvignon blanc was finally harvested in late October at nearly 40° Brix.
The fruit was pressed gently, and the inoculated juice was fermented in new Francois Freres, Dargaud et Jaegle and Demptos barrels. Fermentation ceased naturally with nearly 15% residual sugar and alcohol slightly over 14%, a natural balance redolent of great Sauternes. The wine was aged sur lies for twelve months in new French oak, then racked and aged for an additional fifteen months. It was bottled unfined following a light filtration for clarification.
Perhaps no other winery captures the casual luxury of Sonoma County better than Chalk Hill Estate. Founded nearly four decades ago, this spectacular 1300-acre property features 300 acres of vineyards, wilderness areas, winery, hospitality center, culinary garden, residence, stables, equestrian pavilion, sports fields, fishing and swimming ponds, and guest houses.
The winery's vineyards are thoughtfully woven through the native foliage and contoured to fit the intricate terrain. More than two-thirds of the Chalk Hill Estate remains uncultivated. The higher elevations offer stunning views of the Russian River Valley to the west and the Mayacamas Mountains to the east.
BAU03941597_1997
Item#
23995