Chacewater Winery Rose 2021
Out of Stock

(was $16.99)
Winemaker Notes
On the nose, aromas of ripe strawberries, watermelon and cotton candy. On the palate, it's crisp and refreshing with a slightly rounder style that shows its core of Zinfandel and Syrah. Mid-palate is filled with cherry, strawberry and watermelon flavors.
Blend: 40% Syrah, 60% Zinfandel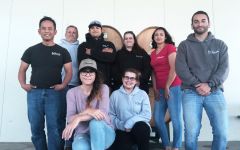 Paul and Kellye Manuel's roots both go back to Cornwall England. The Cornish were excellent tin miners, and Paul's great-grandfather brought this expertise to the Gold Country. On a visit to the family church in the village of Chacewater, a mason's mark caught Paul's eye. This is now their logo, to honor their pioneering roots. Paul worked in the family's construction business on 80 acres outside of Nevada City. When a devastating fire in 1988 swept through the land, clearing it, he decided to see if he could grow grapes. In 1988 they put in their first 10 acres and earned a reputation for exceptional quality for their organically grown fruit. They expanded to 36 acres, selling fruit to big wineries such as Fetzer. In 2004 they tried a custom crush in Lake County and sold it as bulk wine. In 2008 they purchased a 10-acre olive farm and mill from a local monastery and built a 10,000 sq. ft. winery next to the mill. A county superstar, they rapidly progressed from their first release in 2011 to being the "Golden State Winery of the Year in 2012."
?Chacewater Winery & Mill is a true family concern. The family's remarkably strong work-ethic (which they attribute to their Cornish gold-mining roots) has seen them turn a devastating fire into a golden opportunity. Paul and Kellye Manuel's' decision to plant vines on their land after a fire cleared it 30 years ago–has proven to be a very good one. Paul, had previously ran multi-million-dollar construction projects, but felt those mining roots drawing him back to the land, and that somehow his "blood and spirt" was "firmly rooted in the earth." The love-of-land gene has been passed down to the next generation (of three boys who grew up playing and working in the vineyards). Matt the youngest son, who was born the same month the first vines were planted, is now a passionate organic farmer. He manages the family's Ponderosa Vineyards, ensuring wine grapes of exceptional quality–proven by their many award-winning wines. The Manuel's' also source fruit from carefully selected local growers. 
Originally a source of oenological sustenance for gold-seeking miners of the mid-1800s, the Sierra Foothills was the first region in California to produce wines from European grape varieties. Located between Sacramento and the Nevada border, this area's immigrant settlers chose to forgo growing the then-ubiquitous Mission grape and instead brought with them superior vines from the Old World to plant alongside mining camps.
Zinfandel has been the most important variety of this region since its inception, taking on a spicy character with brambly fruit and firm structure. Amador and El Dorado counties, benefiting from the presence of volcanic and granite soils, are home to the best examples. Bold, robust Rhône Blends and Barbera are also important regional specialties.
Whether it's playful and fun or savory and serious, most rosé today is not your grandmother's White Zinfandel, though that category remains strong. Pink wine has recently become quite trendy, and this time around it's commonly quite dry. Since the pigment in red wines comes from keeping fermenting juice in contact with the grape skins for an extended period, it follows that a pink wine can be made using just a brief period of skin contact—usually just a couple of days. The resulting color depends on grape variety and winemaking style, ranging from pale salmon to deep magenta.
SDYW90085V21_2021
Item#
1104218