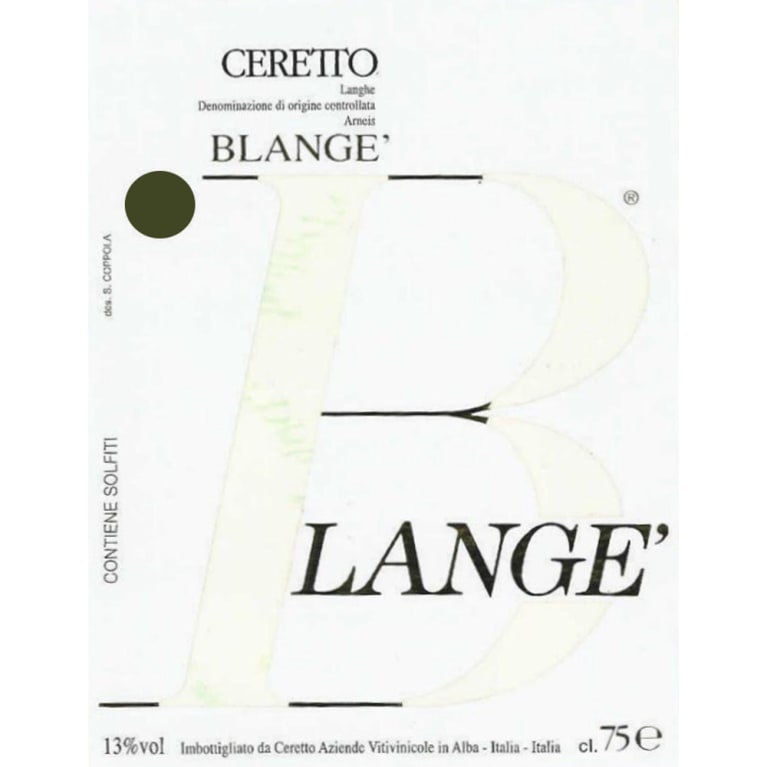 Ceretto Arneis Blange 2007
Currently Unavailable

$24.99
Ships Mon, Nov 25
Limit
0
bottles
per customer
Winemaker Notes
This 100% Arneis blend is aged for 6 months and has a pale gold color with a tropical fruit, pear and apple aroma. A crisp and slightly effervescent palate with good body and ripe tropical, apple and pear fruit concentration.
This wine is made solely from the Arneis grape, which is indigenous to Piemonte. The grape is notoriously difficult to grow, hence the name, which means "the difficult one" in Piemontese dialect. It had fallen out of favor, and was nearly extinct when the Ceretto family began its renaissance in the mid eighties with the development of the Blange estate in the Langhe. This is composed of holdings near Vezza d'Alba and Castellinaldo facing south, southeast and southwest.
The Langhe hills of Piedmont constitute that area of northern Italy where the wide and flat Pò river valley suddenly disappears and gives way on all sides to hulking and precipitous slopes. The Langhe hills are more than hills. They are ancient and rugged earth. Their narrow peaks are topped by castles, and they are thick to the horizon with grapevines. The Langhe hills are home to a small group of farmers and winemakers who, together, have succeeded in creating some of the planet's finest expressions of place.
The Ceretto family is among that fortunate group. For three generations members of the Ceretto family have transformed the fruit of the Langhe's vineyards into wines that speak of the regions identity. The famed Italian gastronome and intellectual Luigi Veronelli wrote, "The land, the land, the land, the land, always, the land." This philosophy is central to the Ceretto family. Reverence for this land has passed from Riccardo, who blended fruit from the region's best vineyards, to Bruno and Marcello, who purchased Langhe vineyards and began bottling single crus, and finally to Alessandro, who is taking the winery into the 21st century by using natural methods to foster vines that are stronger, healthier, and more in balance with their environment. The Ceretto family has always been committed to producing the most expressive and authentic wines their land can yield.
Set upon a backdrop of the visually stunning Alps, the enchanting and rolling hills of Piedmont are the source of some of the country's longest-lived and most sought-after wines. Vineyards cover a great majority of the land area—especially in Barolo—with the most prized sites at the top hilltops or on south-facing slopes where sunlight exposure is maximized. Piedmont has a continental climate with hot, humid summers leading to cold winters and precipitation year-round. The reliable autumnal fog provides a cooling effect, especially beneficial for Nebbiolo, Piedmont's most prestigious variety.
In fact, Nebbiolo is named exactly for the arrival of this pre-harvest fog (called "nebbia" in Italian), which prolongs cluster hang time and allows full phenolic balance and ripeness. Harvest of Nebbiolo is last among Piedmont's varieties, occurring sometime in October. This grape is responsible for the exalted wines of Barbaresco and Barolo, known for their ageability, firm tannins and hallmark aromas of tar and roses. Nebbiolo wines, despite their pale hue, pack a pleasing punch of flavor and structure; the best examples can require about a decade's wait before they become approachable. Barbaresco tends to be more elegant in style while Barolo is more powerful. Across the Tanaro River, the Roero region, and farther north, the regions of Gattinara and Ghemme, also produce excellent quality Nebbiolo.
Easy-going Barbera is the most planted grape in Piedmont, beloved for its trademark high acidity, low tannin and juicy red fruit. Dolcetto, Piedmont's other important red grape, is usually ready within a couple of years of release.
White wines, while less ubiquitous here, should not be missed. Key varieties include Arneis, Cortese, Timorasso, Erbaluce and the sweet, charming Muscat, responsible for the brilliantly recognizable, Moscato d'Asti.
Yielding a dry and subtly scented wine, Arneis is the star white grape of Piedmont. While it once risked extinction, lost in the shadow of the regions' star red varieties, Nebbiolo, Barbera and Dolcetto, the grape experienced an explosion in popularity in the 1980s due to growing local demand for white wine. Barolo and Barbaresco producers finally recognized the gold mine of superb Arneis vines that had been growing for decades in Roero, merely kilometers away across the Tanaro River.
This low-yielding variety ripens in the second half of September and its wine is typically fermented in stainless steel only in order to preserve its fresh acidity.
In the Glass
Full of ripe white peach, green apple, raw almond and savory notes on the palate, the wine naturally often smells of vanilla and white flowers, making it a fantastic summer sipper, porch wine and in Piedmont, apertivo wine.
Perfect Pairings
There is no shortage of quaffable, light and young Arneis poured by the glass locally in every Piemontese bar, café, and restaurant. It pairs perfectly with light soft, fresh cheeses, prosciutto, flaky white fish, herb-laden fritatta and pesto.
Sommelier Secret
A few key Roero producers are also focusing on exploring the ageability of high quality Arneis. It isn't grown anywhere else in Italy but to a very limited extent, producers in California, Oregon, Australia and New Zealand are growing this grape and the results are promising.