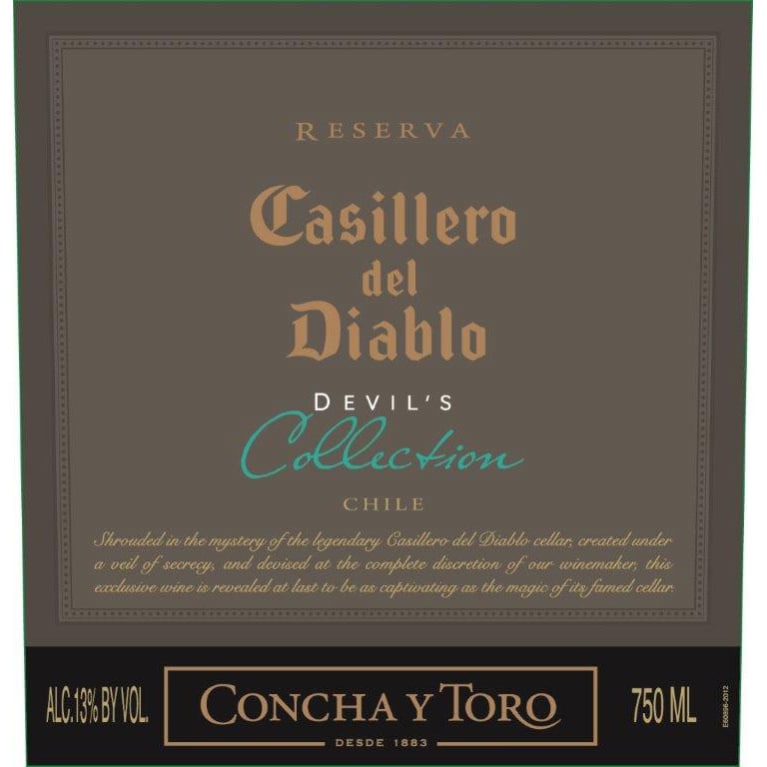 Casillero del Diablo Devil's Collection White 2012
Out of Stock

(was $15.99)
Winemaker Notes
Young, seductive, and fresh from start to finish with a light and enveloping personality that delivers unrivaled expressivity. Attractive aromas of grapefruit and gooseberry, all complemented with a soft mineral and saline notes. Beautifully balanced and well-crafted blend. Medium acidity and bright palate with flavors of lime and grapefruit.
More than 135 years ago, Don Melchor de Concha y Toro was renowned for crafting some of the finest wines in Chile. Reserving for himself an exclusive batch of his best wines, he ignited a rumor that the devil himself was his cellar's guardian—and in doing so, ensured thieves stayed away from his precious wines. This rumor became a legend that conquered the world, with Casillero del Diablo ("the devil's cellar") today recognized as one of the world's leading wine brands. First released in 1963, Casillero del Diablo is a worldwide standard-bearer for premium quality Chilean wines—and the legend of the Devil's Cellar lives on at the original Concha y Toro family estate, Chile's leading tourist destination.
Vineyards for Casillero del Diablo's celebrated wines hail from Chile's Central Valley. Located mainly between parallels 30° and 40° south and in close proximity to capital city of Santiago, this internationally known wine region possesses the ideal characteristics for quality grape growing and winemaking. Among the valley's main features are the influence of the Pacific Ocean and the Andes Mountains, perfectly balanced soils and mountain-water rivers. This ideal terroir allows winemakers to craft an appealing variety of wine styles from many unique and increasingly popular sub-regions. 
Dramatic geographic and climatic changes from west to east make Chile an exciting frontier for wines of all styles. Chile's entire western border is Pacific coastline, its center is composed of warm valleys and on its eastern border, are the soaring Andes Mountains.
Chile's central valleys, sheltered by the costal ranges, and in some parts climbing the eastern slopes of the Andes, remain relatively warm and dry. The conditions are ideal for producing concentrated, full-bodied, aromatic reds rich in black and red fruits. The eponymous Aconcagua Valley—hot and dry—is home to intense red wines made from Cabernet Sauvignon, Syrah and Merlot.
The Maipo, Rapel, Curicó and Maule Valleys specialize in Cabernet and Bordeaux Blends as well as Carmenère, Chile's unofficial signature grape.
Chilly breezes from the Antarctic Humboldt Current allow the coastal regions of Casablanca Valley and San Antonio Valley to focus on the cool climate loving varieties, Pinot Noir, Chardonnay and Sauvignon Blanc.
Chile's Coquimbo region in the far north, containing the Elqui and Limari Valleys, historically focused solely on Pisco production. But here the minimal rainfall, intense sunlight and chilly ocean breezes allow success with Chardonnay and Pinot Noir. The up-and-coming southern regions of Bio Bio and Itata in the south make excellent Riesling, Chardonnay and Pinot Noir.
Spanish settlers, Juan Jufre and Diego Garcia de Cáceres, most likely brought Vitis vinifera (Europe's wine producing vine species) to the Central Valley of Chile sometime in the 1550s. One fun fact about Chile is that its natural geographical borders have allowed it to avoid phylloxera and as a result, vines are often planted on their own rootstock rather than grafted.
With hundreds of white grape varieties to choose from, winemakers have the freedom to create a virtually endless assortment of blended white wines. In many European regions, strict laws are in place determining the set of varieties that may be used in white wine blends, but in the New World, experimentation is permitted and encouraged. Blending can be utilized to enhance balance or create complexity, lending different layers of flavors and aromas. For example, a variety that creates a soft and full-bodied white wine blend, like Chardonnay, would do well combined with one that is more fragrant and naturally high in acidity. Sometimes small amounts of a particular variety are added to boost color or aromatics. Blending can take place before or after fermentation, with the latter, more popular option giving more control to the winemaker over the final qualities of the wine.
SWS364422_2012
Item#
139958