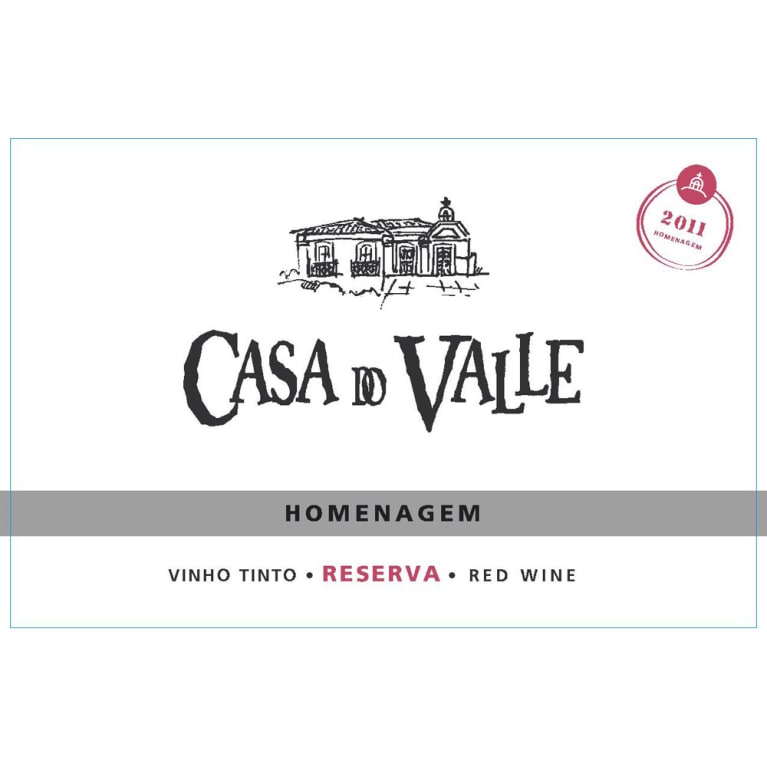 Casa do Valle Homenagem Reserva Rosso 2011
Out of Stock

(was $14.99)
Winemaker Notes
The name Homenagem means homage in Portuguese: this juicy, earthy red blend was created in honor of winemaker Luis Cameira's grandfather, who first planted the grapes from his Douro homeland — Touriga Nacional and Sousao – in the vineyards of his wife's family's property in the heart of the northern Minho Province. Medium bodied with soft tannins, rich fruit, and a whisper of oak make this a highly satisfying red wine.
Casa do Valle is located near the legendary Cavez Bridge, a place often mentioned in the work of the famous Portuguese 19th-century writer Camilo Castelo Branco, and spreads out, protected by the mountain ranges of Barroso and Alvao, across the hillsides of the Tâmega River. The excellent exposure of the vines at this estate, located in the Basto sub region, along with rigorous selection in the vineyards and careful winemaking processes gives rise to wines of world-renowned quality.
Casa do Valle is the name of the manor house of the estate, which produces the Vinho Verde of the same name. Owned by the Sousa Botelho family, winemaking here dates back to the 18th century and features a mix of the ancient enforcado (tree-trained vines) and ramada (trellis) training systems for the red grapes and the modern single-wire training system for the white grapes.
The main noble grape varieties used for the white wines are the Alvarinho, Arinto, Azal and Loureiro. For red and rosé wines the grape varieties are Vinhao, the predominant red-grape variety of the Vinho Verde Region, Rabo de Ovelha, and Touriga Nacional. With a total area of 170 ha, of which 55 hectares are under vines, Casa do Valle is one of the largest production Quintas in the Vinho Verde Region, using exclusively grapes produced at the estate.
Best known for intense, impressive and age-worthy fortified wines, Portugal relies almost exclusively on its many indigenous grape varieties. Bordering Spain to its north and east, and the Atlantic Ocean on its west and south coasts, this is a land where tradition reigns supreme, due to its relative geographical and, for much of the 20th century, political isolation. A long and narrow but small country, Portugal claims considerable diversity in climate and wine styles, with milder weather in the north and significantly more rainfall near the coast.
While Port (named after its city of Oporto on the Atlantic Coast at the end of the Douro Valley), made Portugal famous, Portugal is also an excellent source of dry red and white Portuguese wines of various styles.
The Douro Valley produces full-bodied and concentrated dry red Portuguese wines made from the same set of grape varieties used for Port, which include Touriga Nacional, Tinta Roriz (Spain's Tempranillo), Touriga Franca, Tinta Barroca and Tinto Cão, among a long list of others in minor proportions.
Other dry Portuguese wines include the tart, slightly effervescent Vinho Verde white wine, made in the north, and the bright, elegant reds and whites of the Dão as well as the bold, and fruit-driven reds and whites of the southern, Alentejo.
The nation's other important fortified wine, Madeira, is produced on the eponymous island off the North African coast.
With hundreds of red grape varieties to choose from, winemakers have the freedom to create a virtually endless assortment of blended red wines. In many European regions, strict laws are in place determining the set of varieties that may be used, but in the New World, experimentation is permitted and encouraged resulting in a wide variety of red wine styles. Blending can be utilized to enhance balance or create complexity, lending different layers of flavors and aromas. For example, a red wine blend variety that creates a fruity and full-bodied wine would do well combined with one that is naturally high in acidity and tannins. Sometimes small amounts of a particular variety are added to boost color or aromatics. Blending can take place before or after fermentation, with the latter, more popular option giving more control to the winemaker over the final qualities of the wine.
How to Serve Red Wine
A common piece of advice is to serve red wine at "room temperature," but this suggestion is imprecise. After all, room temperature in January is likely to be quite different than in August, even considering the possible effect of central heating and air conditioning systems. The proper temperature to aim for is 55° F to 60° F for lighter-bodied reds and 60° F to 65° F for fuller-bodied wines.
How Long Does Red Wine Last?
Once opened and re-corked, a bottle stored in a cool, dark environment (like your fridge) will stay fresh and nicely drinkable for a day or two. There are products available that can extend that period by a couple of days. As for unopened bottles, optimal storage means keeping them on their sides in a moderately humid environment at about 57° F. Red wines stored in this manner will stay good – and possibly improve – for anywhere from one year to multiple decades. Assessing how long to hold on to a bottle is a complicated science. If you are planning long-term storage of your reds, seek the advice of a wine professional.
SBE102228_2011
Item#
145114