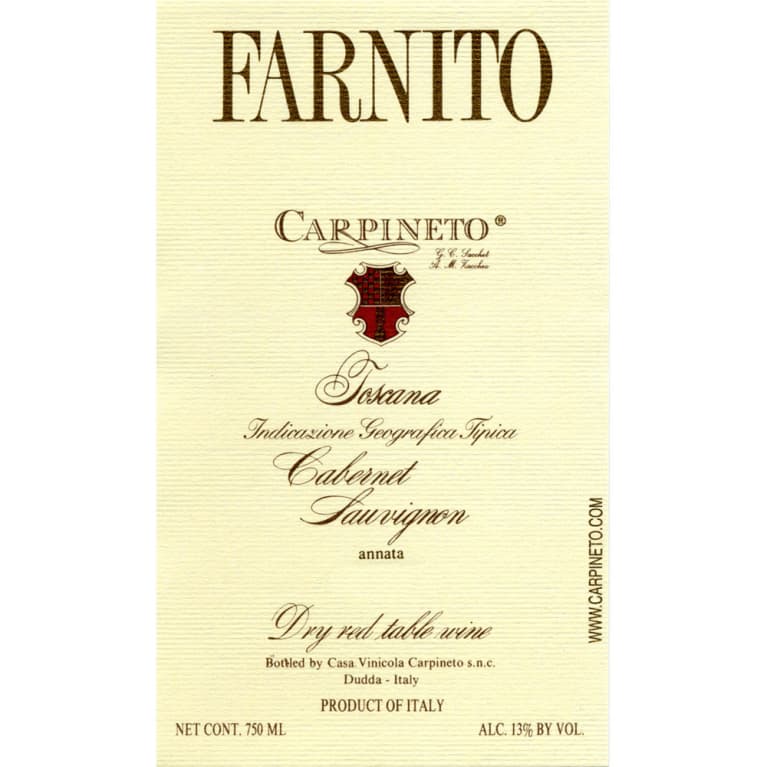 Carpineto Farnito Cabernet Sauvignon 2011
Ships today if ordered in next 7 hours
Winemaker Notes
On the nose, it expresses complex yet clean aromas of black fruits, spices, licorice, vanilla, and cherry. it is full-bodied, rich, and persistent, with elegant tannins and a structured finish. Ideal to accompany grilled steaks, roasted rack of lamb, or lamb chops. It is also excellent with aged Tuscan cheeses.
Carpineto is a partnership between the award winning winemaker Giovanni C. Sacchet and the dynamic Antonio M. Zaccheo, offering a product line of wines spanning from the most prestigious Tuscan DOCG appellations to varietal specific wines of great structure as well as innovative proprietary blends. The winery is widely regarded as one of the quality leaders on the Italian winemaking landscape, exporting the majority of the wine production to over 30 countries worldwide. About 90% of Carpineto's wine production is red wine, 65% of this being "riserva" wines that are aged three or more years before their release date. Since Carpineto generally ages their red wines six to twelve months longer than the minimum time required by DOCG appellation rules the cellars hold at least three consecutive vintages of wine at any given time. This long aging period has allowed Carpineto to build a reputation for high quality and consistency, vintage after vintage.
Carpineto was established in 1967 in the small historic settlement of Dudda, in the township of Greve in Chianti, with the mission of making world class Chianti Classico. This was a radical departure from the marketplace of the Sixties, when the industry was focused on the production of Chianti in the traditional winemaking style sold in the typical "fiasco" bottle. The visionary founders, captured by the Tuscan landscape, the soil and the climate, immediately saw the untapped potential this land possessed to produce great wines. By applying modern viticultural and winemaking methods they set their goals far beyond the quality standards traditional viticultural and winemaking methods were yielding at the time. With this premise, the unyielding determination of their youth, and an uncompromising focus on making the best wines this land could produce the Carpineto mission of marrying tradition with innovation had set sail.
The Carpineto winemaking style is to deliver wines that are full bodied, complex and fruity in character, with a round, supple tannin structure and a long, persistent, clean finish. Despite their approachability upon release, Carpineto's red wines are designed for long cellar aging of twenty years or longer.
Legendary in Italy for its Renaissance art and striking landscape, Tuscany is also home to many of the country's best red wines. Sangiovese reigns supreme here, as either the single varietal, or a dominant player, in almost all of Tuscany's best.
A remarkable Chianti, named for its region of origin, will have a bright acidity, supple tannins and plenty of cherry fruit character. From the hills and valleys surrounding the medieval village of Montalcino, come the distinguished and age-worthy wines based on Brunello (Sangiovese). Earning global acclaim since the 1970s, the Tuscan Blends are composed solely of international grape varieties or a mix of international and Sangiovese. The wine called Vine Nobile di Montepulciano, composed of Prognolo Gentile (Sangiovese) and is recognized both for finesse and power.
MTIOPI_CAR_FAR_11_2011
Item#
166818