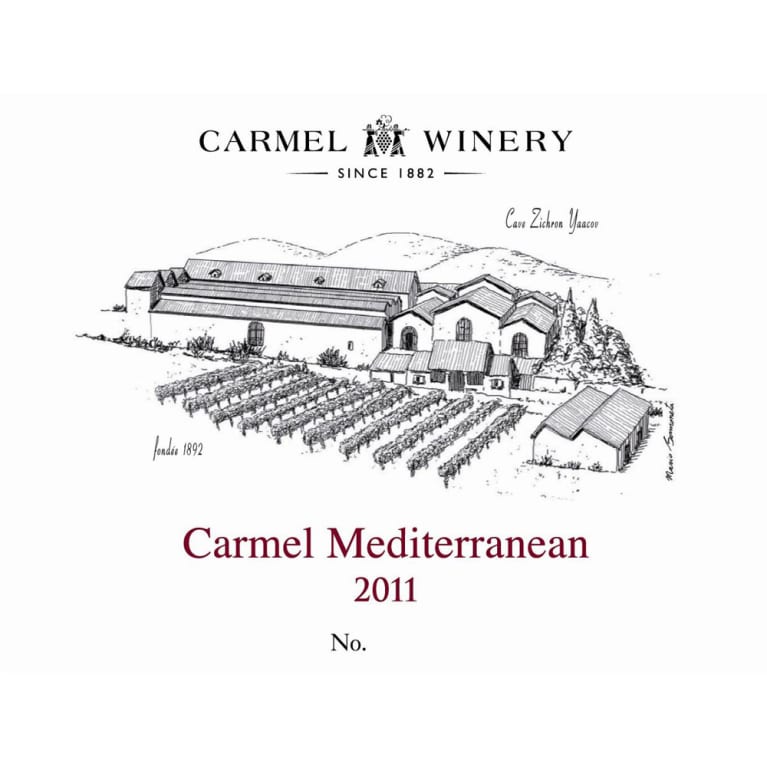 Carmel Mediterranean Red Blend (OU Kosher) 2011
Out of Stock

(was $52.99)
Winemaker Notes
Elegant with an aroma of black cherries. leather and truffles.
Pairs well with roast lamb dishes and aged hard cheeses.
Critical Acclaim
All Vintages
The 2011 Mediterranean is a blend of 40% Shiraz from Upper Galilee, 27% Petit Verdot from Upper Galilee, 18% Petite Sirah from Judean Hills, 9% Carignan Old Vines from Mount Carmel and 3% each of Mourvedre from Mount Carmel and Viognier from Upper Galilee; all aged aged for 15 months in 300-liter French oak barrels (20% new). (The mix of regions is why this has no specific appellation.) A bit unassuming on first taste, I began to like this more and more as it aired out. Elegant in the mid-palate and with a touch of game on the nose, this finishes with a medley of dry and complex flavors, plus some grip and tightness. Very nicely crafted, it is a graceful wine that has some pop and persistence. I hate to be a broken record, but it's another 90-pointer for this bottling, which I've really come to like a lot.
View More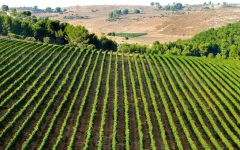 Carmel Winery is the historic winery of Israel. It was founded in 1882 by Baron Edmond de Rothschild, owner of Château Lafite in Pauillac, Bordeaux. The story of Carmel represents the story of Israel, and the recent developments of Carmel's wine, symbolizes the revolution of Israeli wine in recent years.
Carmel Winery has 3,472 acres of vineyards, which cover the land of Israel from the Upper Galilee in the north, to the Negev in the south. Carmel's winemakers can therefore choose from vineyards with different terroirs from all the wine regions in Israel. Carmel has a particularly strong vineyard presence in the cooler climate of the Upper Galilee, from where many of the leading wines are sourced.
Carmel's Zichron Ya'acov Wine Cellars, built in 1892, is the largest winery in Israel. On the premises is a modern, state-of-the-art facility making small quantities of quality wines from Carmel's finest vineyards. The most advanced, modern winemaking technology blends in with the historic 120 year old cellars. The name of the winery is in memory of Edmond de Rothschild's father, Baron James Jacob (Ya'acov) de Rothschild, who purchased the famous Bordeaux winery, Château Lafite, for the Rothschild family. Zichron Ya'acov is a charming town which still has an atmosphere of pre-state Israel. It is situated south of Haifa on the southern slopes of Mount Carmel, overlooking the Mediterranean Sea.
With a rich history of wine production dating back to biblical times, Israel is a part of the cradle of wine civilization. Here, wine was commonly used for religious ceremonies as well as for general consumption. During Roman times, it was a popular export, but during Islamic rule around 1300, production was virtually extinguished. The modern era of Israeli winemaking began in the late 19th century with help from Bordeaux's Rothschild family. Accordingly, most grapes grown in Israel today are made from native French varieties. Indigenous varieties are all but extinct, though oenologists have made recent attempts to rediscover ancient varieties such as Marawi for commercial wine production.
In Israel's Mediterranean climate, humidity and drought can be problematic, concentrating much of the country's grape growing in the north near Galilee, Samaria near the coast and at higher elevations in the east. The most successful red varieties are Cabernet Sauvignon, Merlot, and Syrah, while the best whites are made from Chardonnay and Sauvignon Blanc. Many, though by no means all, Israeli wines are certified Kosher.
With hundreds of red grape varieties to choose from, winemakers have the freedom to create a virtually endless assortment of blended red wines. In many European regions, strict laws are in place determining the set of varieties that may be used, but in the New World, experimentation is permitted and encouraged resulting in a wide variety of red wine styles. Blending can be utilized to enhance balance or create complexity, lending different layers of flavors and aromas. For example, a red wine blend variety that creates a fruity and full-bodied wine would do well combined with one that is naturally high in acidity and tannins. Sometimes small amounts of a particular variety are added to boost color or aromatics. Blending can take place before or after fermentation, with the latter, more popular option giving more control to the winemaker over the final qualities of the wine.
How to Serve Red Wine
A common piece of advice is to serve red wine at "room temperature," but this suggestion is imprecise. After all, room temperature in January is likely to be quite different than in August, even considering the possible effect of central heating and air conditioning systems. The proper temperature to aim for is 55° F to 60° F for lighter-bodied reds and 60° F to 65° F for fuller-bodied wines.
How Long Does Red Wine Last?
Once opened and re-corked, a bottle stored in a cool, dark environment (like your fridge) will stay fresh and nicely drinkable for a day or two. There are products available that can extend that period by a couple of days. As for unopened bottles, optimal storage means keeping them on their sides in a moderately humid environment at about 57° F. Red wines stored in this manner will stay good – and possibly improve – for anywhere from one year to multiple decades. Assessing how long to hold on to a bottle is a complicated science. If you are planning long-term storage of your reds, seek the advice of a wine professional.
RYL37060_2011
Item#
166949