Cara Sur Parcela Los Nidos 2019
Out of Stock

(was $52.99)
Winemaker Notes
This 100% hand harvested wine is mostly Bonarda Piedmontese and is from Barrel, San Juan. The nose shows blackberry, cassis liqueur, black cherry, vanilla, and nutmeg. The palate is rich with a dense core of wild strawberry jam and leather. Medium tannins lead to refined finish.
Critical Acclaim
All Vintages
The 2019 Parcela Los Nidos, mostly Bonarda with some Barbera, is a field blend from an old, ungrafted parral that has surface irrigation. The hand-harvested clusters were foot trodden in 2,000-liter concrete eggs with indigenous yeasts and a long maceration and then matured in a 1,000-liter egg for eight months. It was bottled with no corrections of acidity or temperature control. The first thing that came to my mind when I put my nose in the glass was a top cru Beaujolais, floral, aromatic, elegant and nuanced while keeping a simplicity and approachability that I loved. The palate is juicy but bone dry with some dusty tannins. This comes from the more shadowed part of the vineyard, with less alcohol, and the wine has more restraint and finesse. This is superb. 1,200 bottles were filled in December 2019.
Rating: 93(+)
View More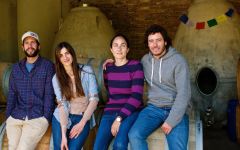 Cara Sur was formed in 2011 as a partnership between two couples inspired to revive ancestral vines and produce wines from traditional Argentine varietals. Sebastián Zuccardi and Marcela Manini teamed up with Nuria Año Gargiulo and Pancho Burgallo, an avid mountaineering couple who live in Barreal, in the Calingasta Valley of San Juan, north of Mendoza. They produce wines from 80 year old vines of Moscatel, Moscatel Negro, Bonarda Piedmontese, and Criolla Chica (the Argentine iteration of Pais). The vines are Parral trained, a ceiling-trellised system that provides shade and maximizes airflow. The vineyard sits alongside the Los Patos River on stony soil at 1500 meters above sea level. The Cara Sur wines are made in a tiny winery next to Pancho and Nuria's home where they produce small quantities with minimal intervention. Sebastian and Marcela regularly make the trip north to work alongside Pancho and Nuria. The quartet are producing some of the most unique wines from one of the most underrated microclimates of Argentina. Cara Sur translates to South Face and refers to the more challenging approach to Cerro Mercedario one of Argentina's tallest peaks, which can be seen from Barreal.
This very hot and arid region produces fine red wines from Bonarda, Syrah and Malbec and solid, fruity white wines from Pinot grigio, Viognier and Chardonnay.
With hundreds of red grape varieties to choose from, winemakers have the freedom to create a virtually endless assortment of blended red wines. In many European regions, strict laws are in place determining the set of varieties that may be used, but in the New World, experimentation is permitted and encouraged resulting in a wide variety of red wine styles. Blending can be utilized to enhance balance or create complexity, lending different layers of flavors and aromas. For example, a red wine blend variety that creates a fruity and full-bodied wine would do well combined with one that is naturally high in acidity and tannins. Sometimes small amounts of a particular variety are added to boost color or aromatics. Blending can take place before or after fermentation, with the latter, more popular option giving more control to the winemaker over the final qualities of the wine.
How to Serve Red Wine
A common piece of advice is to serve red wine at "room temperature," but this suggestion is imprecise. After all, room temperature in January is likely to be quite different than in August, even considering the possible effect of central heating and air conditioning systems. The proper temperature to aim for is 55° F to 60° F for lighter-bodied reds and 60° F to 65° F for fuller-bodied wines.
How Long Does Red Wine Last?
Once opened and re-corked, a bottle stored in a cool, dark environment (like your fridge) will stay fresh and nicely drinkable for a day or two. There are products available that can extend that period by a couple of days. As for unopened bottles, optimal storage means keeping them on their sides in a moderately humid environment at about 57° F. Red wines stored in this manner will stay good – and possibly improve – for anywhere from one year to multiple decades. Assessing how long to hold on to a bottle is a complicated science. If you are planning long-term storage of your reds, seek the advice of a wine professional.
MIWMMCARNID19D_2019
Item#
958902