Cantine Cavicchioli Spumante 1928
Out of Stock

(was $16.99)
Winemaker Notes
Cavicchioli 1928 Spumante features, when poured and tasted, white foam; lively, fine and persistent perlage; pale straw yellow color; an intense aroma of candied fruits and sweet flowers; and a fresh and delicate taste with an aromatic finish.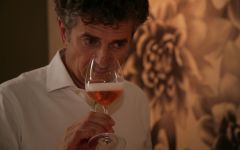 The Cavicchioli family has been cultivating vines in the San Prospero province of Modena (Sorbara DOC) for over a century, but it was not until 1928 that Umberto Cavicchioli began bottling the wine under his family name. Umberto's two grandsons, brothers Sandro and Claudio are still part of the business today. The Cavicchioli family is among the largest landowners in the Modena DOC with 235 acres of vineyards of which 173 acres are of the prized Lambrusco di Sorbara variety. Here, the climate is always humid with cold winters and hot summers and vineyards are planted in the pergola system to keep the vines dry.
Extending from the Adriatic coast in the east, to the border of the Mediterranean Ligurian region in the west, Emilia Romagna is a large, central Italian region focused on a wide array of gastronomic specialties. The plains of Emilia host four well-defined subzones for its famous, lightly sparkling red, Lambrusco. The more coastal Romagna has the capacity to produce impressive wines from Sangiovese and Albana.
A term typically reserved for Champagne and Sparkling Wines, non-vintage or simply "NV" on a label indicates a blend of finished wines from different vintages (years of harvest). To make non-vintage Champagne, typically the current year's harvest (in other words, the current vintage) forms the base of the blend. Finished wines from previous years, called "vins de reserve" are blended in at approximately 10-50% of the total volume in order to achieve the flavor, complexity, body and acidity for the desired house style. A tiny proportion of Champagnes are made from a single vintage.
There are also some very large production still wines that may not claim one particular vintage. This would be at the discretion of the winemaker's goals for character of the final wine.