Cantine Cavicchioli Rose Spumante Dolce
Ships today if ordered in next 5 hours
Winemaker Notes
White and evanescent foam; fine and lingering perlage; bright and pale pink "candy" color; fresh and fruity aroma; sweet, slightly spicy and aromatic taste with red fruit notes with a lingering aftertaste.
Cavicchioli 1928 Rosé Spumante Dolce should be drunk young and is excellent as an aperitif, to sweet and sour pairings, with risotto, tortellini, seafood dishes, enjoy it with fresh fruits. Serving temperature: chilled to 40°F.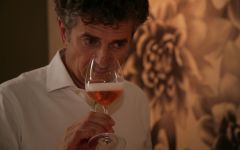 The Cavicchioli family has been cultivating vines in the San Prospero province of Modena (Sorbara DOC) for over a century, but it was not until 1928 that Umberto Cavicchioli began bottling the wine under his family name. Umberto's two grandsons, brothers Sandro and Claudio are still part of the business today. The Cavicchioli family is among the largest landowners in the Modena DOC with 235 acres of vineyards of which 173 acres are of the prized Lambrusco di Sorbara variety. Here, the climate is always humid with cold winters and hot summers and vineyards are planted in the pergola system to keep the vines dry.
Extending from the Adriatic coast in the east, to the border of the Mediterranean Ligurian region in the west, Emilia Romagna is a large, central Italian region focused on a wide array of gastronomic specialties. The plains of Emilia host four well-defined subzones for its famous, lightly sparkling red, Lambrusco. The more coastal Romagna has the capacity to produce impressive wines from Sangiovese and Albana.
What are the different types of sparkling rosé wine?
Rosé sparkling wines like Champagne, Prosecco, Cava, and others make a fun and festive alternative to regular bubbles—but don't snub these as not as important as their clear counterparts. Rosé Champagnes (i.e., those coming from the Champagne region of France) are made in the same basic way as regular Champagne, from the same grapes and the same region. Most other regions where sparkling wine is produced, and where red grape varieties also grow, also make a rosé version.
How is sparkling rosé wine made?
There are two main methods to make rosé sparkling wine. Typically, either white wine is blended with red wine to make a rosé base wine, or only red grapes are used but spend a short period of time on their skins (maceration) to make rosé colored juice before pressing and fermentation. In either case the base wine goes through a second fermentation (the one that makes the bubbles) through any of the various sparkling wine making methods.
What gives rosé Champagne and sparkling wine their color and bubbles?
The bubbles in sparkling wine are formed when the base wine undergoes a secondary fermentation, which traps carbon dioxide inside the bottle or fermentation vessel. During this stage, the yeast cells can absorb some of the wine's color but for the most part, the pink hue remains.
How do you serve rosé sparkling wine?
Treat rosé sparkling wine as you would treat any Champagne, Prosecco, Cava, and other sparkling wine of comparable quality. For storing in any long-term sense, these should be kept at cellar temperature, about 55F. For serving, cool to about 40F to 50F. As for drinking, the best glasses have a stem and a flute or tulip shape to allow the bead (bubbles) and beautiful rosé hue to show.
How long do rosé Champagne and sparkling wine last?
Most rosé versions of Prosecco, Champagne, Cava or others around the "$20 and under" price point are intended for early consumption. Those made using the traditional method with extended cellar time before release (e.g., Champagne or Crémant) can typically improve with age. If you are unsure, definitely consult a wine professional for guidance.